Nats unable to hold off Rockies in slugfest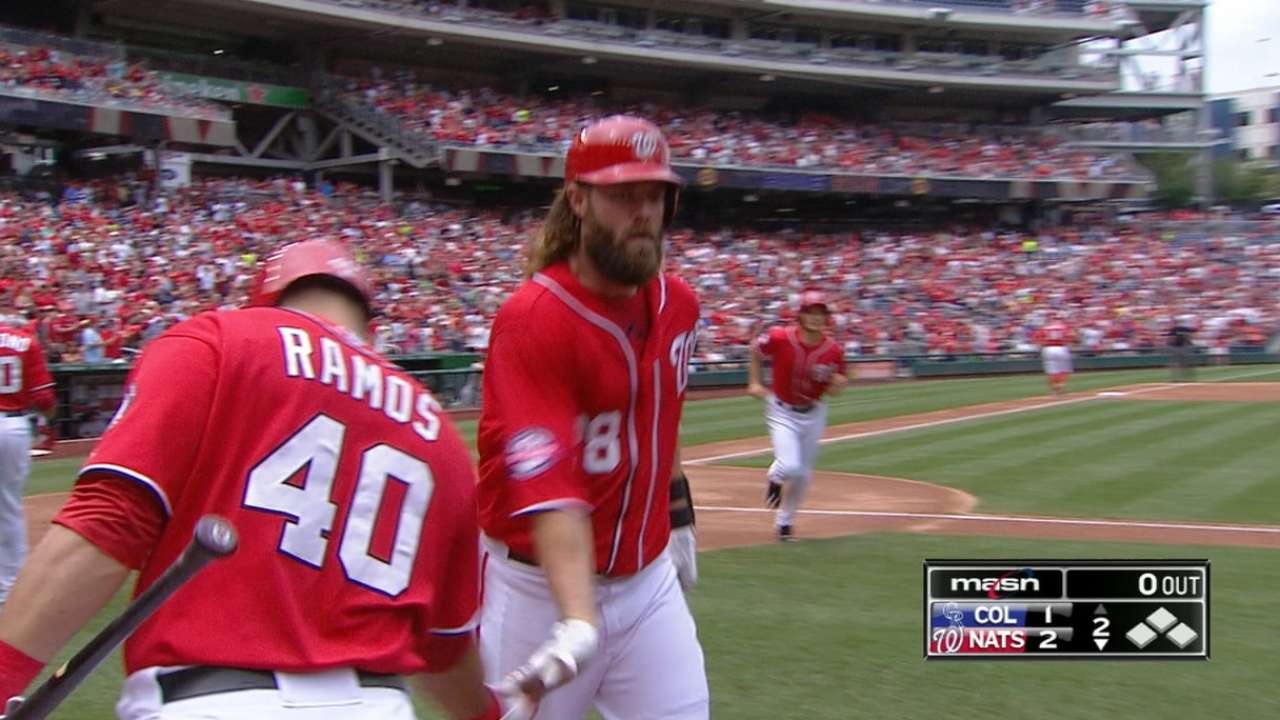 WASHINGTON -- After six home runs set the pace in a D.C. thriller, DJ LeMahieu's two-out, two-run single in the eighth inning proved the difference in Colorado's 6-4 win over the Nationals on Sunday at Nationals Park. The victory locked up the Rockies' first road series win since late May.
Carlos Gonzalez led the charge for the Rockies, knocking his 24th and 25th home runs off Nationals ace Max Scherzer. Gonzalez's show continued from right field in the seventh, when he launched a missile to cut down Anthony Rendon at the plate.
"As soon as I caught the ball I knew I was going to throw the guy out at the plate," Gonzalez said. "I had a lot of time, so I didn't rush. I was just kind of getting in position to make a really good throw, a strong throw. And it was money, right in the chest for our catcher."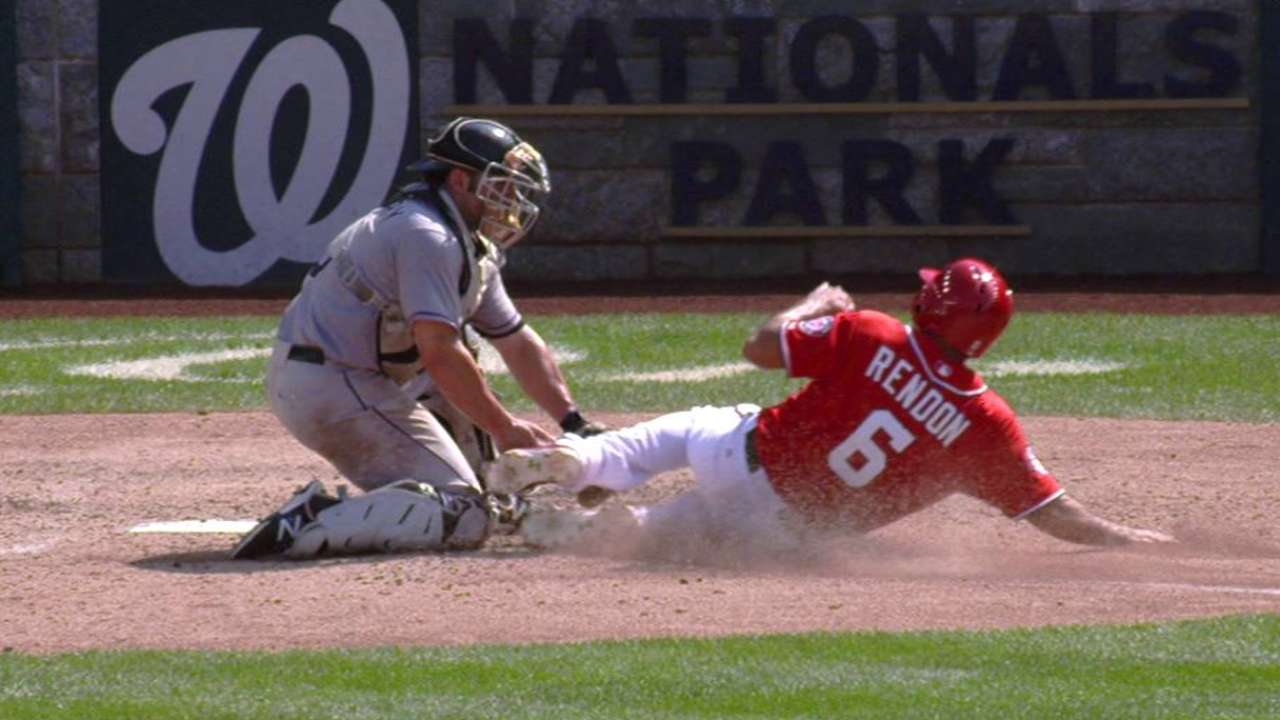 The Nationals loaded the bases with one out in the bottom of the ninth, but Tommy Kahnle recorded his second career save, striking out Jayson Werth and inducing a groundout from Ian Desmond to shut the door. Washington stayed 1 1/2 games behind the Mets in the National League East.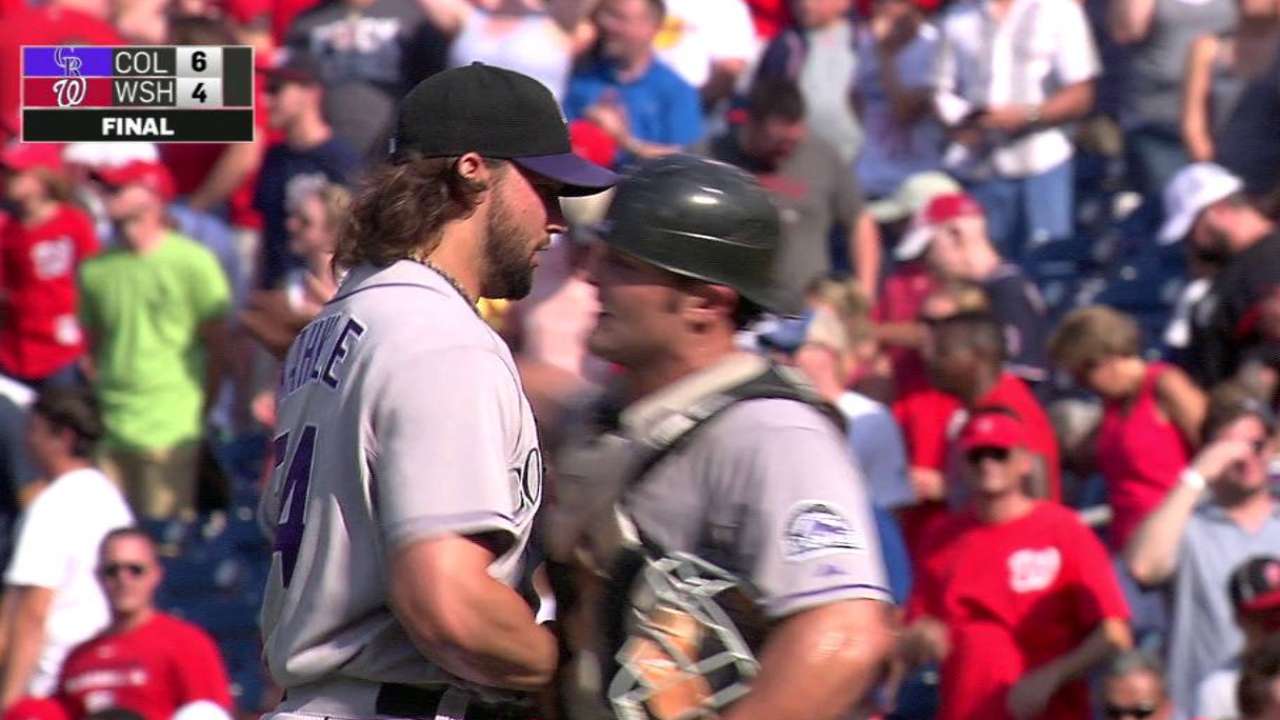 MOMENTS THAT MATTERED
Go DJ, that's my DJ: Ben Paulsen's second hit of the game led off the eighth inning against Drew Storen, and Michael McKenry joined him on base on a hit-by-pitch. Daniel Descalso -- who homered in the fourth inning -- bunted both into scoring position and LeMahieu, who entered the game in the previous half-inning, snuck a ground ball between the third baseman and shortstop to put the Rockies on top.
"I'm just trying to slow things down," LeMahieu said. "Our guys did a great job to get on base, and I was just lucky to sneak it through the infield."
Stay hot, Zim: Ryan Zimmerman homered in his first two at-bats, both solo shots to center off left-hander Yohan Flande. It was Zimmerman's 13th multi-homer game of his career and first since Sept. 7, 2013, at Miami. Since coming off the disabled list on July 28, he has reached base in nine of 12 games and collected an RBI in seven straight. More >
"I feel good," Zimmerman said. "I think I just have to keep doing my work, doing my routine and keep riding this streak and stay hot for a couple months."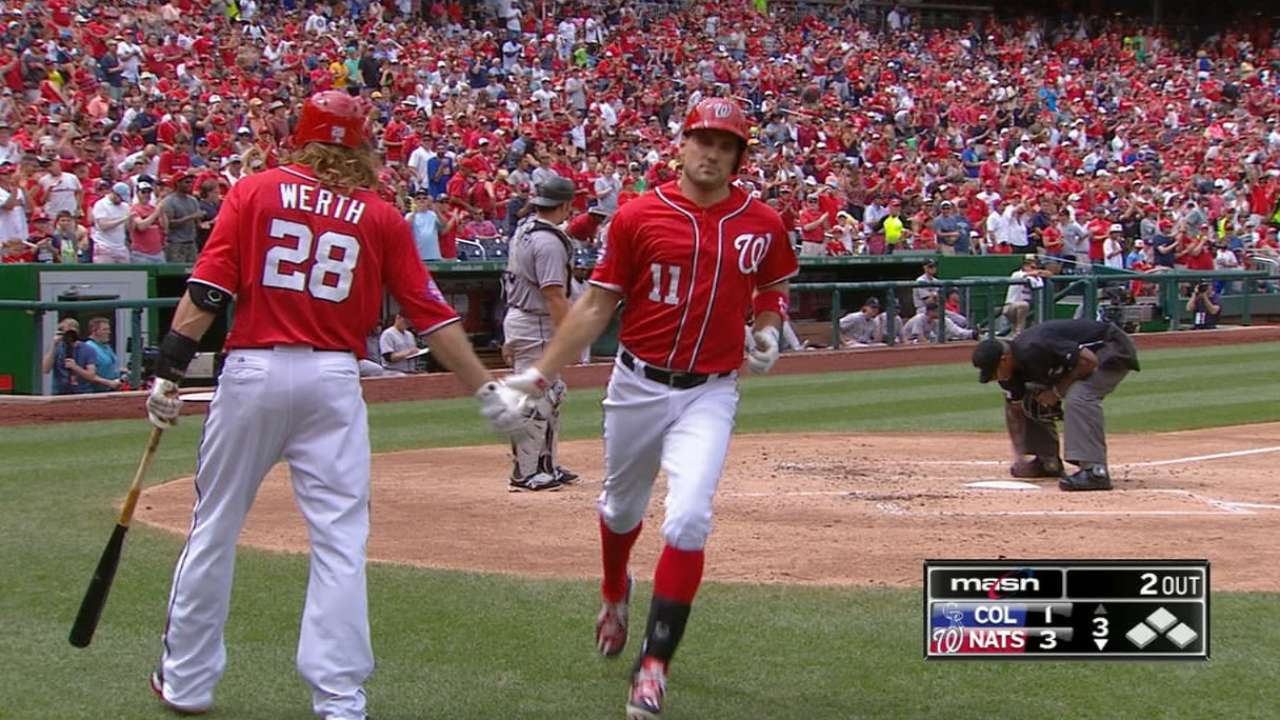 One after another: Gonzalez tallied his second and third home runs of the series. CarGo's first-inning shot gave the Rockies a 1-0 lead, and his second, a monster blast to the second deck in right-center field, tied the game at 3 in the fourth. It was Gonzalez's fourth multi-homer game since July 24.
"[First] one was a hanging curveball," Gonzalez said. "I was just waiting on fastball and then I kind of just used my hands to find the barrel and hit it to right field. The second one -- he struck me out with three pitches in the second at-bat with 97 [mph] -- he missed over the plate with a 97, and I took advantage."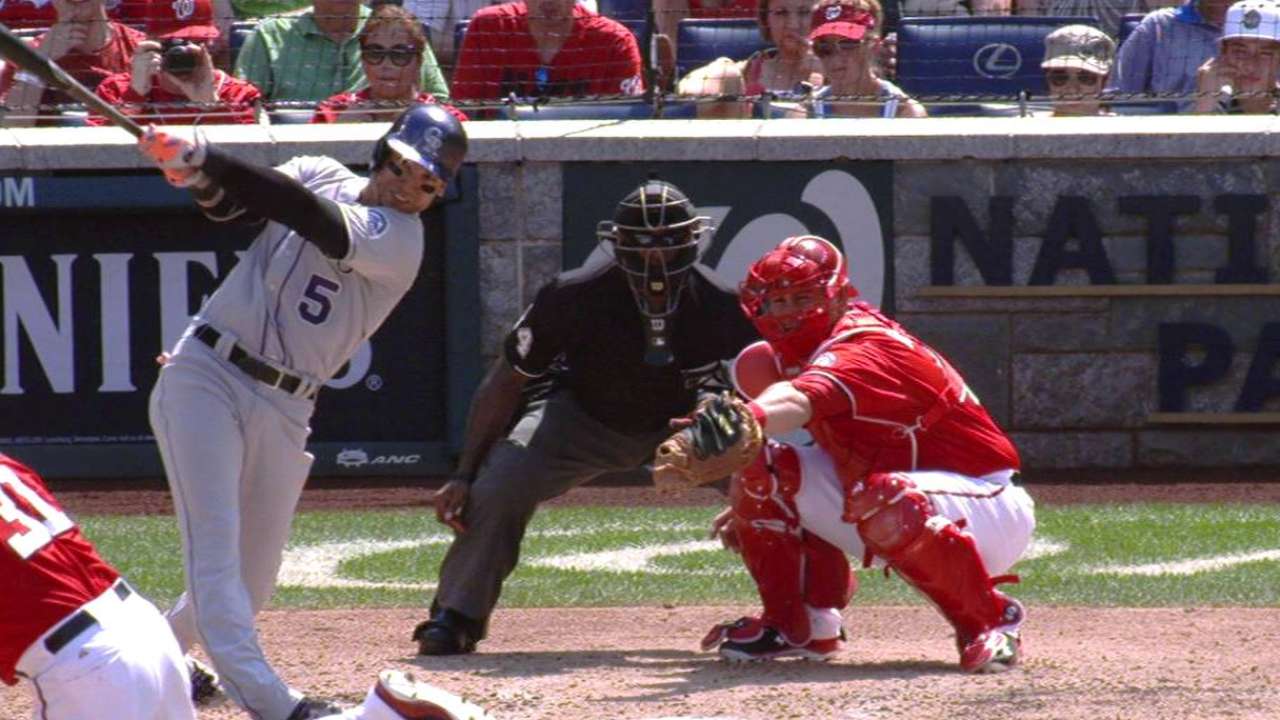 Scherzer unlike Scherzer: The Nationals ace gave up a season-high three home runs, lasting six innings for the second straight start. Scherzer also allowed eight hits, which is his second-highest total this year. The right-hander did record 10 strikeouts, making it the 32nd time in his career that he's struck out 10 or more batters in a game and seventh of 2015. He walked one, an intentional free pass to Descalso that led to the fourth Rockies run on a two-out Kyle Parker single in the sixth.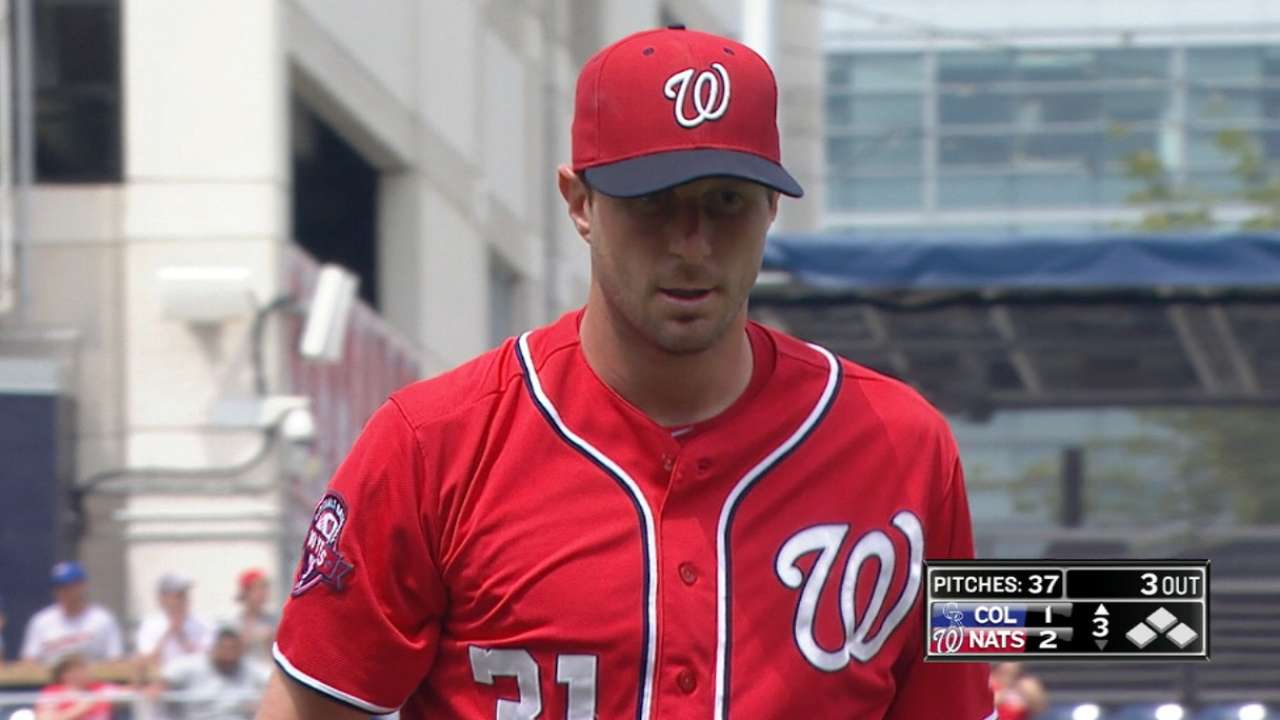 Consecutive losses for Storen: After tossing 14 scoreless appearances from June 26-Aug. 6, Storen has taken the loss in each of his past two outings. The right-hander gave up a go-ahead grand slam in the eighth inning Friday and allowed two runs in the eighth Sunday. In his one inning Sunday, he gave up two runs and two hits, hit a batter -- which was overturned from a foul ball on a Rockies challenge -- while striking out one.
"They essentially get two free baserunners there," Storen said of his outing. "Calls didn't go my way. Looking at the video evidence, I still don't understand how that was reversed. I made good pitches and sometimes those ground balls found a hole."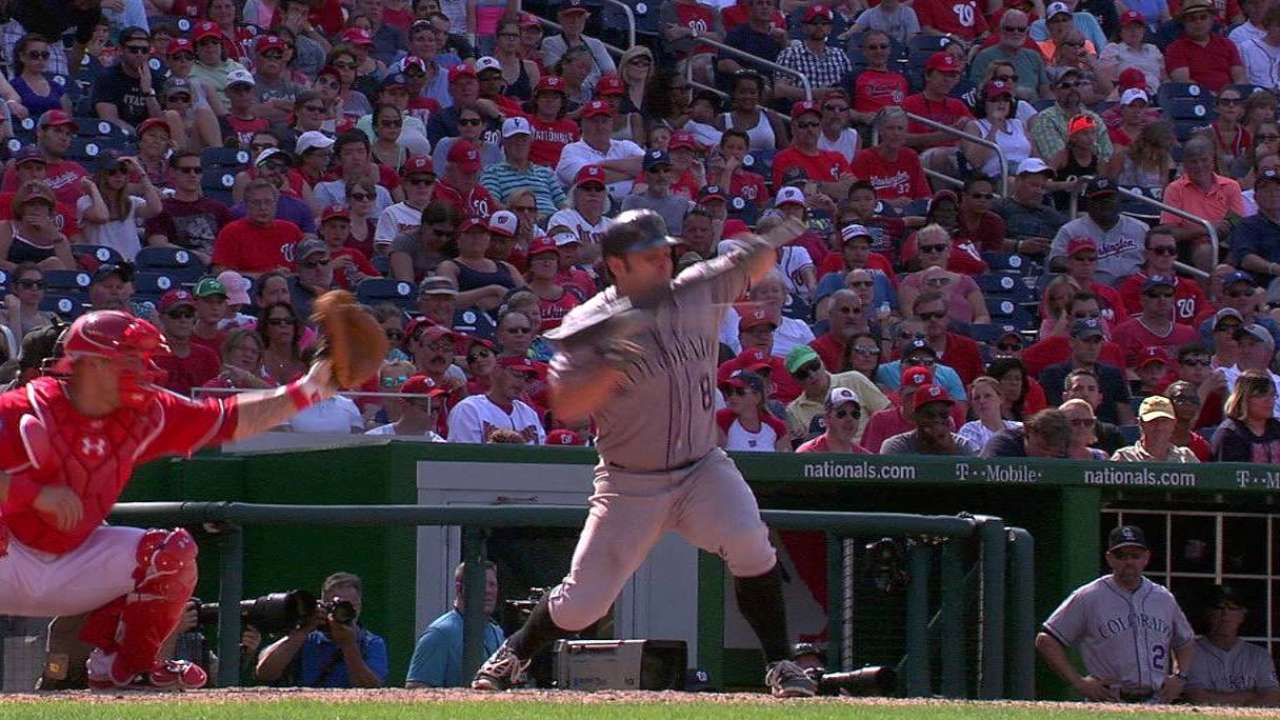 AFTER FURTHER REVIEW
With the game tied in the seventh inning, Zimmerman hit a single to right field that sent Rendon around third as the potential go-ahead run, only to be thrown out at the plate by Gonzalez. The Nationals challenged the play at the plate, suggesting that catcher McKenry was in violation of the collision rule. Following a brief review, the call was confirmed and the Nationals lost their challenge.
"The review at the plate is that blocking the plate constitutes not giving them a lane to slide so they could reach the plate," said Nationals manager Matt Williams. "But the ball beat him enough where he could catch it and come in front of the plate. That's perfectly legal once he has the baseball."
The Rockies also challenged a play in the eighth inning when home-plate umpire Alan Porter called a foul ball on a McKenry bunt attempt. The Rockies challenged that he was hit by the pitch, and after a review, it was overturned, ruling that McKenry was hit on the hand. He went on to score during the Rockies' go-ahead rally.
"Anytime a play like that, you are looking at a hit-by-pitch or foul ball, that's a big call," Storen said. "Like I said, something needs to change with that because that's not accurate."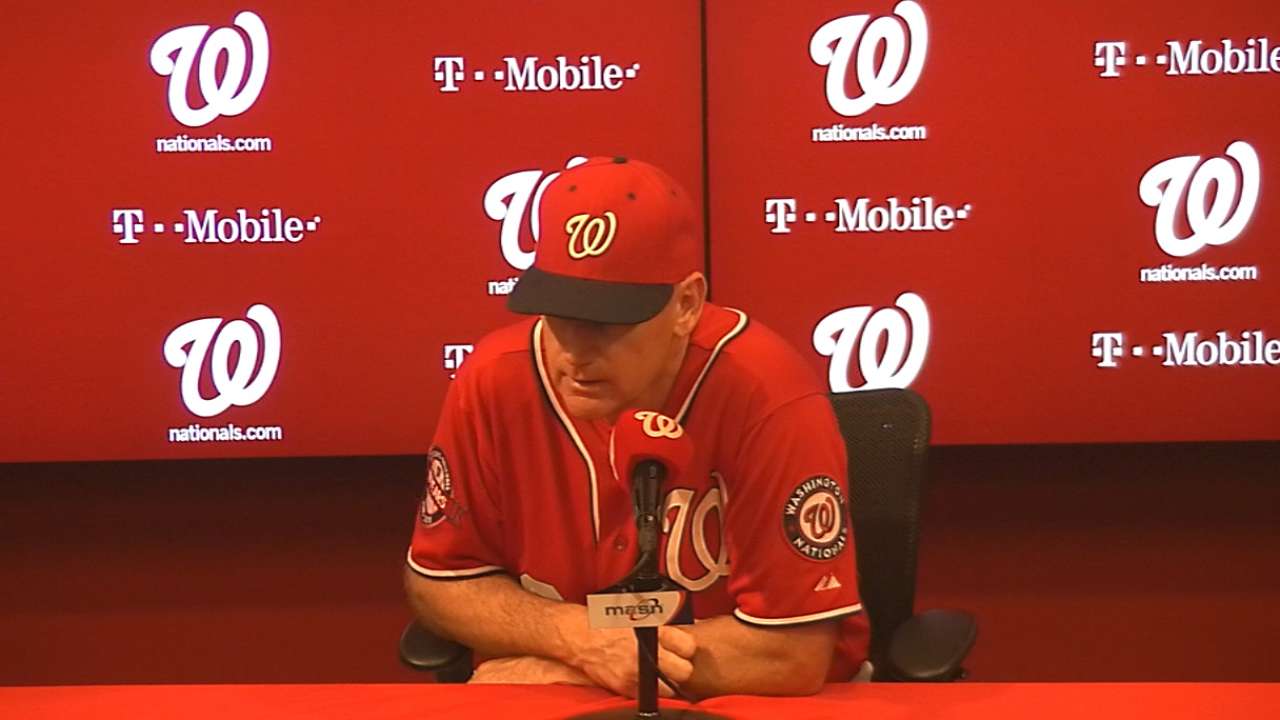 QUOTABLE
"As soon as we jumped on the plane, we knew we were going to face some tough pitchers, but we're not giving up. We have a really good lineup. We can score runs. That's not a secret." -- Gonzalez, on the Rockies' road trip against the Nationals and Mets
WHAT'S NEXT
Rockies: Colorado continues its seven-game road trip with the first of four games in New York on Monday (5:10 p.m. MT). Highly touted prospect Jon Gray, who is coming off a four-inning Major League debut, will start the opener opposite left-hander Jon Niese.
Nationals: Gio Gonzalez (8-4, 3.75 ERA) will take the hill Monday night (10:10 ET) in the opener of a three-game series at Dodger Stadium. He has won four consecutive decisions and hasn't lost since June 15, despite not getting past the fifth inning in each of his last three starts. He boasts a 1-1 record and 2.50 ERA in three career starts against the Dodgers.
Watch every out-of-market regular-season game live on MLB.TV.
Jacob Emert and Connor Smolensky are associate reporters for MLB.com. This story was not subject to the approval of Major League Baseball or its clubs.