MLB.com Columnist
Mike Petriello
Even before debut, Giolito's heat ranks with game's elite
MLB's top prospect showed his skill at 2015 Futures Game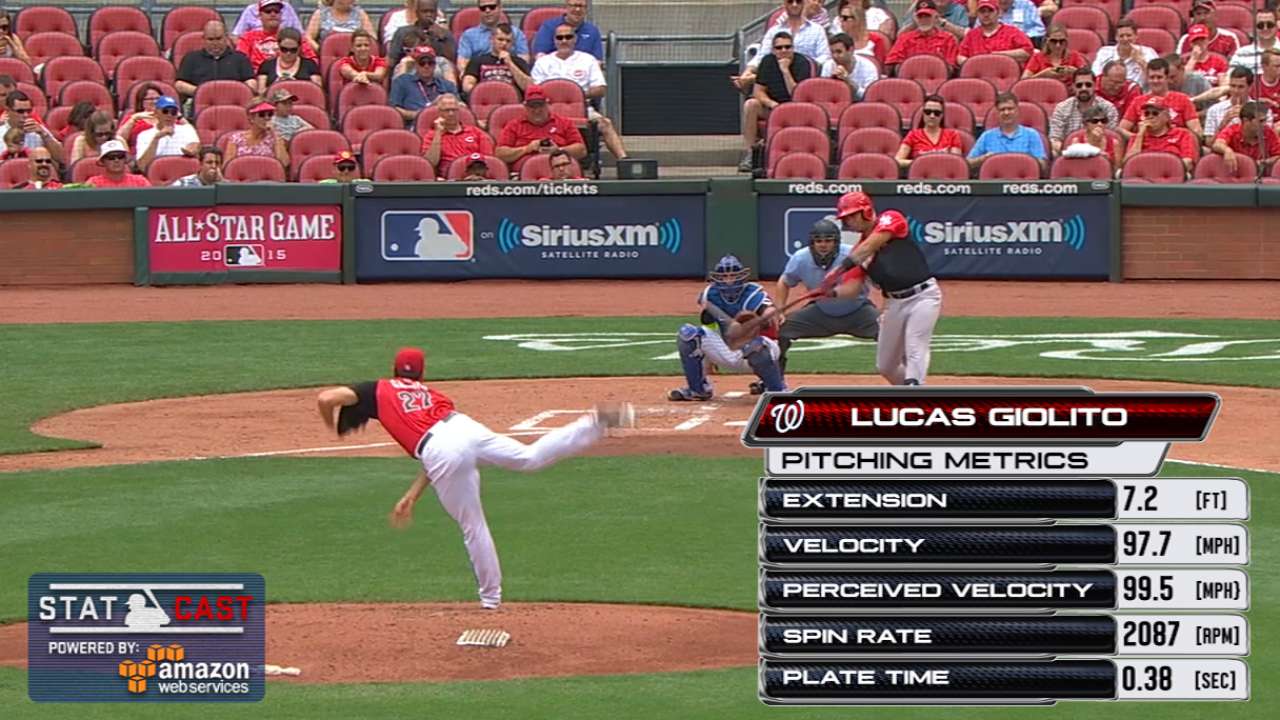 Lucas Giolito will look to validate his status as baseball's top prospect when he makes his debut against Matt Harvey and the Mets on Tuesday night in Washington, but based on what happened when he briefly appeared in a Major League stadium last year, we already have a pretty good idea that he's something special -- at least if you consider ranking alongside Aroldis Chapman, Noah Syndergaard, Dellin Betances and Craig Kimbrel "special." (You should.)
Last summer, Giolito threw two scoreless innings during the Futures Game at All-Star Weekend in Cincinnati, and that provided us with an opportunity to get him in front of Statcast™'s tracking radar and cameras. The results were impressive, because the 12 four-seam fastballs that Giolito threw that day ranged from 95.8 mph to 98.7 mph, but just as importantly, they were all delivered with an extension of at least seven feet.
Extension measures how far in front of the mound a pitcher releases the ball -- no one actually throws from 60 feet, 6 inches, after all -- and given that the Major League average extension for fastballs is 6.1 feet, that Giolito was nearly a full foot farther in front is a big deal. It means that he's throwing from just over 53 feet from home, while those with particularly low extensions such as Mike Leake and Joel Peralta put themselves at something of a disadvantage by choosing to throw from 55 feet.
What that means is that Giolito is using the wingspan that comes with his 6-foot-6 frame to make his heater look even faster, because it's simply got less distance to travel than a pitch of similar speed that comes from a pitcher with less extension. (This is the entire premise behind "perceived velocity," or how fast a hitter perceives a pitch based on velocity plus extension; Giolito's perceived velocity range was 97 mph to 100.1 mph that day.)
Since the entire point of velocity is to reduce the amount of time a hitter has to make a decision, the combination of "throwing hard" and "throwing over a shorter distance" can significantly reduce the amount of time the batter gets. We call that plate time, and in the Futures Game last year, Giolito gave hitters an average of .38 seconds -- barely more than a third of a second -- on his fastball.
Let's compare that to 2016's leaders (minimum 10 innings pitched) in lowest plate time:
1. Chapman, 0.37 seconds
2. Syndergaard/Betances/Kimbrel, 0.38 seconds
You might say those are impressive names to be associated with. Of course, Chapman, Betances and Kimbrel are all one-inning relievers, who must give maximum effort for only short bursts.
Syndergaard is the reigning king of starting pitcher plate time, and there's not really another like him. Or at least there hadn't been, until now -- and Giolito even comes equipped with a curve ranked as the best on MLBPipeline.com's Top 100 list before the season. Obviously, Giolito was functioning as a reliever in the Futures Game, so we'll now get to see how that persists as a starter.
You'd think that avoiding Stephen Strasburg would be a boon for the Mets. Maybe it will be. But based on what we saw last summer in Cincinnati, it's hardly going to be easy.
Mike Petriello is an analyst for MLB.com and the host of the Statcast podcast. He has previously written for ESPN Insider and FanGraphs. This story was not subject to the approval of Major League Baseball or its clubs.