Nats slay Giant threat with historic triple play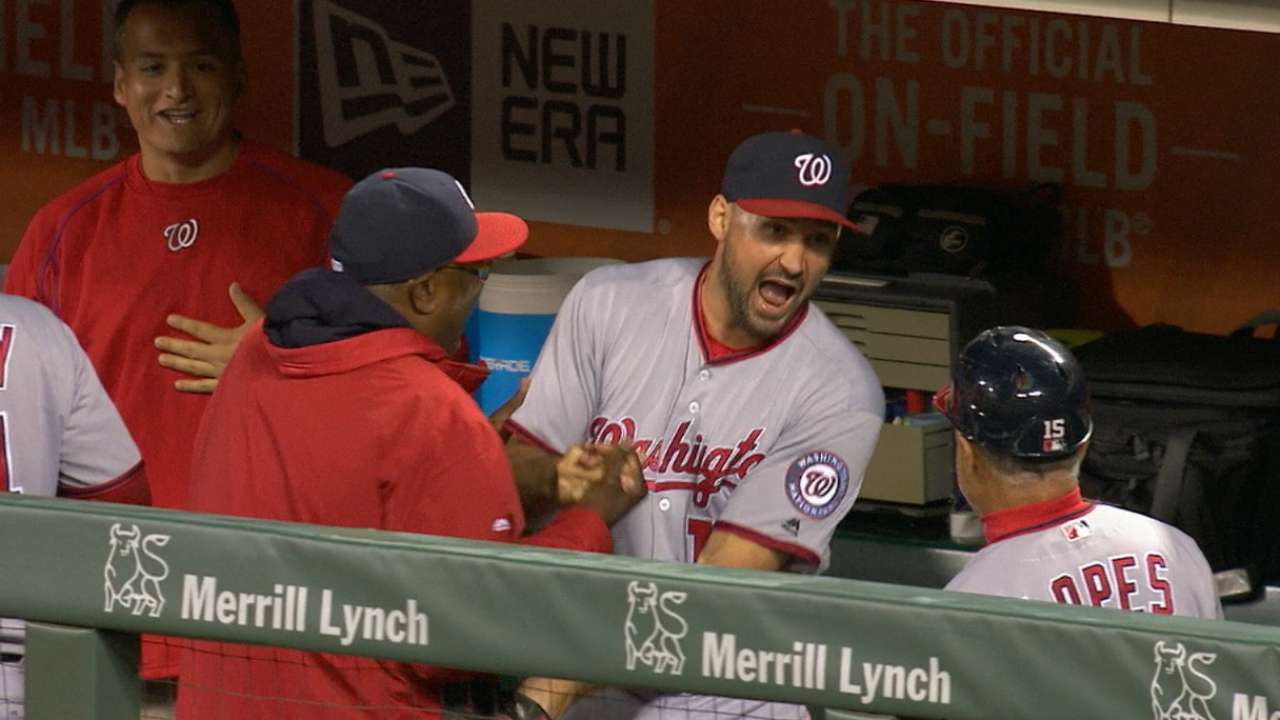 SAN FRANCISCO -- In order to escape a bases-loaded, nobody-out jam in the eighth inning Friday night, the Nationals pulled off a historic triple play to help seal a 4-1 victory against the Giants.
The first triple play in Nationals history started when Brandon Crawford hit a line drive off left-hander Sammy Solis. The ball was caught by Ryan Zimmerman, who stepped on first base for the second out and then fired to Anthony Rendon at third base to catch Denard Span too far down the line and end the inning.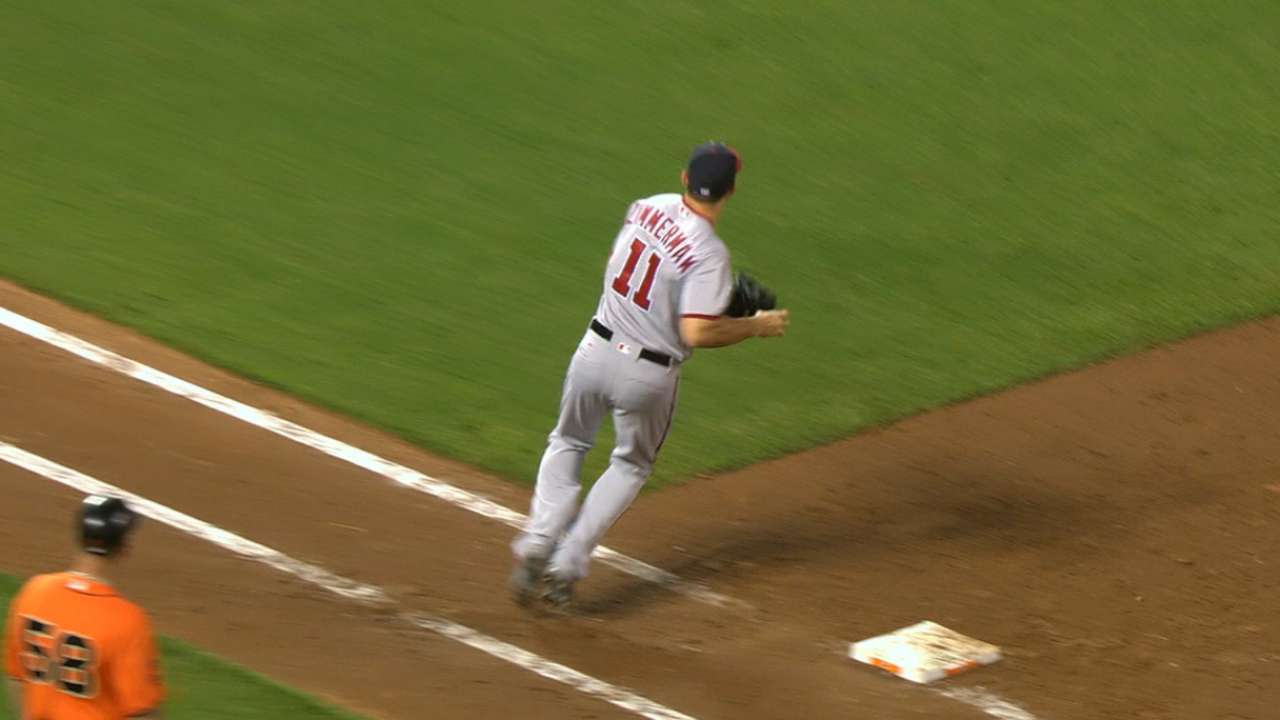 It was also the first-ever 3-3-5 triple play in baseball history.
"I didn't really know what was going on because I thought the ball might've hit the ground," Solis said. "So I'm looking at Zim like, 'Why aren't you throwing it home? What's going on?'"
The triple play came after the rare triple switch from manager Dusty Baker, who brought in Solis, Zimmerman and shortstop Danny Espinosa before the at-bat against Crawford.
"Once I caught it I knew I had the double play, and I looked up and Tony's jumping up and down with a smile on his face," Zimmerman said. "So I just tossed the ball over to him and got out of a jam. Just like that."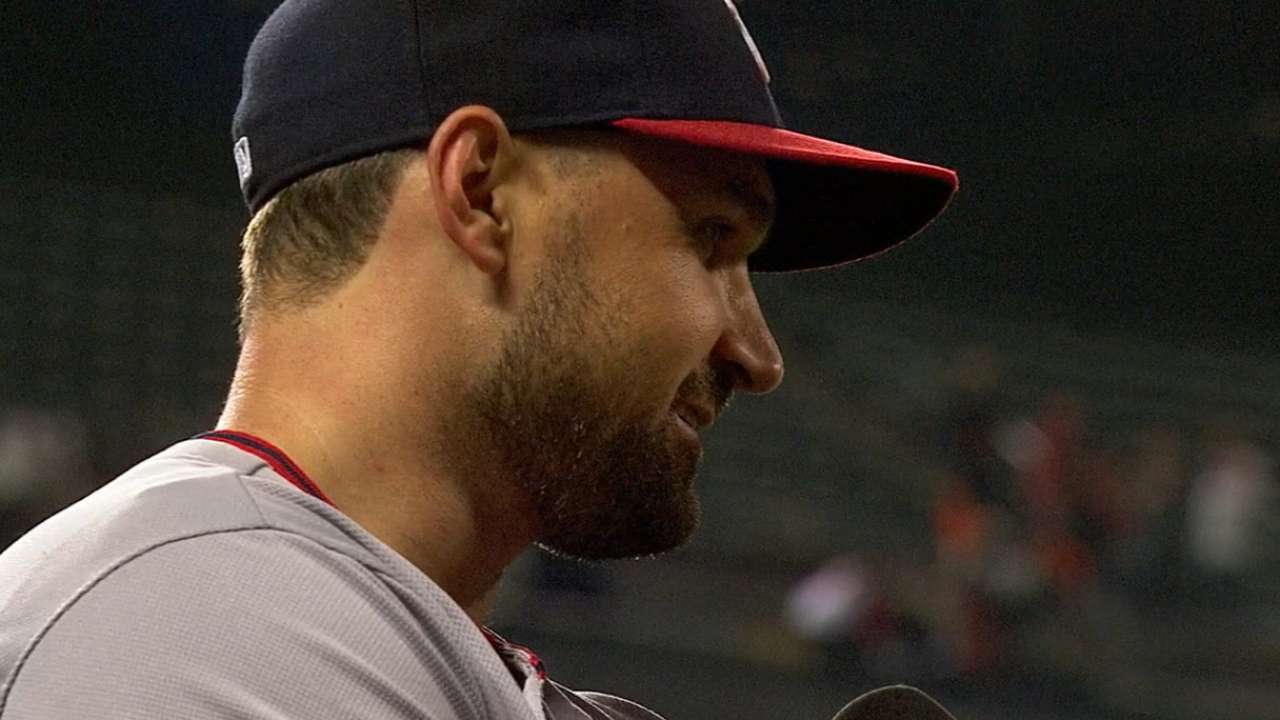 This was the fifth triple play of the 2016 season, following three by the White Sox and one by the Brewers earlier in the year. The fact that the Nationals pulled off such a rare feat at such a crucial moment only magnified the moment. Baker said he is always trying to think positive and often yells out from the bench, "Let's get a triple play!" But even he could not have expected it to actually happen.
"It's one of the last things you expect when you're in that situation," Crawford said. "It sucks."
Crawford lined into the first triple play turned against the Giants since Sept. 6, 2009 against the Brewers when Aaron Rowand grounded into the 5-4-3 variety.
The triple play Friday protected a three-run lead for Washington and gave three much-needed outs to it's struggling bullpen. It also preserved the victory for Nationals starter Max Scherzer, who was watching the inning unfold in the clubhouse along with Daniel Murphy and Jonathan Papelbon.
"We're all in here on pins and needles watching this," Scherzer said. "And sure enough, you watch it, you see the ball hit, Zim makes a great play and you're pumped, thinking it's a double play! And he runs to first and all of a sudden we see him cock back and throw it to third, and it's like: 'What the heck is going on?' Sure enough, got him. Triple play. Everyone in here just erupted. Everybody was screaming in here."
Jamal Collier covers the Nationals for MLB.com. Follow him on Twitter at @jamalcollier. This story was not subject to the approval of Major League Baseball or its clubs.