Melancon calmly eases Nats' 9th-inning woes
Right-hander notches 40th save of the season against Phillies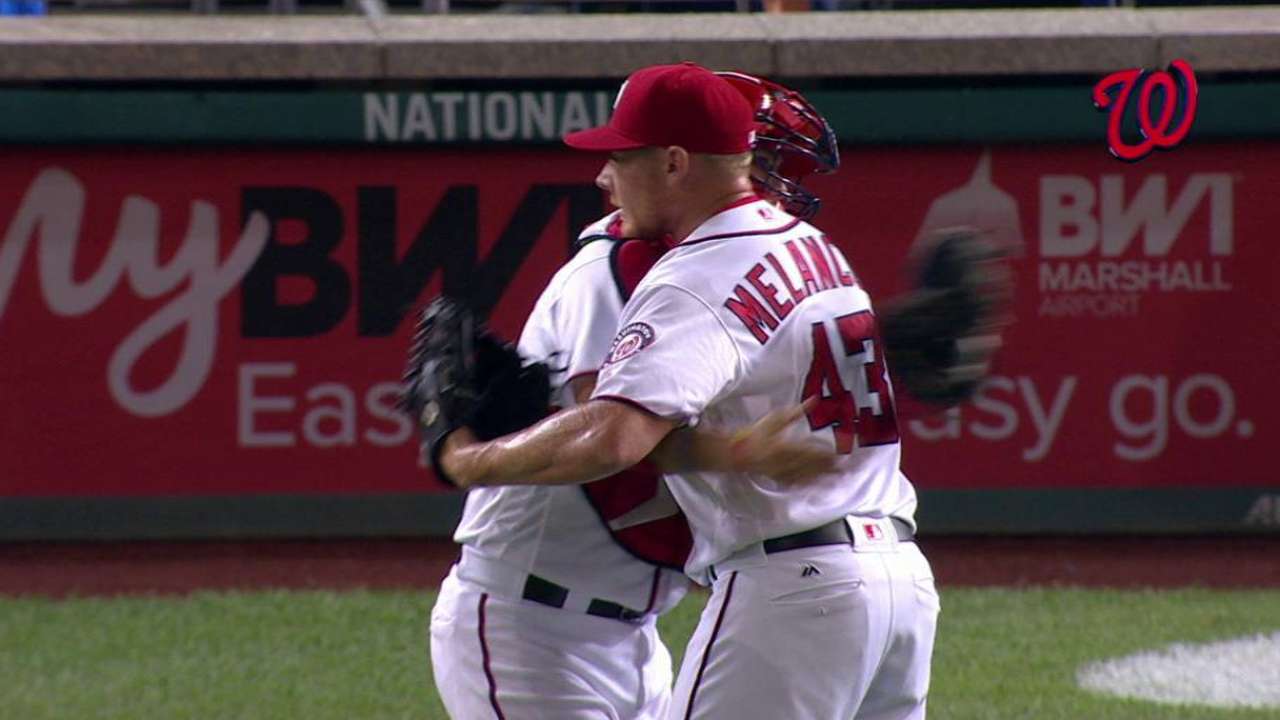 WASHINGTON -- When Mark Melancon arrived in D.C. on July 30, the Nationals bullpen was in flux, with incumbent closer Jonathan Papelbon struggling and the late innings a daily adventure.
But Melancon -- who earned his 10th save as a National in Saturday's 3-0 win over the Phillies -- has steadied the relief corps with a calm and, more important, effective presence. The veteran right-hander has converted all of his save opportunities for Washington, allowing four runs in 18 2/3 innings (1.93 ERA), while striking out 18.
Melancon doesn't throw 100 mph, and he doesn't stare down hitters or gloat after big strikeouts, and he doesn't speak particularly loudly. He just keeps the ninth inning as drama-free as possible.
"That's why we traded for him," Nationals manager Dusty Baker said. "This guy, he quietly goes about his business, you don't know he's hardly around the clubhouse. I asked him the other day, 'Are you enjoying it here?' and he, in that same tone of voice, 'Oh yeah, I'm really enjoying it.'"
Melancon, who served as the Pirates' closer for three and a half seasons before being dealt to the Nationals, said his transition to the Nationals has been seamless.
"These guys have been very welcoming," Melancon said. "Great clubhouse, and talent-wise, it's off the charts."
Melancon has helped turn the Nationals' bullpen from a problem spot to an area of strength. Papelbon is gone, but Baker seems to have found a blueprint for late-inning success.
Saturday was a perfect example of how the bullpen is supposed to work: After Max Scherzer threw 6 2/3 scoreless innings, Baker called on Marc Rzepczynski, a recently acquired lefty who has yet to allow a run in eight innings with the Nationals. Rzepczynski recorded three outs, Shawn Kelley came in for one, and Melancon finished off the Phillies with a perfect ninth.
Saturday's save marked not only Melancon's 10th save with the Nationals and his 40th of the season, a feat he called "a huge accomplishment."
"It's my job to get 'em," Melancon said. "Whenever the opportunity arises, I try to shut the door. Fortunately, I've been able to do it."
If the Nationals hope to go deep in the postseason, they'll need their bullpen to hold steady. That means they'll look to Melancon to calmly and quietly keep getting outs.
Alex Putterman is a reporter for MLB.com based in Washington D.C. This story was not subject to the approval of Major League Baseball or its clubs.