Washington's Voth named Fall League Pitcher of the Week
Nationals' No. 9 prospect allows three hits in five scoreless frames in AFL outing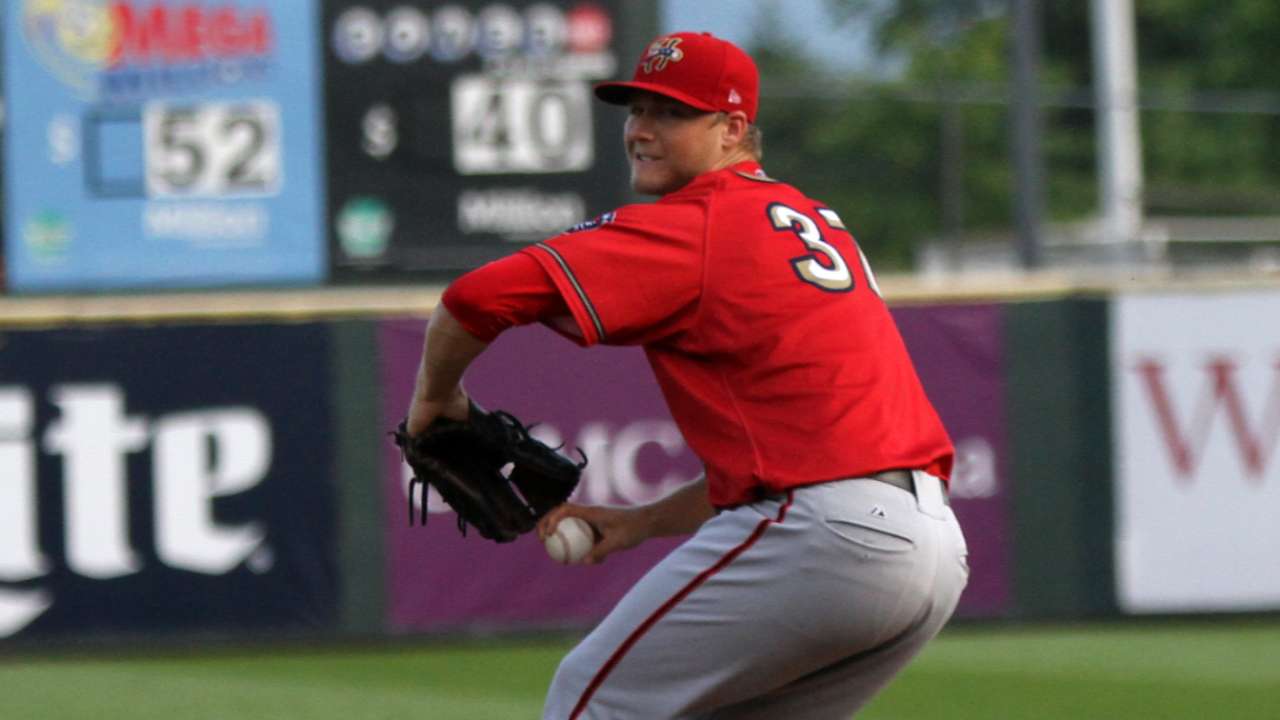 Austin Voth, the Nationals' No. 9 prospect, has put together a November to remember. His five scoreless innings against the Salt River Rafters on Nov. 9 earned him the Arizona Fall League Pitcher of the Week and cemented his bounceback month.
"It's just exciting," Voth said. "I have just been trying to go out each and every day and make my pitches and get better."
• Yanks' Torres named Fall League Player of the Week
Voth has a 6.20 ERA in 24 2/3 innings, 22 strikeouts and a 2-2 record for the Glendale Desert Dogs. But he found his grove in his last two starts, firing five scoreless frames in each.
"The last two weeks have probably been the best two weeks that I have had in the Arizona Fall League," Voth said. "I have come a long way with my mechanics, just sharpening them and getting better each and every day."
Over his past 10 innings, the 2013 fifth-round Draft pick has allowed six hits and two walks while striking out five.
• Complete Arizona Fall League coverage
Voth spent last season with the Syracuse Chiefs, the Nationals' Triple-A affiliate. In his 27 games with the Chiefs, the 6-foot-2, 215-pound right-hander posted a 7-9 record and 3.15 ERA.
His goal is to make it to the big leagues and Voth sees the Arizona Fall League as a stepping-stone to get there.
"These are the top prospects from all the MLB's organizations and to compete against them is amazing," he said. "If I have success here then it shows that maybe I have a chance to play in the big leagues."
The Fall League marks Voth's first AFL stint and is his first time in Arizona.
"I love the West Coast," the Washington native said. "This is my first time actually being out here in Arizona so I love the dry heat. I am not a big fan of the humidity on the East Coast but it is a lot of fun. I'm glad to be here."
Voth says he prefers the West Coast, but is all-in with the Nats.
"They do so much for me," Voth said. "They have given me so many opportunities. I am just very thankful."
Voth spent three seasons at the University of Washington. In 2013, his last year with the Huskies, he started 15 games and made 17 appearances. He had 98 strikeouts, which was the seventh-most in school history. He went 7-6 with a 2.99 ERA in 105 1/3 innings.
Others receiving consideration for Week 5 honors were Peoria right-hander Brent Honeywell (Rays) and Salt River righty Akeel Morris (Braves).
Alexis Ramanjulu is a senior journalism student at Arizona State University. This story is part of a partnership between MLB.com and ASU's Walter Cronkite School of Journalism and Mass Communication. This story was not subject to the approval of Major League Baseball or its clubs.