'Freakish talent' put Vlad at Cooperstown's doorstep
9-time All-Star is making his first appearance on Hall of Fame ballot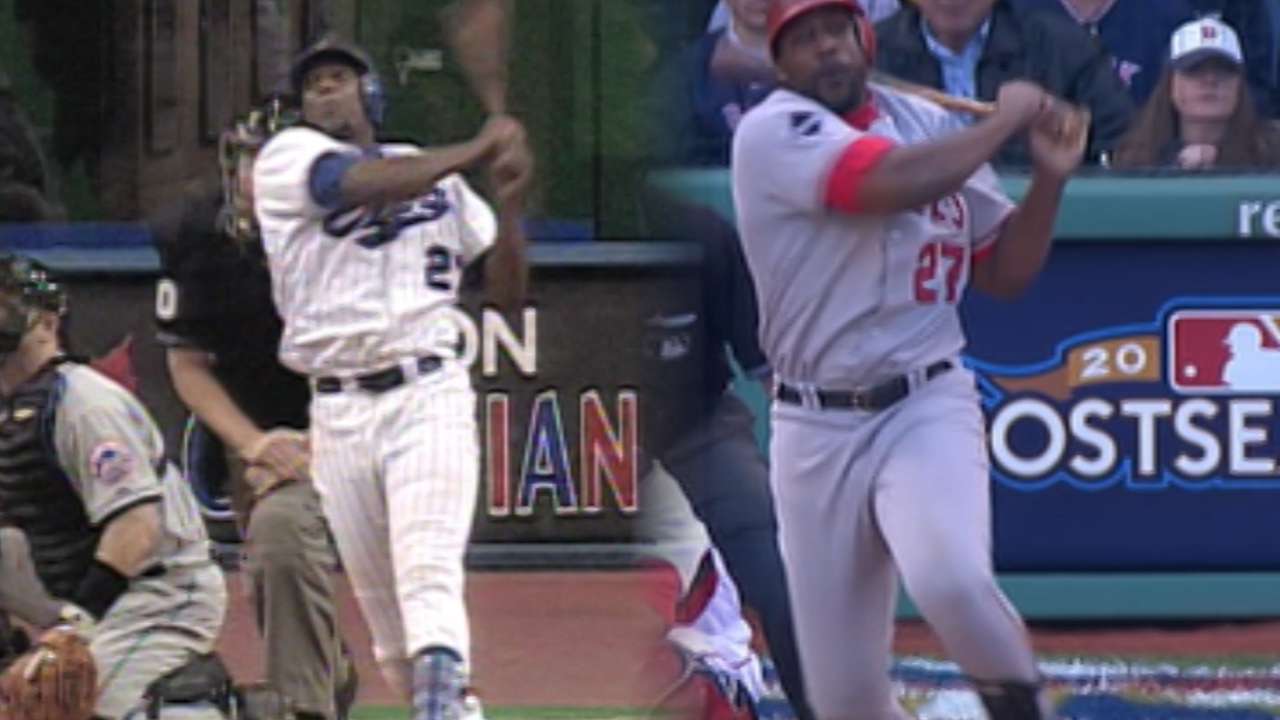 His first Major League home run said a lot about Vladimir Guerrero -- whose pure talent on a baseball field was as overflowing as it was hard to explain. He will be up for Hall of Fame consideration for the first time in 2017.
It was Sept. 21, 1996, at Olympic Stadium in Montreal. Guerrero was a 6-foot-3, 200-pound, 21-year-old rookie outfielder for the Expos in his third Major League game. He rocketed to the big leagues from Double-A Harrisburg, where he had toyed with pitchers while generating story upon story about his vicious right-handed swing, deer-like speed and devastating throwing arm from right field.
It was not an easy task in the eighth inning of that game. The Expos were playing the defending World Series champion Braves, losing, 5-3, with one out in the ninth inning. Guerrero was set to face Atlanta closer Mark Wohlers, a righty who threw upwards of 100 mph and was in the midst of an All-Star season that saw him post 100 strikeouts in 77 1/3 innings and compile 39 saves.
Atlanta broadcaster Don Sutton watched with surprise as Guerrero stepped into the box without batting gloves as he got ready to hit.
"Here's a kid coming in against the best closer in the league and you're only down by two," Sutton said. "This is a white flag."
Guerrero didn't waste much time proving Sutton wrong, beginning a lengthy career that would be defined by spectacular feats, memorable relationships and quiet grace. He will now be put to the game's ultimate test: worthiness for enshrinement in Cooperstown, N.Y.
Guerrero swung at Wohlers' first pitch, a dastardly heater well off the outside corner, and hammered it over the right-field fence.
"Like I said," Sutton observed, "it's a brilliant move."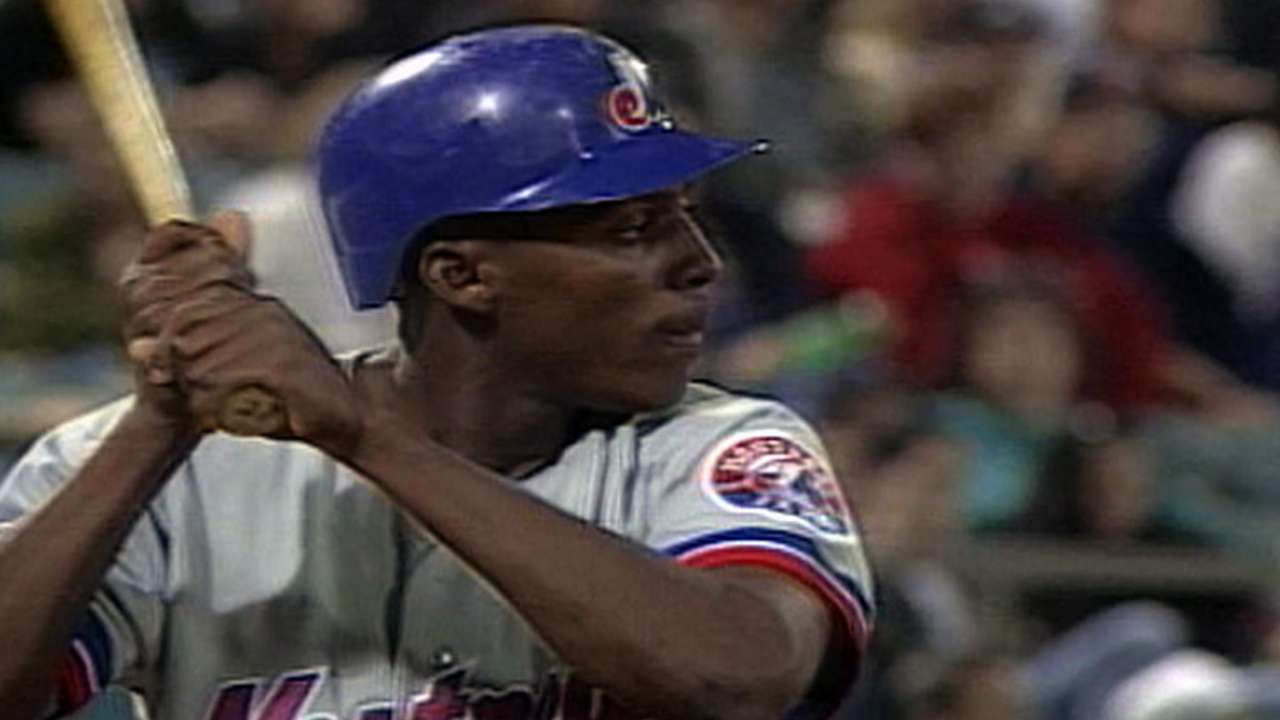 Brilliant is the perfect word to describe Guerrero's five-tool ability and the quality that might ultimately get him into the Hall. He finished his career with a line of .318/.379/.553. He hit 449 home runs and drove in 1,496 runs. He had 2,590 hits and 1,328 runs scored. Prior to damaging his knees after too many innings on Olympic Stadium's brutal artificial turf, Guerrero was a true basestealing threat, swiping 40 bags in 2002, 37 in '01 and 181 overall. He made nine All-Star teams in all.
And in 2004, his first season after leaving Montreal for a free-agent deal with the Angels, Guerrero won the American League Most Valuable Player award with a line of .337/.391/.598, 39 homers, 126 RBIs, 124 runs, 39 doubles and 15 stolen bases.
"With Vlad, it was so much more than the numbers, though," said former Angels teammate Darin Erstad, now head baseball coach at the University of Nebraska. "It was how he did it. Just pure, freakish talent, the most incredible hand-eye coordination you've ever seen. It was like every day at the park you'd see something you'd never seen before."
Guerrero gained a reputation for taking the so-called rules of hitting and throwing them out the window with his toes-to-nose strike zone. Any pitch was hittable for a man with enormous wingspan and some of the quickest wrists. Many were crushable.
"There's a story that he hit a home run off a bounce in Double-A," said writer and native Montrealer Jonah Keri, who chronicled Guerrero and the history of the Expos franchise in the his 2014 book Up, Up and Away: The Kid, the Hawk, Rock, Vladi, Pedro, le Grand Orange, Youppi!, the Crazy Business of Baseball, and the Ill-fated but Unforgettable Montreal Expos.
"I never saw that one, but I definitely saw him get a hit on a bounce in the big leagues."
Erstad recalled when Guerrero first arrived at Spring Training with the Angels and his teammates all locked in to his must-see -- and must-hear -- batting practices.
"We'd heard that the ball sounded different off his bat -- and boy, that turned out to be true," Erstad said. "It was almost like you were watching him hit golf balls on the driving range."
After his tenure with the Angels ended following 2009, Guerrero had a stellar season for the '10 Texas Rangers before he retired after spending '11 with the Baltimore Orioles.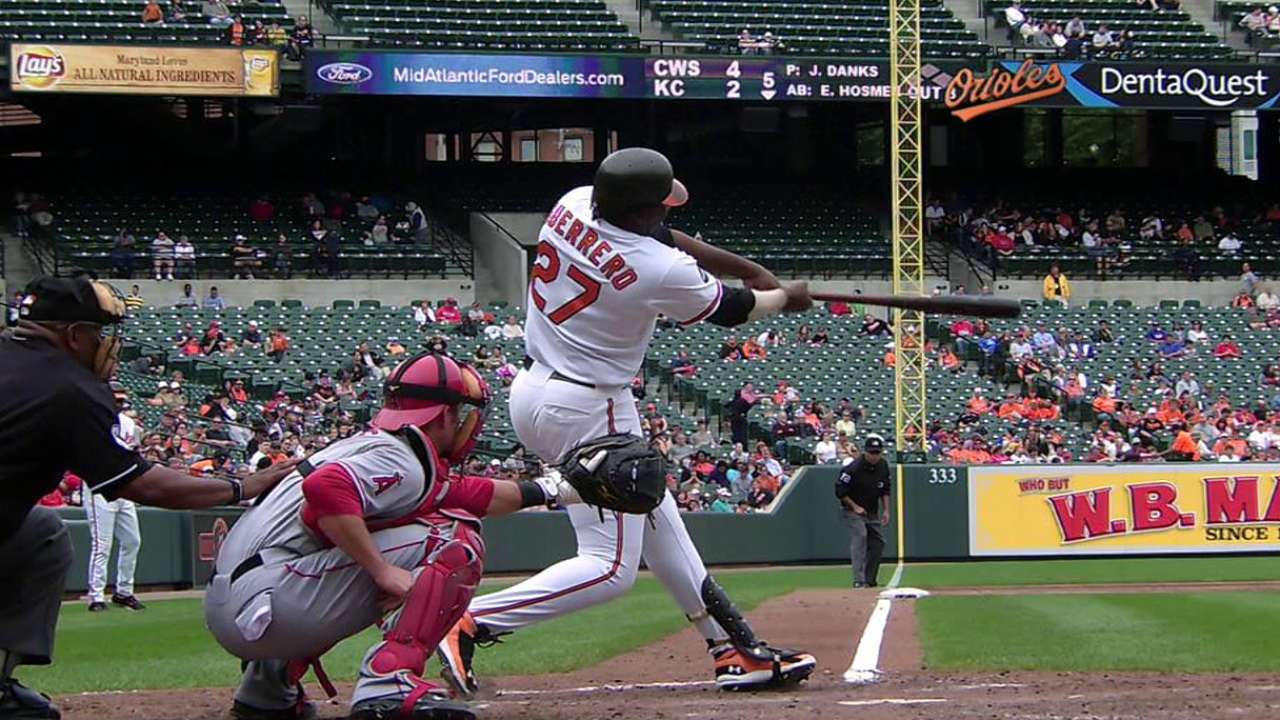 Now, he's up for immortality. But he might not be a first-ballot shoo-in.
For one thing, other players appearing on the Hall ballot for the first time in 2017 include Manny Ramirez and Ivan Rodriguez, both of whom have strong statistical cases.
Then, there's the fact that Guerrero -- and Ramirez and Rodriguez -- are going up against three players already on the ballot whose performance in the 2016 voting might get them in this time around. Seventy-five percent of the vote from the Baseball Writers' Association of America is needed for induction. Jeff Bagwell was named on 71.6 percent of the ballots last year, while Tim Raines earned 69.8 percent support and Trevor Hoffman received 67.3 percent. There's a solid chance all three will receive the necessary support this year, which makes it tougher for Guerrero.
Then again, even if he falls short in 2017, Guerrero will have nine more years on the ballot -- plenty of time for writers to revisit the career of a rare one-of-a-kind talent.
Voters can list up to 10 names on their ballots. The announcement of the Class of 2017 is slated for Jan. 18 at 6 p.m. ET, and it will be simulcast on MLB Network and MLB.com. The induction ceremony will be held on July 30 behind the Clark Sports Center in Cooperstown.
"He was a great teammate, a great guy, and just a truly unique baseball player," said Erstad. "He's a Hall of Famer in my book, for sure."
Doug Miller is a reporter for MLB.com. Follow him on Twitter @DougMillerMLB. This story was not subject to the approval of Major League Baseball or its clubs.