Revere a free agent as Nats non-tender contract
Outfielder struggled in first season with Washington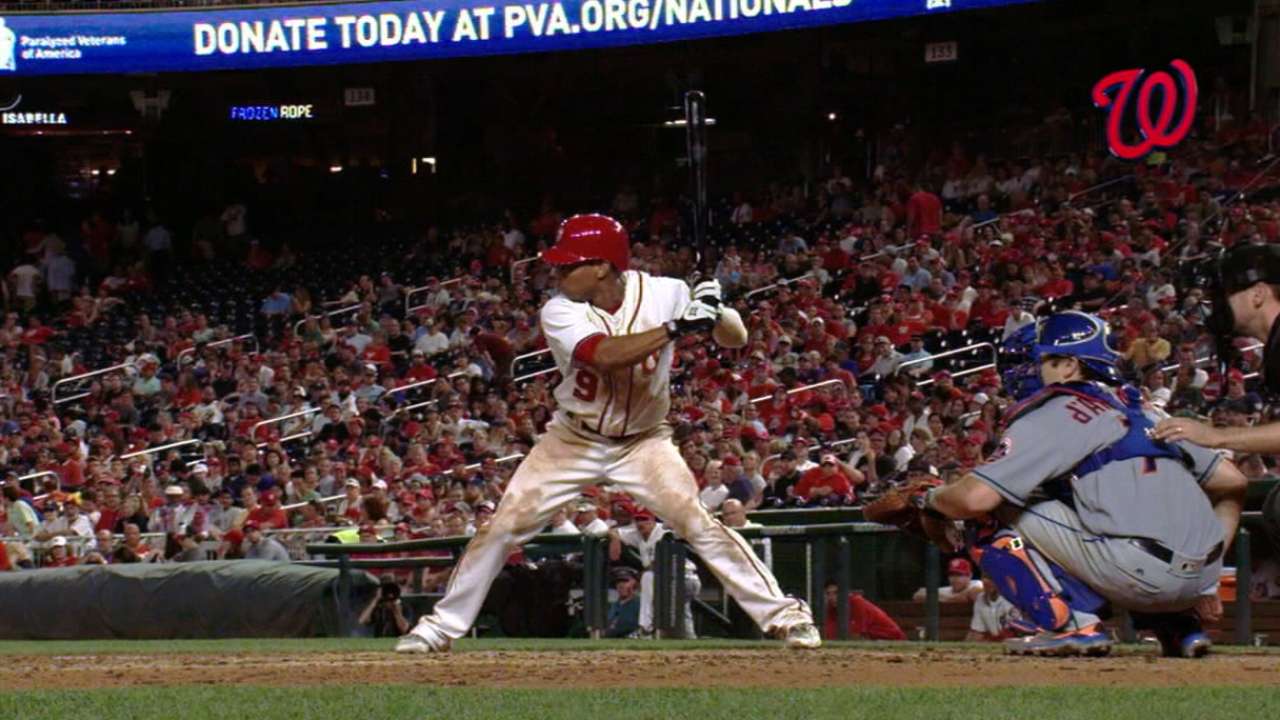 WASHINGTON -- The Nationals did not tender a contract to Ben Revere on Friday, ending his Washington career after one season and making him a free agent.
The Nationals acquired Revere last offseason from Toronto, hoping that he could be the team's leadoff hitter and center fielder. But Revere's season was derailed by an oblique injury sustained on Opening Day and he never found his swing, struggling through the worst offensive season of his career.
Revere hit .217/.260/.300 with a 49 OPS+ and a .560 OPS. The latter was the worst among Major Leaguers with at least 350 plate appearances. By July, the Nationals had given Trea Turner the jobs as leadoff hitter and center fielder. Revere did not make the Nationals' postseason roster. So the move by the Nationals does not come as a surprise, especially considering that the club has been searching for outfielders this offseason.
At times this season, Revere hinted at the extent of his oblique injury, saying that it was still bothering him even after he returned from the disabled list after missing a month. It is unclear how much the injury hampered him during the season, but his numbers were well below his career norms.
Perhaps Revere, 28, will be a strong candidate to bounce back next season, however the Nationals could not take that chance with his current contract. He is eligible for arbitration for the final time this offseason after he made $6.25 million in 2016, and by rule that number cannot decrease through arbitration. MLB Trade Rumors projected Revere to make about $6.3 million in arbitration, which would have been a tough sell for the Nats.
The Nationals also announced they have tendered contracts to the rest of their arbitration-eligible players. Three of those players -- Bryce Harper, Tanner Roark and Anthony Rendon -- were not a question, but there was some uncertainty surrounding the fourth player, Danny Espinosa. Reports connecting the Nationals to Pirates outfielder Andrew McCutchen indicated that Washington wanted to complete a deal ahead of Friday's non-tender deadline because they would likely have non-tendered Espinosa, who would no longer have had a position with the team.
MLB.com and MLB Network will have wall-to-wall coverage of the 2016 Winter Meetings from the Gaylord National Resort & Convention Center outside Washington, D.C. Fans can watch live streaming of all news conferences and manager availability on MLB.com, including the Rule 5 Draft on Dec. 8 at 9 a.m. ET.
Jamal Collier covers the Nationals for MLB.com. Follow him on Twitter at @jamalcollier. This story was not subject to the approval of Major League Baseball or its clubs.