Zim out to prove he has hits left in tank
Nationals first baseman aims to bounce back from worst statistical season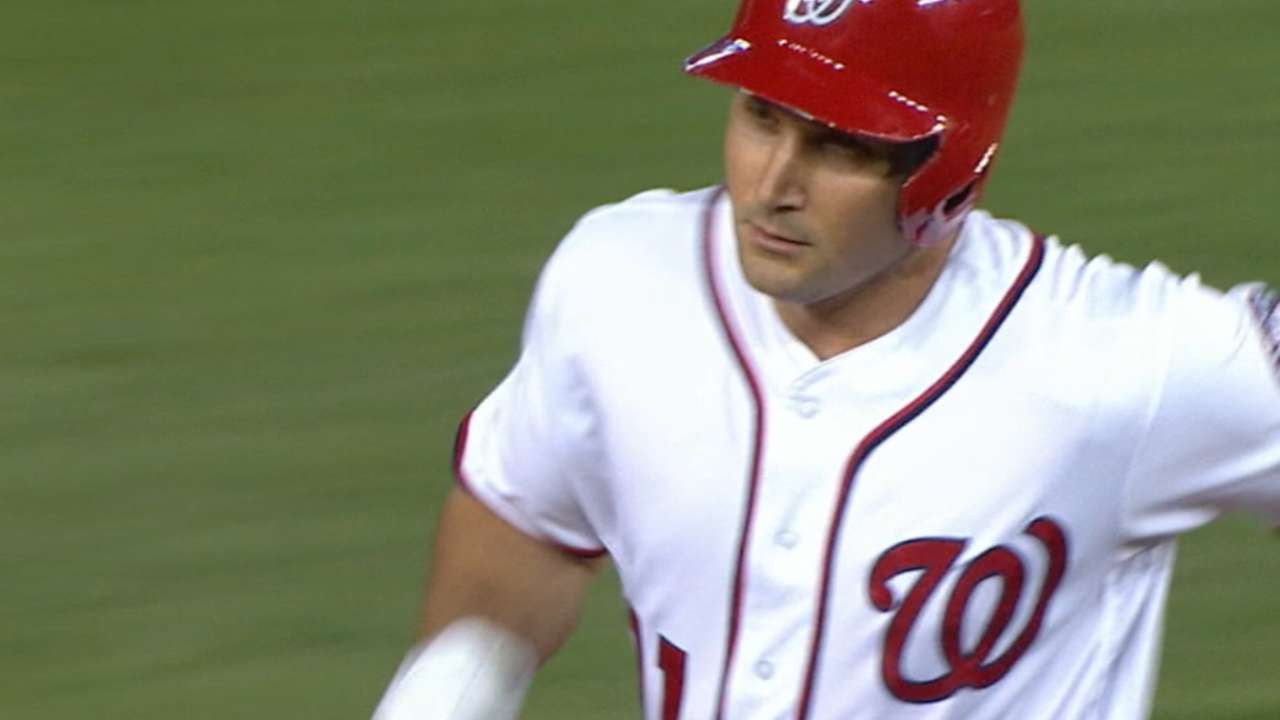 WASHINGTON -- Ryan Zimmerman was once the undisputed face of the franchise, the very first pick after the Nationals relocated to D.C. who endured the 100-loss seasons and heartache before enjoying the team's success during the past five seasons.
After spending the previous two seasons hampered by injuries, Zimmerman proceeded to put up the worst statistical season of his career in 2016. It was enough to lose favor with some fans, and a vocal number of them began to call for his benching and perhaps his release.
Zimmerman was as frustrated as anyone with his production from last season, but he is intent on proving he still has something left in the tank.
"I expect more out of myself than I think anyone expects out of me, so I was disappointed in what I did last year," Zimmerman said. "But that's the great thing about baseball -- that was last year and we kind of move on.
"Three years and an option left on the contract I signed. I plan on living up to that contract and performing like I'm supposed to perform."
The Nationals still owe Zimmerman $46 million during the next three seasons, with a potential $18 million option in 2020 or a $2 million buyout. They quelled any potential speculation about his future with the team right away at the start of the offseason, when general manager Mike Rizzo named him the starting first baseman for next season. Perhaps Zimmerman has earned the benefit of the doubt for his years on the team, and the Nationals kept pointing to encouraging signs despite his lack of results.
Zimmerman's average exit velocity was the 13th highest in the Majors and his .248 batting average on balls in play was well below league average and his career average. Still Zimmerman, 32, posted a slash line of .218/.272/.370, a 69 OPS+ and a -1.1 WAR, according to Baseball-Reference.com, with the highest strikeout rate of his career and the lowest walk rate.
There are numbers that point to both sides of whether Zimmerman can rebound next season, but the Nats have placed their faith in him returning to being a productive player in 2017.
"I think the fact that he is starting the season healthy, the fact that this guy is a quality guy, team leader," manager Dusty Baker said. "He didn't like the year he had.
"You know, you look on the back of your bubble gum card -- we all have years that we wish we could erase from our bubble gum card, but it's there. I think he's going to have a big year, plus we need him to have that."
Jamal Collier covers the Nationals for MLB.com. Follow him on Twitter @jamalcollier. This story was not subject to the approval of Major League Baseball or its clubs.