Managing uncertainty piece of cake for Baker
Baseball lifer not concerned by entering final year of deal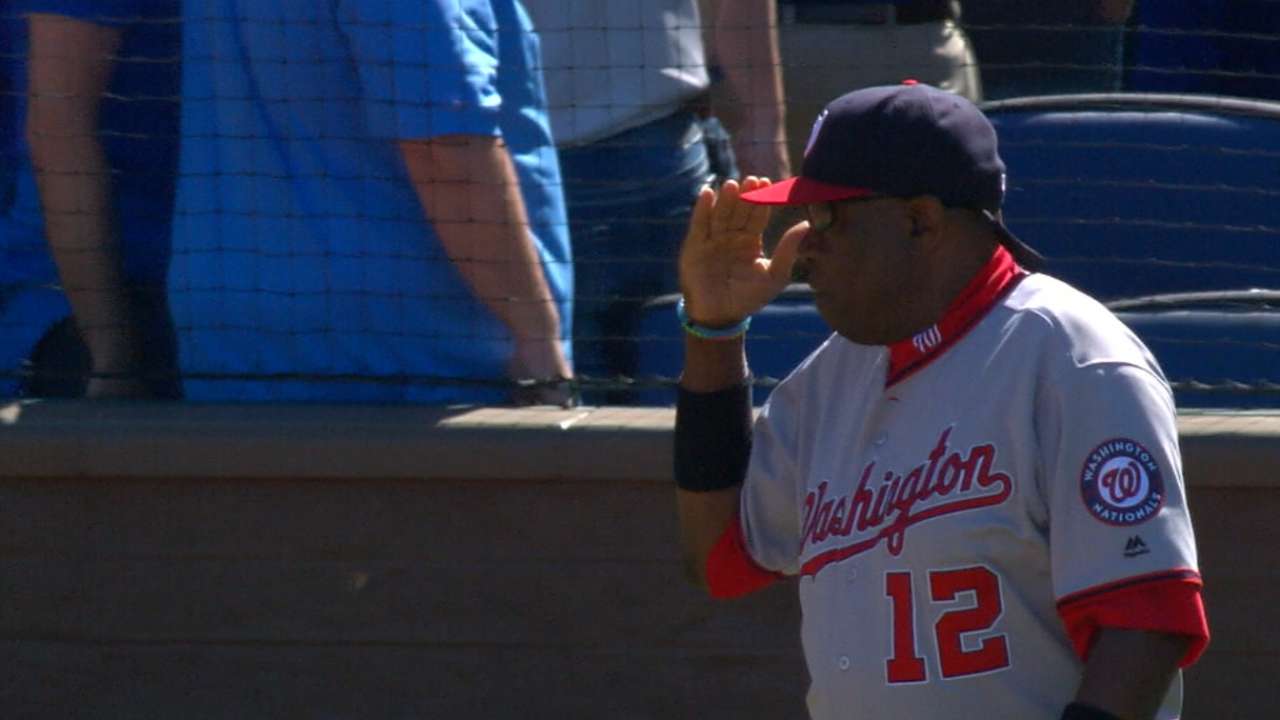 WEST PALM BEACH, Fla. -- Perhaps other managers would be worried about their status as so-called "lame ducks" as they prepare for Spring Training entering the final season of their contract. Dusty Baker, however, is unconcerned.
"I've been in this situation more times than any manager in baseball -- almost," Baker said Tuesday afternoon during his first Spring Training news conference. "I don't even look at it as a lame duck. I'm past lame. I'm confident in my abilities, and God leads my path, so therefore, I don't worry."
Baker does not worry because he knows real uncertainty, such as when he needed surgery for prostate cancer in 2001 or when he suffered a stroke in '12. That's why he does not flinch about his contract status as he arrives in West Palm Beach with one year remaining on his deal. The Nationals were happy with Baker's performance last season, which earned him a third place finish in the voting for the National League Manager of the Year Award, and were reportedly open to signing him to an extension. And Baker, 67, still has interest in managing after this season.
"At this point, I think I'd like to manage some more," he said.
• Spring Training: Info | Tickets | Schedule | Gear
There is still plenty of time for the two sides to negotiate a contract prior to the start of the regular season, so for now Baker was focused on the start of his second season at the helm in Washington.
Baker spent most of last spring getting to know an entire new team and organization and getting re-acquainted with baseball himself after two years off the field. This year is much of the opposite, considering most of the team that won 95 games last season will return. That familiarity will be key, and Baker believes it will make this camp run smoother.
The Nationals also fell short of their ultimate goal last season, and there are questions about whether they did enough this offseason to address their needs.
"There's always some things you want to do," Baker said. "Rarely do you go into camp with who your 25 are. That kills the desire of whoever wants to make it and kills the desire of young guys. I always like to have some room for a surprise person, whether it's a young kid or a guy that's getting his act back together, because we have some guys here that are young. We have some guys here that have been stars, that are trying to rekindle that stardom."
The Nats biggest uncertainty remains at closer, a question that has lingered for the entire offseason. They were unable to pull off any high-profile signings or upgrades to the bullpen despite being linked to a plethora of players. Perhaps Blake Treinen or Koda Glover could be the "young kid" that surprises the Nats at camp and wins the job. And Baker brought up a different name, Joe Nathan, as someone with closing experience that he is interested in seeing. Still, Baker made it clear he does not want to have a "closer by committee" and plans to name someone to that role by the end of camp.
"Well, without a real, bona fide closer, somebody always emerges," Baker said. "I don't like by committee because when the phone rings I want guys to know mentally when they might be in the game. So we'll come up with that, and if we have to, still tweak and experiment.
"And, who knows? It might be something else in the works. There always is. Once you see what you have, see what other teams have, we have enough or don't have enough."
As usual, Baker did not seem worried about it.
Jamal Collier covers the Nationals for MLB.com. Follow him on Twitter at @jamalcollier. This story was not subject to the approval of Major League Baseball or its clubs.