Stras focused on marathon, not sprint
Starter hopes to complete full, healthy season for Nats in 2017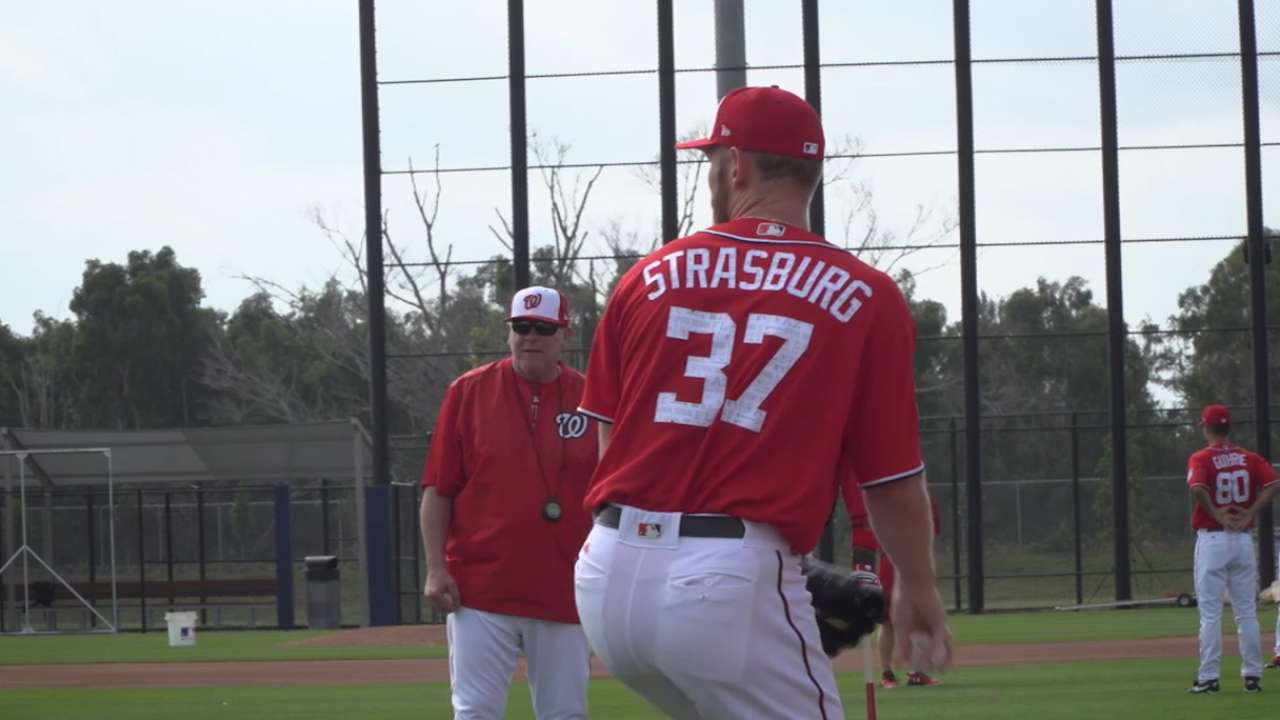 WEST PALM BEACH, Fla. -- Stephen Strasburg threw off a mound for about 10 minutes, just like the rest of the Nationals' pitchers did during their first workout Thursday morning. Strasburg let loose on all his pitches, and he said he is no longer feeling any lingering effects from the partially torn pronator tendon that ended his 2016 season.
To many, this was a significant development as Strasburg prepares to enter the first season of a seven-year, $175 million contract. To him, however, it was not.
"I don't think that's been the issue in past years," Strasburg said. "Minus my Tommy John year, I've always been here Day 1. Question is, Day 162."
• Spring Training: Info | Tickets | Schedule | Gear
Strasburg began 2016 healthy, and he looked like a legitimate National League Cy Young Award candidate through the first half. But his season ended prematurely on Sept. 7 when he walked off the mound with the right elbow injury. Strasburg began throwing bullpen sessions during the NL Division Series, but he never made it back into a game.
Making it through an entire year healthy is Strasburg's biggest goal this season, and he has started to take the steps to ensure he accomplishes it.
Strasburg plans to spend ample time in the training and weight rooms to ensure he gets the necessary work done. He began the offseason running longer distances -- three to four miles on Wednesdays and then six to seven miles on Sundays. It's something Strasburg did leading up to the 2014 season, when he made a career-high 34 starts -- the last time he made every start during a season.
"I think there was something to it," Strasburg said. "It's kind of corny, but they say the season's not a sprint, it's a marathon."
Strasburg appeared to have lost weight when he arrived at camp, but he revealed that he had actually added weight since the end of the 2016 season. He described himself at a lean 240 pounds, at about 11 to 12 percent body weight -- down from 13 to 15 percent in '16.
It's unclear whether those offseason adjustments will translate on the mound, but the Nationals have said they will try to find ways to handle Strasburg this year so he can still be healthy for the postseason.
But, at least on the first day, manager Dusty Baker liked what he saw from Strasburg in the 'pen.
"He looked like Stras to me," Baker said. "That was very, very impressive to me; he told me he was ready, and he worked hard this winter. He's in great shape."
Jamal Collier covers the Nationals for MLB.com. Follow him on Twitter at @jamalcollier. This story was not subject to the approval of Major League Baseball or its clubs.