Worley hopes versatility pays off in roster spot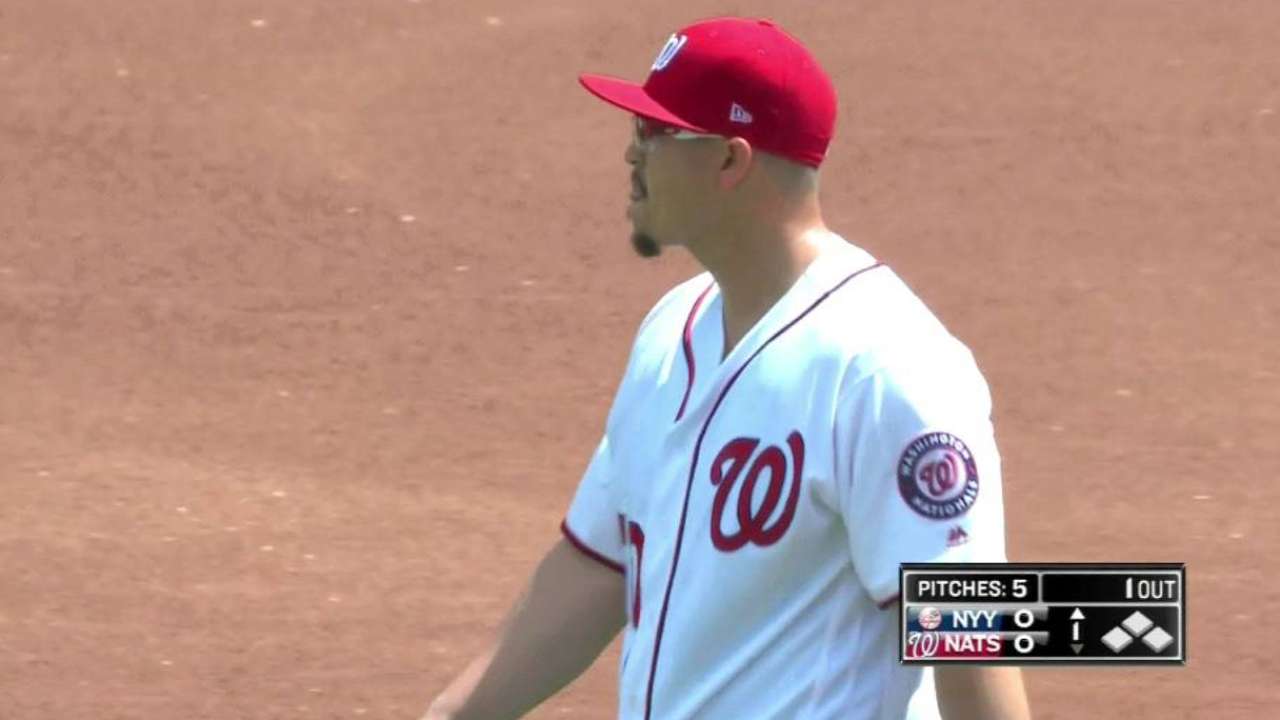 WEST PALM BEACH, Fla. -- The Nationals have some crucial decisions to make to fill out the final spots in their bullpen as Spring Training winds down during the next two weeks, including whether they will keep a long reliever in the bullpen. They received a look at a few of their potential options in Monday afternoon's 9-3 loss to the Yankees.
Right-hander Vance Worley struggled a bit with his command in his first Grapefruit League start before eventually settling in. He allowed four runs (three earned) on seven hits with two walks in 3 1/3 innings. Jeremy Guthrie struck out two in two innings but allowed a two-run home run to Matt Holliday. They are perhaps the two leading candidates to fill the long-reliever role, one manager Dusty Baker values and has spoken highly of all spring -- even if a clear favorite has not emerged.
• Spring: Tickets | Ballpark | 40-man roster | NRIs
"I'd like clarity a couple weeks ago, but it doesn't look like it's going to happen," Baker said. "It'll probably go down to the end. You always want somebody to step up definitely. It makes our decision easier."
Worley is perhaps the most intriguing candidate, considering he could fill the role most similar to right-hander Yusmeiro Petit, who was what Baker called his utility pitcher last season because of his versatility to pitch in so many different spots. Worley served in a similar capacity for the Orioles, starting four games, finishing 13 and pitching in middle relief in outings ranging from one batter to seven innings.
"I've seen him do everything," Baker said prior to the game. "He has a very resilient arm. He can go long. He can start. He can go short. He's a guy that could throw almost every day. But we've got some other guys here that are vying for that position that are very similar in Matt Albers and Guthrie."
However, it is unclear if there are enough open spots in the bullpen. Assuming they carry seven relievers (Shawn Kelley, Blake Treinen, Joe Blanton, Oliver Perez and Sammy Solis are all locks), it leaves two spots open. That means the Nats would have to either send someone like Koda Glover -- who has been one of their most impressive relievers this spring -- to start the season in the Minors or part ways with Enny Romero, who has been throwing 98-99 mph consistently. Baker would not commit to definitely keeping a long reliever, but highlighted the importance of a pitcher to fill that role even with the rotation representing a strength.
Still, it leaves some uncertainty for pitchers like Worley.
"Early on in camp, yeah, it was a good opportunity here and I think it still is," Worley said. "They went out and they signed some more guys and some of them got spots, so it's tough not to think about it. But at the same time, this is pretty much a trial for everybody to see how things go.
"I want to be here. That's why I signed here. We'll see what they think of me by the end of camp."
Jamal Collier covers the Nationals for MLB.com. Follow him on Twitter at @jamalcollier. This story was not subject to the approval of Major League Baseball or its clubs.