Offense quieted in loss to Pirates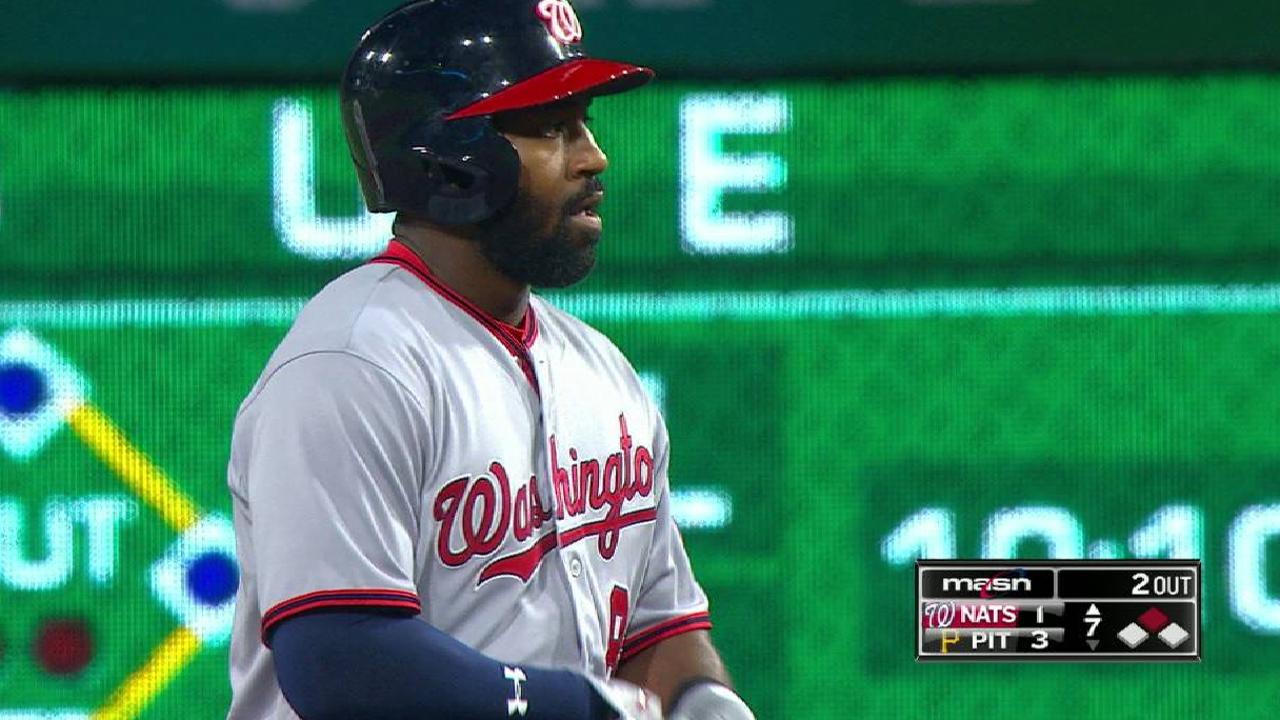 PITTSBURGH -- Backed by rare run support and strong defense, Gerrit Cole held the high-powered Nationals offense to a season-low three hits over seven innings and led the Pirates to a 6-1 win at PNC Park on Wednesday night.
After an injury-filled season a year ago, Cole has seemingly discovered his top form. The right-hander has been charged with two earned runs or fewer in each of his last seven starts, and his ERA has dropped to 2.84 after Wednesday night's performance. Cole struck out three hitters as he efficiently worked seven innings on 98 pitches, but he effectively shut down the Majors' highest-scoring lineup.
"It's just important to try to stay aggressive with this lineup," said Cole, who earned his first win since April 14. "If you start staring at the batting averages and the names on the back of the jerseys, it can be a little overwhelming. But you've just got to stick with the process and control what you can control."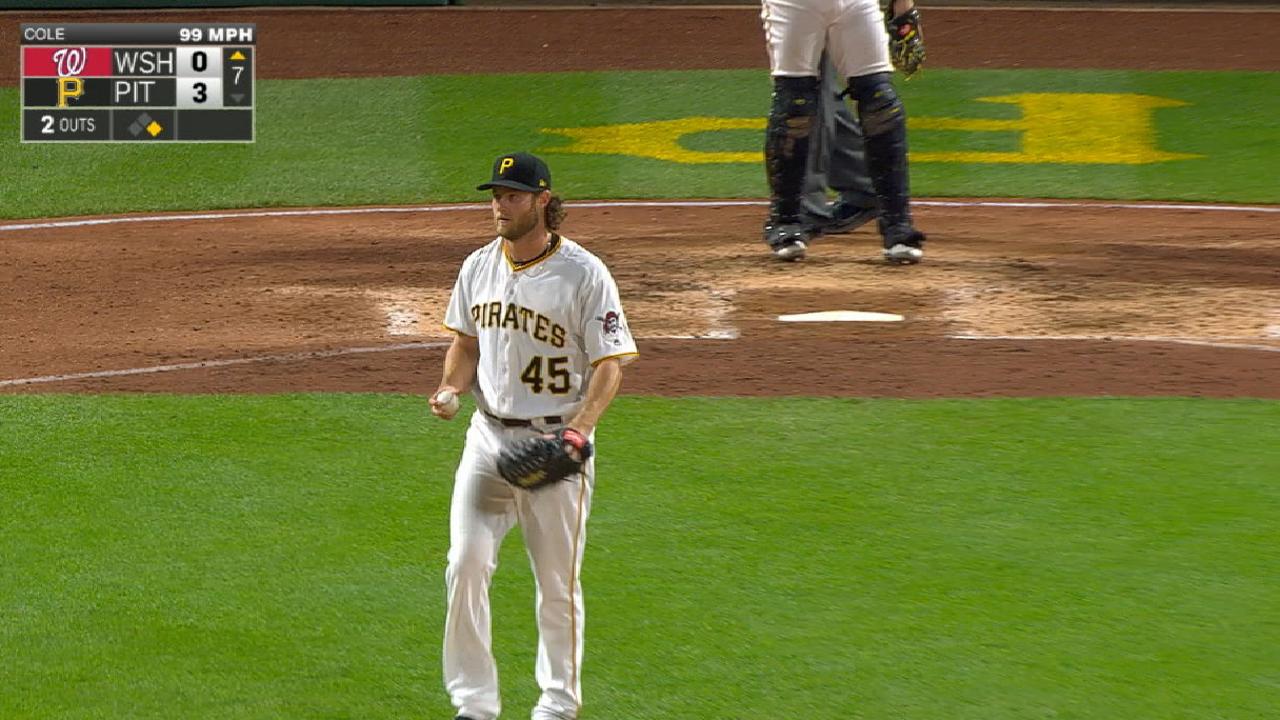 The issue for Cole this season has been a lack of support, whether it was from the Pirates' lineup or fielders. He entered the night with the Majors' lowest run support average -- 2.22 in eight starts. That wasn't the case against the Nats, as the Bucs made a handful of sharp plays behind Cole and piled on five late runs. Meanwhile, Cole threw a first-pitch strike to 20 of the 25 hitters he faced and mixed in three other pitches to keep them off-balance.
"He had everything working tonight. It was the fifth or sixth inning before we kind of knew what happened," Nats manager Dusty Baker said. "We hit some balls pretty good off Cole, just not many of them. And we didn't find many holes. That was one of the best performances that we've seen against us."
Right-hander Jacob Turner held the Pirates in check for five innings before walking John Jaso, hitting David Freese and serving up a three-run homer to Josh Bell in the sixth. After breaking into Washington's vulnerable bullpen, Pittsburgh tacked on three more runs in the seventh. Andrew McCutchen led the charge and finished 2-for-4 with two RBIs and a pair of steals.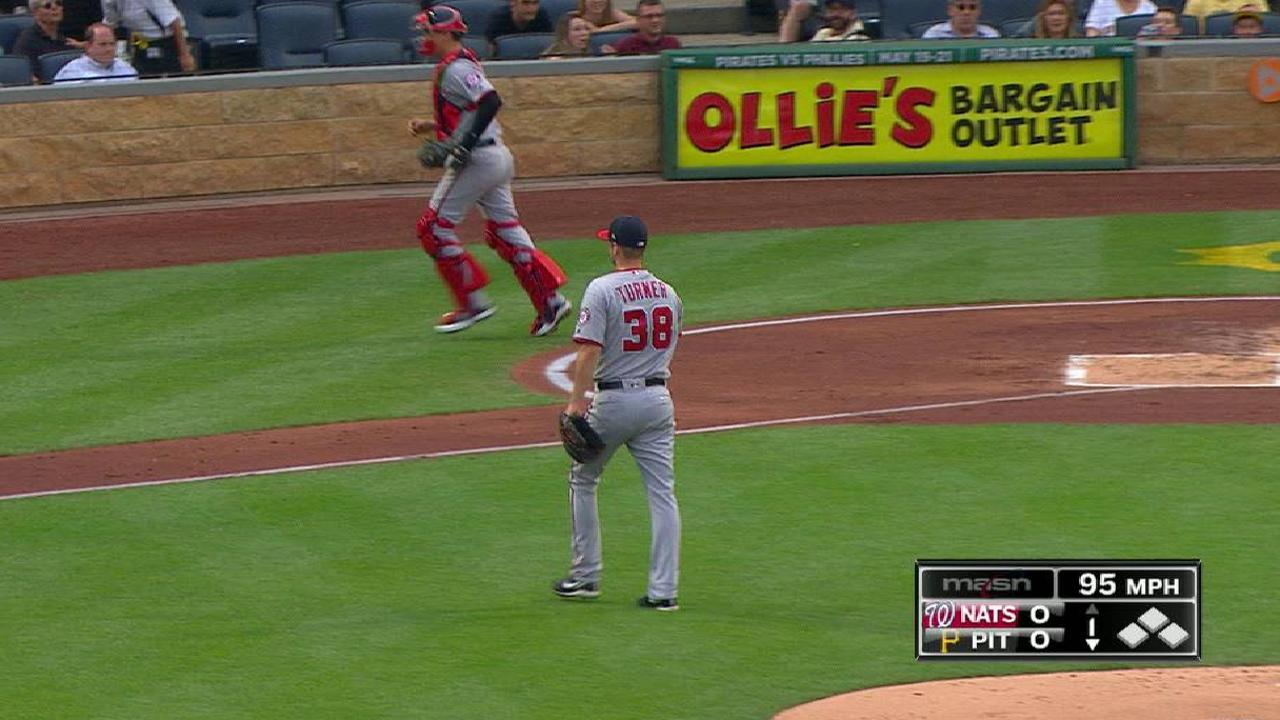 MOMENTS THAT MATTERED
Ring it: Bell came to the Majors last year followed by questions about two areas of his game. Would he be able to handle first base while also hitting for power? So far, the answer is a resounding yes and yes. Bell crushed his team-leading eighth homer off Turner in the sixth, launching a three-run shot into the right-field seats. Bell improved his slugging percentage to .500 and bumped his RBI total to 16. Bell continues to be removed late in game for defensive purposes, but he also made a pair of nice plays down the line in the fourth and fifth innings.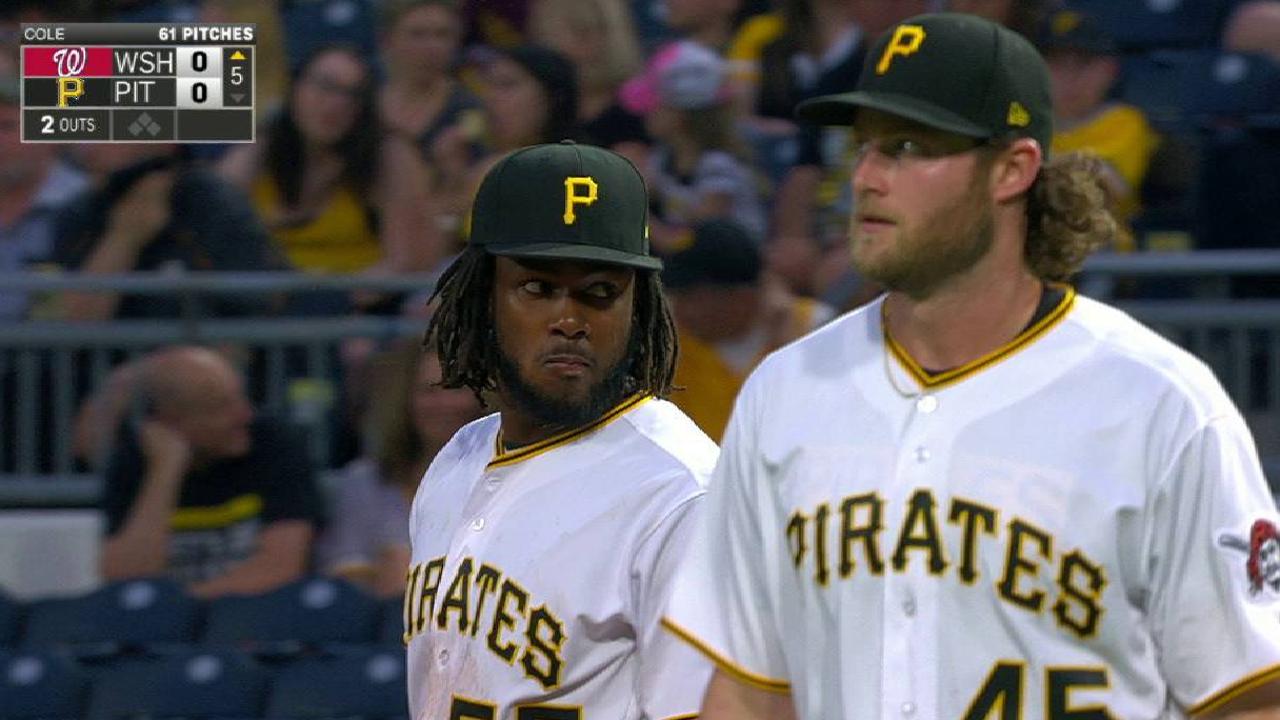 "I feel like right now, I'm simplifying things. Before, I was trying to force the issue," Bell said. "I'm seeing a lot of pitches. I'm getting better timing for them and attacking at the right times, too. It doesn't take much to get the ball out of the ballpark for me. I don't have to swing as hard as I can. It's just putting a decent swing on it. If I can stay through the baseball, I'm in a good place."
Picked off: The Nationals only moved two runners into scoring position against Cole. The first one, Trea Turner, reached on a fielder's choice in the sixth and stole second. Two outs later, he was stranded there. The second Nats player to reach second base, Brian Goodwin, did so on an RBI double in the seventh. But the Bucs quickly thwarted the potential rally, as catcher Francisco Cervelli fired down to shortstop Jordy Mercer and picked off Goodwin to end the inning.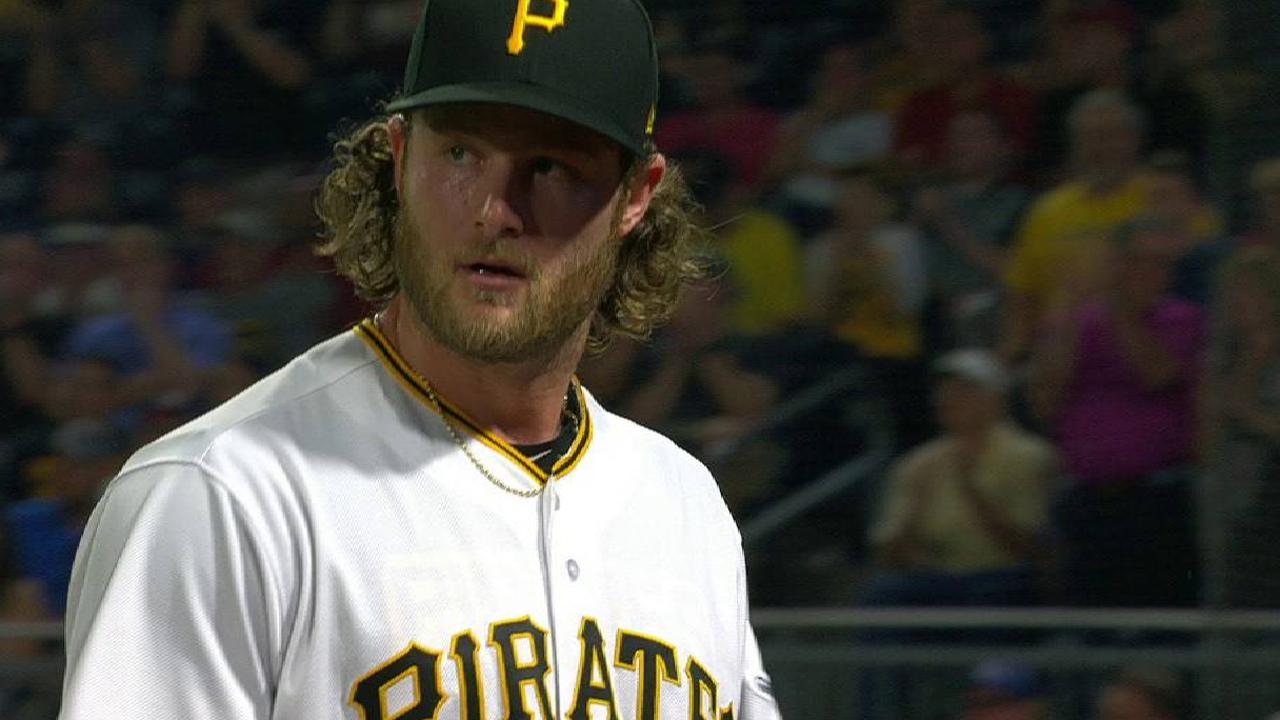 "That just shows you everybody's locked in, everybody's aware. That's a big tipping point of the game," Cole said. "It's not the tying run or the go-ahead run, but this team over there can come back late in ballgames, especially with their firepower. So Cervy and Mercer being on the same page, setting that pick up, that's beautiful."
QUOTABLE
"We always want to get runs for whoever's out there on the mound, not just Gerrit because he hasn't really had run support. We want to score some runs. We did it late, but we did it and that's all that matters."-- McCutchen, on offensive production
"Maybe the second-most impressive thing he did tonight. The first was letting that [pitch] get between his legs without getting hit. I think he's still smiling. That's the kind of guy he is. He finds joy in the field. He finds joy playing baseball."-- Hurdle, on John Jaso scoring from first on a single and taking a ball between his legs in the seventh inning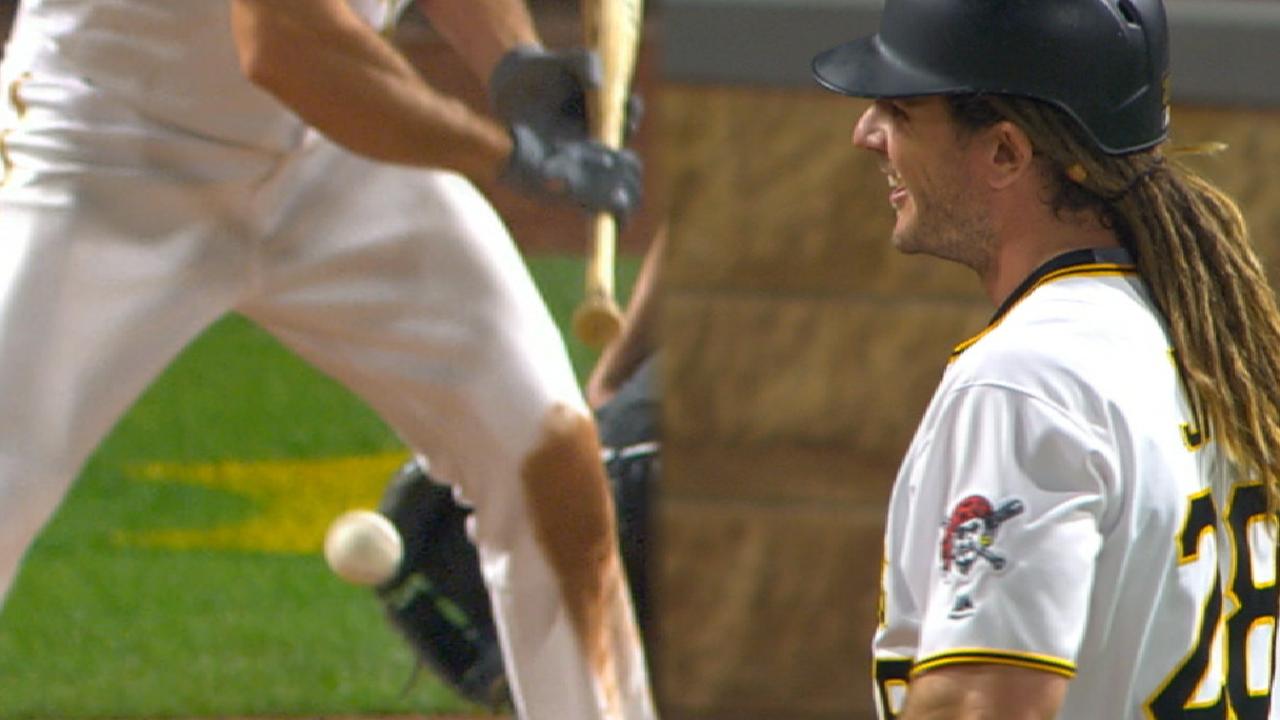 SOUND SMART WITH YOUR FRIENDS
Cole has pitched seven innings in each of his last three starts and four of his last five. Last season, Cole pitched seven-plus innings only three times in 21 starts.
McCutchen recorded his first two-hit game since April 28 and his first multiple-steal game since July 10, 2014.
WHAT'S NEXT
Nationals: Right-hander Tanner Roark has not been effective as last season while having trouble extending his appearances. Just once in eight starts has Roark pitched as many as seven innings, due to high pitch counts.
Pirates: Rookie right-hander Tyler Glasnow will start for the Pirates at 12:35 p.m. ET on Thursday. Glasnow is looking to rebound from an ugly outing in Arizona on Friday, when he allowed seven runs on seven hits and couldn't get out of the third inning. The outing was a step back for Glasnow, who was coming off consecutive quality starts.
Watch every out-of-market regular-season game live on MLB.TV.
Adam Berry has covered the Pirates for MLB.com since 2015. Follow him on Twitter and Facebook, read his blog and listen to his podcast.

Bob Cohn is a contributor to MLB.com based in Pittsburgh and covered the Nationals on Wednesday.

This story was not subject to the approval of Major League Baseball or its clubs.