Turner impresses on mound in spot start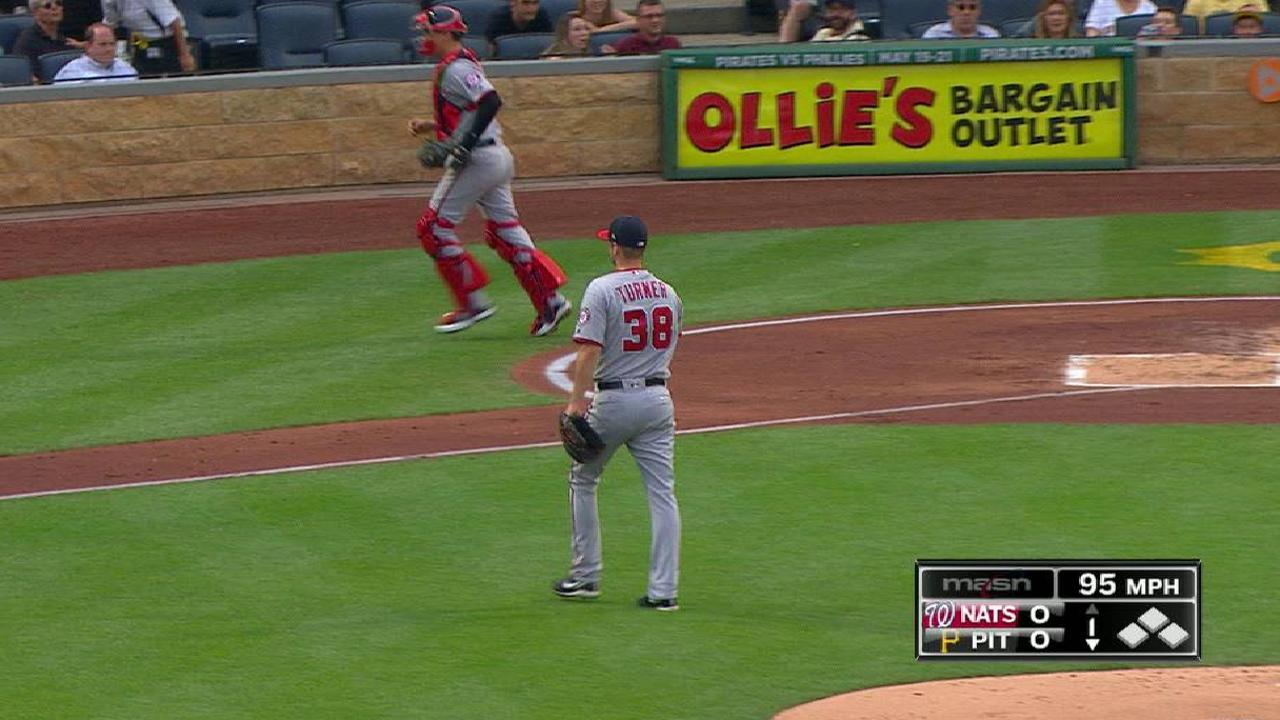 PITTSBURGH -- Pirates pitcher Gerrit Cole shut down the powerful Nationals lineup Wednesday, which wasn't a huge surprise considering that Cole was an All-Star in 2015 and is flashing the same ace-like skills this season.
But for five innings, Nats manager Dusty Baker said his own starter, the far less-heralded Jacob Turner, "was matching" Cole in the club's 6-1 loss to the Pirates on Wednesday.
A non-roster invitee, who entered 2017 with a 12-27 career record and won a job during Spring Training, Turner was making just his second start of the season.
Entering the sixth, Turner had pitched out of a couple of early jams, but recorded the same number of zeroes as Cole, who ended up giving up just one run and three hits in seven innings.
But then came the sixth.
Turner, a 6-foot-5, 25-year-old right-hander, walked John Jaso to lead it off. Andrew McCutchen forced Jaso at second base and David Freese was hit by a pitch. Next was Josh Bell, the big first baseman, who leaned into Turner's 3-1 fastball and sent it nearly 400 feet over the wall in right field. Bell had struck out earlier on the same pitch.
"It was awesome," Bell said of the home run. "I was definitely upset because I knew that was one of his out pitches, that fastball in that starts at your kneecap then breaks back virtually down the middle. It's a great pitch. Seeing it twice -- you know, 'fool me twice, shame on me' or whatever … then that third time through, shame on you for throwing it."
Bell's eighth homer broke the deadlock and put the Pirates up, 3-0. Turner, who had made six straight relief appearances since his April 24 start, had given it his all. It wasn't quite enough.
"I didn't feel like I was tired," Turner said. "I was ahead of Jaso, didn't put him away. I got the groundout on McCutchen, was ahead of Freese, hit him. Bell hit the home run, everybody's gonna look at that. But how they got on base, stuff like that just can't happen. I have to be better in that situation. That's really it."
Turner threw 89 pitches, 49 for strikes and several more that were "near-strikes," Baker said. "They laid off of 'em."
"I felt I was ready to go a hundred pitches," Turner said.
Turner's spot start came down to "really just battling," he said. "Trying to find something that would work. Keeping the ball on the ground. The defense was great behind me. Got some quick outs. But really just trying to get a feel the whole game."
Turner was pressed into service because of the Nationals' muddled fifth-starter situation. Joe Ross, who showed promise last season (7-5, 3.43 ERA) was supposed to fill the role, but was demoted to Triple-A Syracuse on May 1 after three starts yielded 13 earned runs in 15 2/3 innings.
Ross might be on his way back, however. After two shaky outings for the Chiefs, he pitched seven strong innings against Triple-A Buffalo on Wednesday, giving up one earned run, striking out six and walking one. A.J. Cole started in place of Ross on May 6 and beat Philadelphia, allowing one earned run in six innings, but raising concerns about several hard-hit balls that were outs.
Turner got the shot after several strong bullpen outings -- a rarity for the Nats this season. Turner has learned to be resilient, bouncing around after the Tigers took him out of high school in Florida with the ninth pick in the 2009 Draft.
Ross may regain his spot in the rotation soon. Either way, it looks like Turner may get to stick around for awhile.
Bob Cohn is a contributor to MLB.com based in Pittsburgh and covered the Nationals on Wednesday. This story was not subject to the approval of Major League Baseball or its clubs.