Soriano arrives at Nationals' camp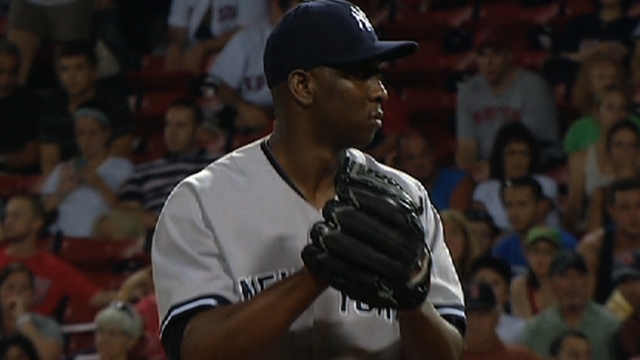 VIERA, Fla. -- Nationals closer Rafael Soriano arrived in camp Saturday morning and was greeted in the clubhouse by teammate Gio Gonzalez and general manager Mike Rizzo. Soriano would later get reacquainted with left-hander Will Ohman. The two played together when they were with the Braves in 2008.
Soriano had visa issues, but was able to obtain one Friday morning in the Dominican Republic. Pitchers and catchers were scheduled to report this past Wednesday. While waiting to get his visa, Soriano was still able to find time to work out. In fact, Soriano was working out at the beach when he received word that he able to get his passport.
"I'm so happy to be here. I wanted to be here a little bit early and be with my new team," Soriano said.
Later in the day, Soriano was working on fielding and bunting drills. He was seen talking to manager Davey Johnson and pitching coach Steve McCatty. Soriano will not have his first bullpen session until Monday.
"It was great," Soriano said about the workout. "I talked to a couple of players. It's going to take a couple of days to feel comfortable with my new team."
Soriano, who joins a bullpen that already includes Drew Storen and Tyler Clippard, has a 2.78 career ERA in 11 seasons spent with the Mariners, Braves, Rays and Yankees. The Nats signed Soriano after their bullpen struggled during last year's National League Division Series against the Cardinals, allowing 16 earned runs in five games.
Soriano felt he made a good decision by signing a two-year, $28 million contract with the Nationals. It marks the second time in his career that Soriano goes into a season as the closer. The last time was in 2010 with the Rays, when he had his best season, saving 45 games with a 1.73 ERA.
"I think I made a good decision with my [agent] to come here," Soriano said. "Everybody is young. We have a good team. I come here and see what happens the next two weeks. I want to be comfortable with everybody here and win this year.
"Now I'm given the opportunity to be the closer. I'm happy with that. I want to win. That's all I'm here for."
Soriano had one of his best seasons in 2012, posting a 2.26 ERA with 42 saves for the Yankees, taking over closer duties after Mariano Rivera tore his right ACL in early May. Soriano opted out of his contract with New York after he learned that Rivera was going to come back for the 2013 season. Soriano did not want to be a setup man.
"I had a lot of good things happen to me [in New York]," Soriano said. "I didn't want anything to happen to Mariano last year."