Johnson confident Detwiler, Gio in good hands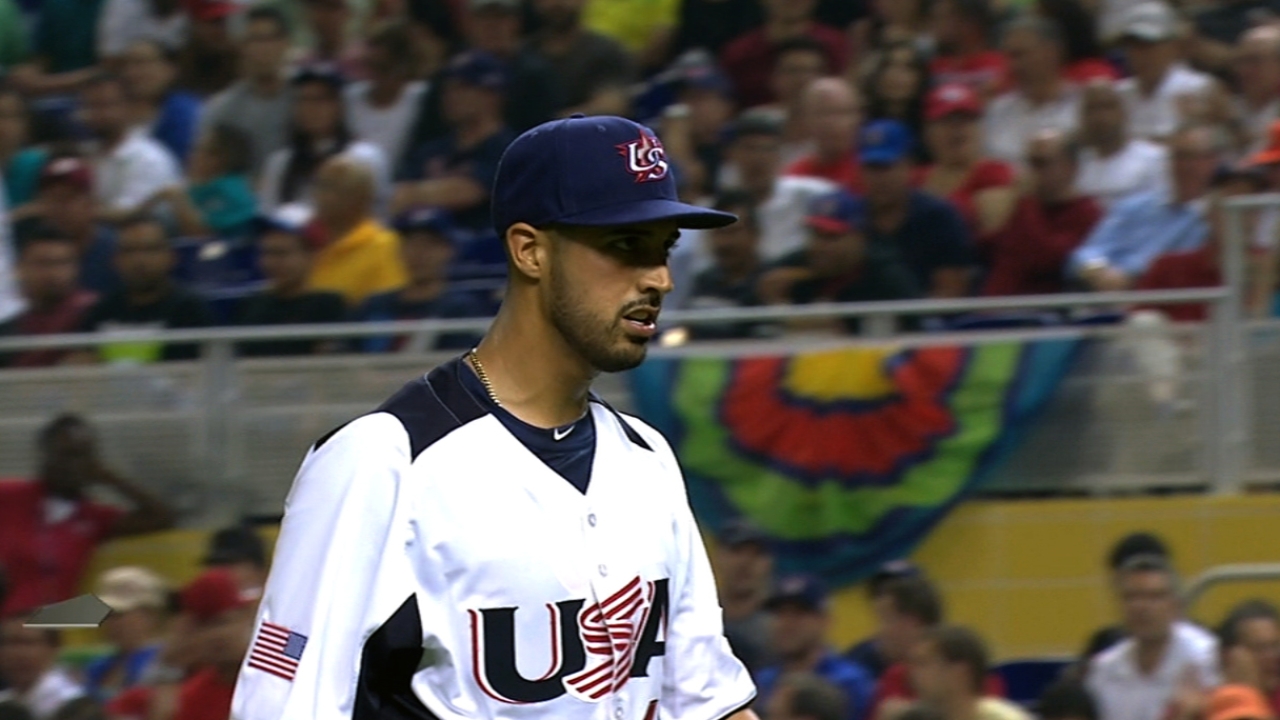 JUPITER, Fla. -- With uncertainty looming for Team USA in the World Baseball Classic -- both tonight in an elimination game against Puerto Rico, and in the coming days with the possibility to advance to the semifinals in San Francisco -- Davey Johnson remains confident that Ross Detwiler and Gio Gonzalez are in good hands and will return to Viero without having been thrown off course.
Detwiler's day to pitch was technically Thursday, and it's unclear whether he will piggy-back after Ryan Vogelsong starts for Team USA on Friday night. Vogelsong and Detwiler each threw four innings on March 9 against Italy, with Detwiler recording the save.
Gonzalez started in America's 7-1 win against Puerto Rico on Tuesday and is expected to throw in the championship game on March 19 should the U.S. advance. That, too, would be on extra rest.
Johnson said pitching coach Steve McCatty -- whom he has nicknamed "Mother Hen" by virtue of McCatty's care for his starters during this unconventional period of scheduling -- has been mulling it all over, trying to piece together a time frame.
"Everything can change," Johnson said. "I said, 'McCatty, don't even go with that pencil on your days, because we don't know what they'll end up doing, when they'll end up throwing.'"
The Nationals have been using Chris Young and Ross Ohlendorf as rotation placeholders while Gonzalez and Detwiler have been away. Ryan Perry is scheduled to start Sunday against the Tigers, but if the U.S. loses on Friday night, Gonzalez could return and pitch in his regular spot.
"I'm sure that between [Marcel Lachemann and Greg Maddux], their throwing program is just like what they'd be doing here, and they'll be having plenty of down work under the tutelage of two great pitching coaches," Johnson said. "I'm not concerned at all about that. And I'm sure both of them are learning from some guys that know a lot about pitching. I'm sure it's a great experience, and whatever work schedule they're on, I'm not the least bit worried about it.
"Now, Mother Hen, she's -- the eraser's out, and he's got 4-5 pages, but he doesn't have all the information to put it together, and he probably won't until after Sunday."
Joey Nowak is a reporter for MLB.com. Follow him on Twitter at @joeynowak. This story was not subject to the approval of Major League Baseball or its clubs.