Haren not concerned after bumpy outing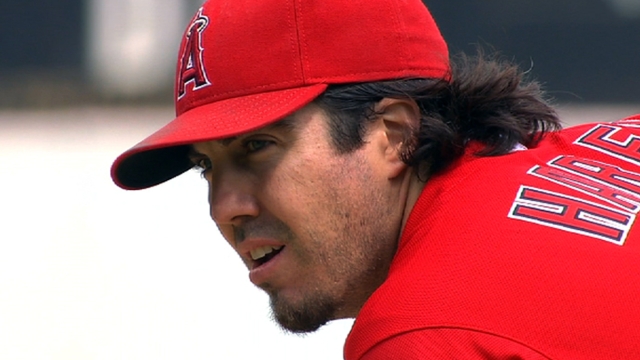 JUPITER, Fla. -- Dan Haren didn't mince words when describing his outing Friday -- and they weren't G-rated, either -- but as ugly as the start may have been, the right-hander didn't come out of it with much concern.
Haren was "lit up" against the Cardinals at Roger Dean Stadium, with almost all of the damage coming in a four-run first inning. He gave up five runs on six hits (two home runs) and two walks on the day.
"I had slop out there. It was embarrassing," Haren said. "But I mean, it's just a bump in the road. I've thrown the ball well. My velocity's been fine all spring, it's just one of those days. I just didn't have anything out there. Just trying to battle through it."
Haren didn't know if it was dead-arm or the drive from Viera, Fla., to Jupiter, but he said the ball felt heavy and at times his arm was slow behind his delivery.
"I thought early in the game, he was a little out of sorts," manager Davey Johnson said. "Looked like he was kind of rushing or something. He was leaving his arm back there. He got it together in the second inning and I thought he threw the ball a lot better, made his pitches and got his work in."
Haren pointed out that he's never been good in Spring Training -- his career ERA in those starts is 4.40 -- and Johnson said it's something most starting pitchers encounter at some point during spring.
The right-hander emphasized that he's not feeling any physical discomfort, other than saying his body felt a little "achy" entering the game.
After the four-run first, he faced five hitters in the scoreless second and retired the side in order in the third. Pete Kozma walked to lead off the fourth, advanced from first to third on a groundout and scored on a sacrifice fly for St. Louis' fifth run. Haren pitched a scoreless fifth.
"When you're not feeling that good that day, I think the smartest thing to do is kind of back off," he said. "I think the natural thing to do is to add more and just try and get more out of yourself, and when that happens, the ball tends to not go where you want it to go, which was the case in the beginning. And then as the game went along, I didn't have much out there, but I just backed off and focused more on location."
Joey Nowak is a reporter for MLB.com. Follow him on Twitter at @joeynowak. This story was not subject to the approval of Major League Baseball or its clubs.