LaRoche gets kick out of Hudson's knuckleball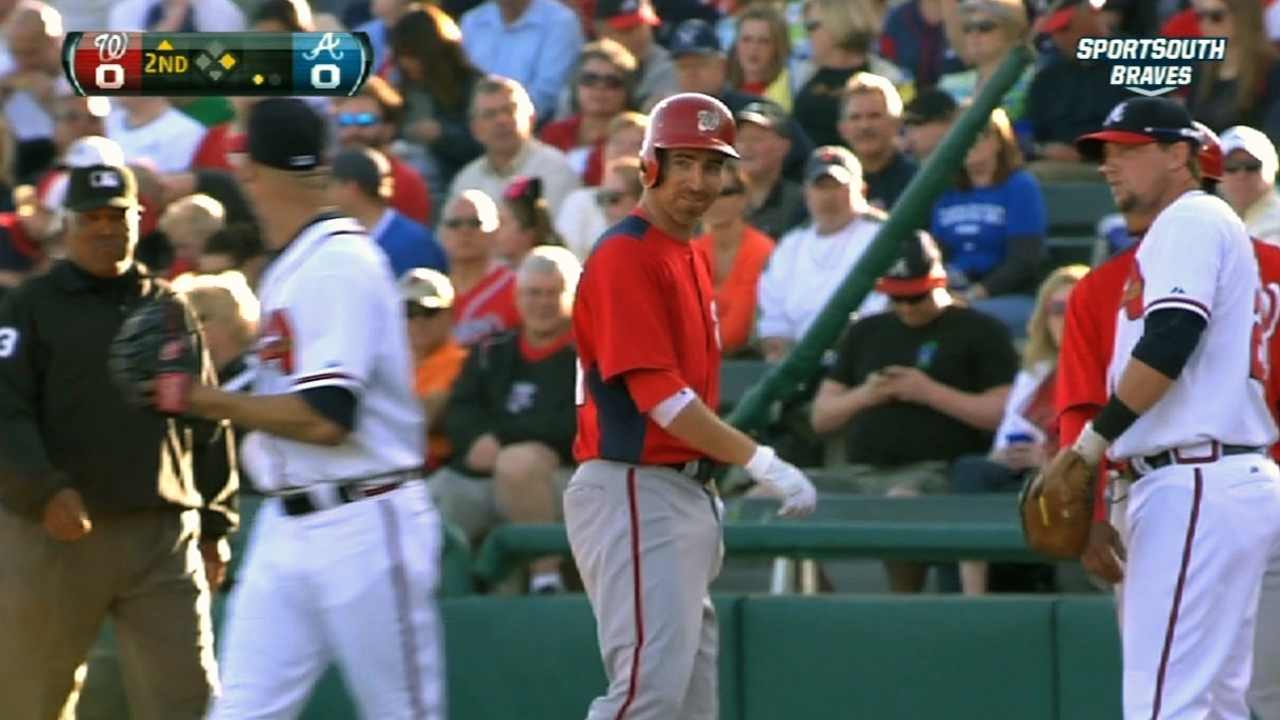 LAKE BUENA VISTA, Fla. -- Nationals first baseman Adam LaRoche and Braves right-hander Tim Hudson have been close friends since 2005, when they were teammates in Atlanta.
Hudson is known to play inside jokes on LaRoche and it happened during the Braves' 4-3 win over the Nationals on Thursday. With one out in the top of the second inning, LaRoche entered the batter's box and signaled to Hudson to throw a knuckleball.
No problem. Hudson threw a 47-mph knuckleball that went for a ball. Hudson is not known to throw such a pitch. Both Hudson and LaRoche chuckled, but on Hudson's next pitch, LaRoche singled to right field.
"He is such a buddy of mine," LaRoche said. "Another [time], he went to switch balls and then threw one at my head. The ball went all the way to the backstop. He likes having fun, apparently. I gave him the knuckleball signal walking up. I didn't think he would do it. I should have known better."
Hudson said he was working on the pitch this spring and decided to throw it after LaRoche gave him the sign to do so.
"I was going to wait until the All-Star break to break it out, but it's been so good lately," Hudson said. "He looked at me like, 'Knuckleball? Ha, ha, ha. So I did it and it was almost a strike. It was close. It was over the plate, just a little down."
There was another time, LaRoche flew out deep in the outfield against Hudson, who then threw a rosin bag at LaRoche's chest.
"He is always picking on me," LaRoche joked.
Bill Ladson is a reporter for MLB.com and writes an MLBlog, All Nats All the time. He also could be found on Twitter @WashingNats. This story was not subject to the approval of Major League Baseball or its clubs.