Ramos' quick recovery scrambles catching depth chart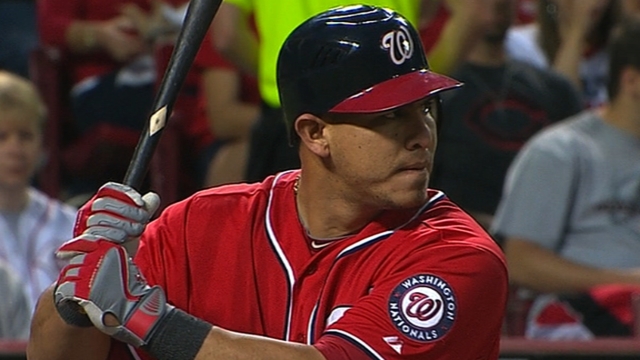 PORT ST. LUCIE, Fla. -- As Wilson Ramos' condition has improved, the Nationals' season-opening catching situation has grown murkier. As he and Kurt Suzuki have gotten to be on even footing, they've essentially become 1a and 1b on the depth chart.
Manager Davey Johnson sees no reason to change that, as Spring Training games turn to regular-season ones.
While Ramos has worked his way back from 2012 knee surgery, it was expected that Suzuki -- acquired in early August to take over the starting role -- would begin the season as the Nationals' starting catcher, at least until Ramos fully healed and could handle the daily grind behind the plate. But Ramos' recovery has been even speedier than expected, leaving Johnson with a conundrum as the team breaks camp soon.
"He may be a little bit behind, as far as the catching stuff -- and I thought also the medical staff would probably have him on some pretty good restrictions -- but they lifted those pretty quick," Johnson said of Ramos. "He's been basically on pretty much [the] same path that Suzuki's been on. I look at them both pretty much being on equal footing."
Ramos has appeared in 10 games this spring, batting .364 with a double and a run. Suzuki has played in 14, hitting .276 with a homer, three doubles and three RBIs.
"I can learn a lot from [Suzuki]," Ramos said. "He has a lot of experience in the big leagues. I don't have any problem playing with him. We can help the team together. The most important thing here is helping the team to win games."
Ramos' progression this spring has been steady, starting with catching bullpens, then blocking balls and sliding, and finding his way into game action. He's reached the point where he can catch a full game on back-to-back days, and Johnson intends to split the Nationals' final exhibition game on March 28 in Washington evenly between Suzuki and Ramos.
What's the plan from there?
"I plan basically to continue what we're doing this spring," Johnson said. "We'll see how it pans out. Last I checked, they're both hitting good and catching every other day. If it ain't broke, why do I gotta fix it?"
Joey Nowak is a reporter for MLB.com. Follow him on Twitter at @joeynowak. This story was not subject to the approval of Major League Baseball or its clubs.