Haren feeling ready for season despite rocky spring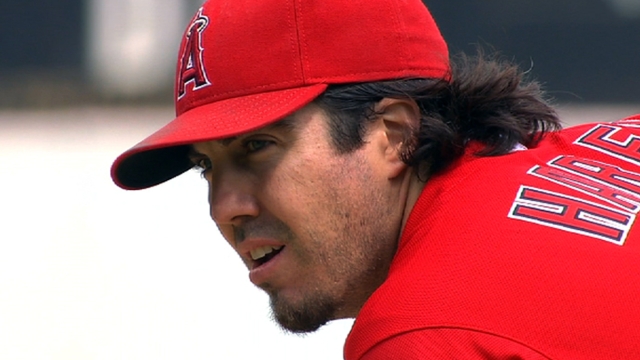 JUPITER, Fla. -- Dan Haren is pleased to not have to return to Jupiter again this spring. And he welcomes just the thought of the regular season on the horizon.
For the second consecutive time at Roger Dean Stadium -- and third time in a row, overall -- the right-hander gave up at least four earned runs in six innings or less.
Tuesday, the Marlins tagged him for five earned runs and seven hits (four home runs) in six innings. His ERA to end the spring rests at 6.39.
"I felt good today, actually," Haren said. "I made one or two mistakes, but overall, I'm ready for the season. It's monotonous for everybody at this point. I would've liked better results, but it's not going to linger. I'm ready. I'm confident."
Now, he'll face a lengthy layoff and will not pitch until the Nationals' fourth game of the season, April 5.
"I've never done anything like that, but the extra time isn't the worst thing in the world for everybody," Haren said. "It's a long, grueling season, so a couple extra days here and there is not bad. I don't know how we're going to play it, but I just know we're leaving soon, which is good."
Haren entered the spring -- he was signed to a one-year deal this winter to anchor the back end of the Nationals' rotation and provide a veteran presence in the clubhouse -- trying to maintain consistency in the mechanics he re-discovered after battling some injuries this year, and also focusing on working inside to right-handed hitters. He ends camp confident in both aspects of his game.
"Spring is actually a lot more grueling than the regular season just because of a lot more day games, drills, you're hitting, running, doing first-and-third stuff every day," Haren said. "So I was most worried about that. And I feel really good right now and I'll get plenty of time between my first start, too. I'm happy. Of course, I'd like to go in with a better feeling, but once the lights turn on, it's a different story."
Joey Nowak is a reporter for MLB.com. Follow him on Twitter at @joeynowak. This story was not subject to the approval of Major League Baseball or its clubs.