Harper continues torrid spring hitting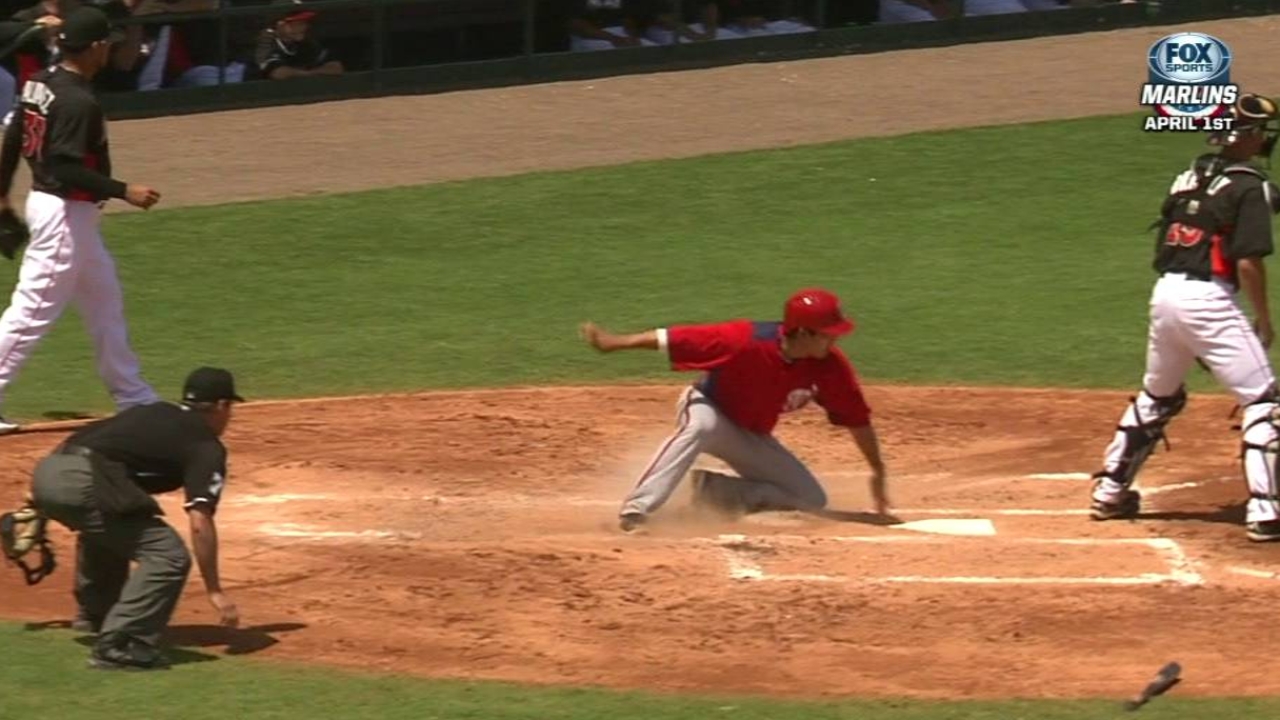 JUPITER, Fla. -- If Bryce Harper's left thumb is still bothering him, as his manager insists and the training staff fears it is, you wouldn't be able to tell.
Harper has turned in a remarkable last few days, reaching base in each of his last 10 plate appearances and recording a hit in nine of them (he walked in his final at-bat against the Marlins on Tuesday in Jupiter).
Harper is hitting a staggering .476 with five doubles, a triple, three homers, 14 RBIs and 10 runs. What's even more impressive is that Harper has started each of his 23 games played, and hit most often against Major League-caliber pitchers.
According to Baseball Reference's Spring Training stats, which list opposing pitcher quality on a scale of 1 to 10 (with 10 considered MLB-quality pitchers), Harper's opponent rating entering Tuesday was a 9.1. His three at-bats Tuesday came against Henderson Alvarez, announced Tuesday as the Marlins' fourth starter.
"I'm not worried about [Harper peaking too soon]," manager Davey Johnson said. "He's been swinging the bat good since he got here."
What does concern the Nationals is the left thumb injury that Harper sustained Friday while fighting off a fourth-inning pitch from Tigers starter Drew Smyly. Harper singled, and has been hitting the ball well since, but Johnson said Harper got jammed again Tuesday and the Nationals may consider resting him a few days.
"Usually those are just kind of nagging injuries, but if it gets real bad you give him a little cortisone in there and that quiets it down," Johnson said. "But I don't know if it's that bad."
Harper is expected to see the team doctor soon before the Nationals decide how to plan for the final week of camp.
"Just something you've got to kind of live with and hope you don't get jammed for a while, but if you're hitting good, you need to get jammed once in a while," Johnson said, adding he doesn't know if Harper would play in the exhibition Friday in Washington.
"He needs to have some playing," Johnson said. "You don't want to just shut a guy down and let him have five days off before the opener."
Joey Nowak is a reporter for MLB.com. Follow him on Twitter at @joeynowak. This story was not subject to the approval of Major League Baseball or its clubs.