Davey settles on Ramos to catch Nats' opener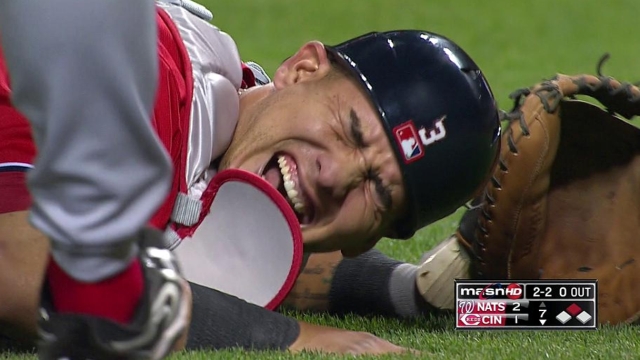 WASHINGTON -- Catcher Wilson Ramos' comeback from a serious right knee injury took a major step forward before Friday's 4-2 exhibition loss to the Yankees, when manager Davey Johnson informed Ramos he will start Monday's 1:05 p.m. ET regular-season opener against the Marlins at Nationals Park.
Ramos and Kurt Suzuki are slated to split time behind the plate this year, but Ramos got the Opening Day nod after hitting .353 with two home runs in Grapefruit League play. He hit .216 in 18 games last year before a May 12 tear of his medial meniscus ended his season and required two surgeries.
"With the progress he's made rehabbing after May -- being out all year and rehabbing hard -- he's looked great all spring behind the dish," Johnson said in announcing the decision after the game. "He's bounced around better than I've seen him in the years I've been here. It's kind of a carrot for hard work. But I look at both of them as No. 1 catchers."
Johnson also wanted to have Suzuki catch former Oakland A's teammate Gio Gonzalez in the second game of the season, on Wednesday night.
Johnson informed Ramos of his decision during batting practice on Friday, before he went 0-for-2 while playing the first five innings.
"I'm very happy right now to be behind the plate for Opening Day," Ramos said. "I'm excited and waiting for that moment."
With both catchers likely to see significant action this season, the 25-year-old Ramos is looking at the veteran Suzuki as more than simply competition for playing time.
"I know he can teach me a lot," Ramos said of Suzuki. "He's got more experience than me at this level, so I've got a lot of things to learn from him. Now, I will open my ears and try to learn everything he can teach me."
Andrew Simon is a contributor to MLB.com. This story was not subject to the approval of Major League Baseball or its clubs.