Bullpen struggles without Soriano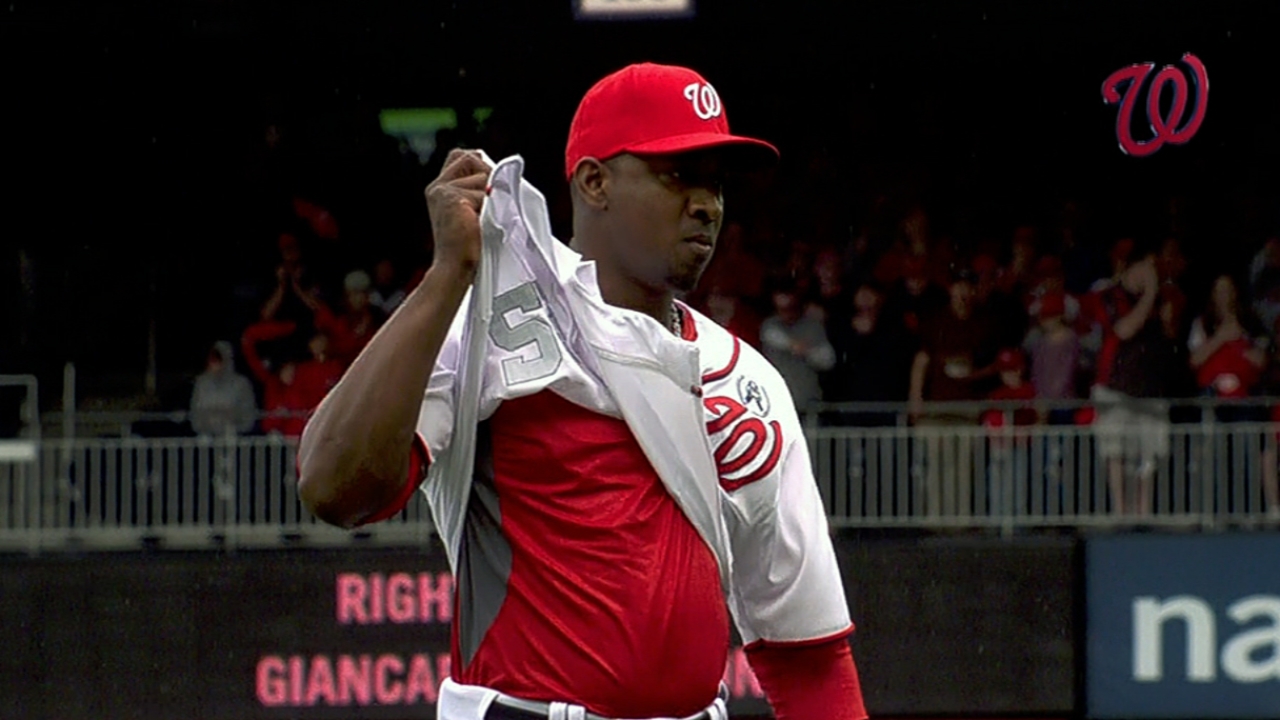 WASHINGTON -- Nationals reliever Tyler Clippard offered a blunt assessment of the team's bullpen on Friday night, after the group failed to hold a three-run lead against the Braves.
"We need to do better," said Clippard, who relieved an effective Ross Detwiler to start the eighth inning and gave up a run.
"As a bullpen collectively, to have your starter do what he did and not get the win for him, it's very, very disappointing for us as a group, and I know for me, too."
On a night when closer Rafael Soriano was unavailable after working in three straight games, the Nationals' bullpen gave up five runs -- four earned -- while surrendering five hits and five walks. The Braves rallied to tie the score in the ninth against substitute closer Drew Storen, then won, 6-4, in the 10th on Ramiro Pena's two-run homer off Craig Stammen.
Washington's relievers now sport a 6.34 ERA in 32 2/3 innings this season after posting a 3.23 ERA in 2012, third best in the National League. Of course, the season is only 10 games old, and Storen disputed the notion that any frustration is setting in for the unit.
"I think that's one of the things about being in the bullpen that makes us special down there," he said. "We have short memories and understand that it's a long season, so we're going to swallow that and learn from it and move on."
While Detwiler mostly breezed through his outing, his replacements endured a slog trying to nail down the victory.
Clippard retired the first two batters of the eighth but loaded the bases on two walks and a single before forcing in a run with another free pass. It was the first time since 2009 that the right-hander had walked three batters in less than an inning, and he said afterward he was struggling with his command, especially on his changeup.
With Soriano not a factor, Storen entered and tried to record his first save of more than an inning since Aug. 5, 2011. He got out of the eighth on Dan Uggla's long flyout but couldn't hold a two-run advantage in the ninth. The Braves' three hits in the inning came on a bloop, a bunt and an infield grounder, and they also benefited from Ryan Zimmerman's game-tying throwing error
"They just put the ball in certain spots that worked out for them," said Storen, who did not believe that pitching more than inning was a factor.
With the second game of the series coming on Saturday afternoon, the bullpen might not have to wait long for redemption.
"That was frustrating, but we have a 1 o'clock game tomorrow, which is nice," Clippard said. "We'll get back on it."
Andrew Simon is a contributor to MLB.com. This story was not subject to the approval of Major League Baseball or its clubs.