Span says Jackie's impact reaches beyond baseball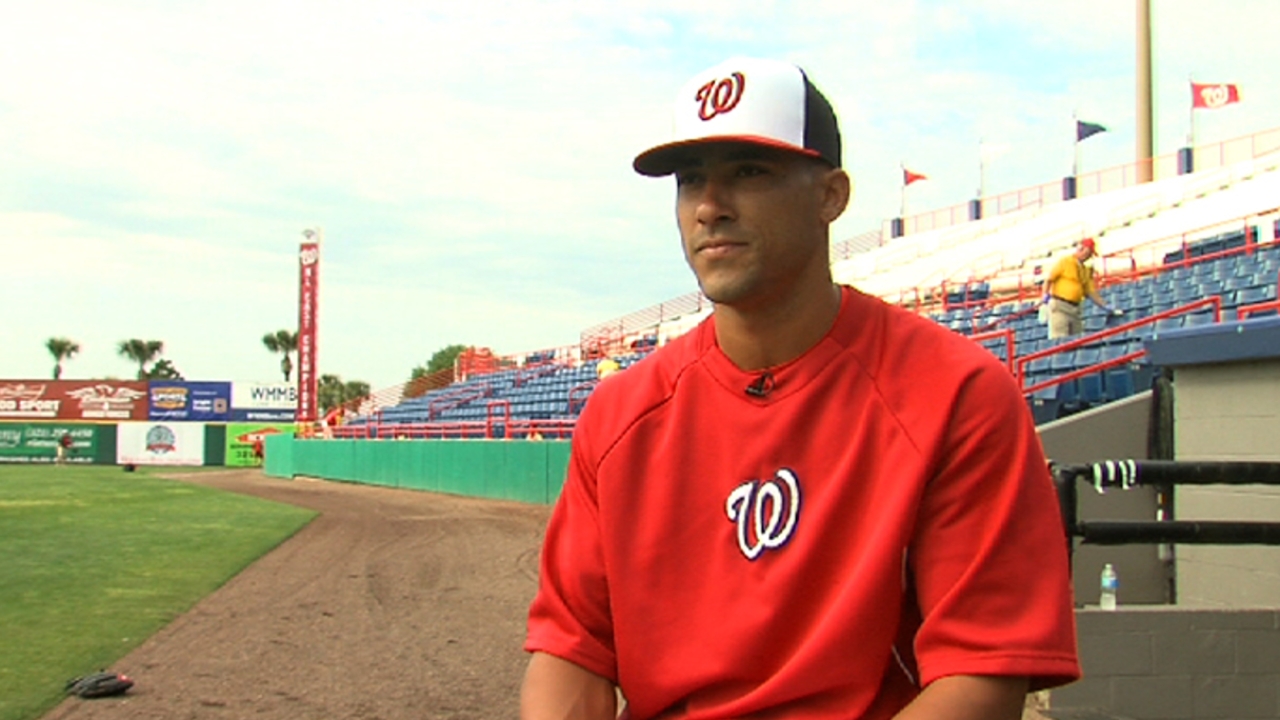 MIAMI -- Monday night was Denard Span's sixth time wearing a nameless No. 42 jersey on April 15, Major League Baseball's annual celebration of Jackie Robinson Day. That didn't mean he was looking forward to it any less.
"You look out on the field, and everybody has 42 on with no last name. It's just a special moment and a special day for baseball," Span said before the Nationals' series opener against the Marlins. "And not just baseball -- I think just for the United States as a whole, because he broke so many barriers, period, in baseball and other walks of life. He's definitely a figure that should be celebrated forever."
Robinson was celebrated everywhere across baseball on Monday night, including Marlins Park. In 1997, under the direction of Commissioner Bud Selig, Robinson's No. 42 was retired across all of Major League Baseball in an unprecedented tribute. On this night, however, Washington's players and on-field staff all donned the No. 42 jerseys, as did the Marlins, before they took the field. And as will every other Major League club, the Nationals will sign one of the jerseys and auction it at MLB.com, with proceeds benefiting the Jackie Robinson Foundation.
Robinson's accomplishments in breaking baseball's color barrier were not lost on the Nationals, nor were the character and mental toughness he displayed in enduring the criticism and doubts he faced in doing so. Span noted that as much as we celebrate Robinson's accomplishments and what he meant for baseball, we might still underestimate how much of an impact he had on the U.S. as a whole.
"However you want to say it, he broke a lot of barriers," Span said. "I think he was the first African-American or dark-skinned man that was pretty much put on that stage to do the things he did. It took a strong individual to endure what he endured. He's definitely a special man in my book."
Span has yet to see the movie "42," based on Robinson's life, though he hopes to do so on the Nationals' off-day on Thursday. But he hardly needs a movie to appreciate all that Robinson accomplished and made possible for him and so many others across the game.
"It's kind of hard to put into words, really. Just so many thoughts come to my mind just about what he had to go through," he said. "It just means that I'm lucky to be here today to be able to wear the uniform and have the opportunities I have today, all because of what he stood for and what he went through back then. It's just a special day."
Adam Berry is a reporter for MLB.com. Follow him on Twitter at @adamdberry. This story was not subject to the approval of Major League Baseball or its clubs.