Rendon tallies first hit, RBI in home debut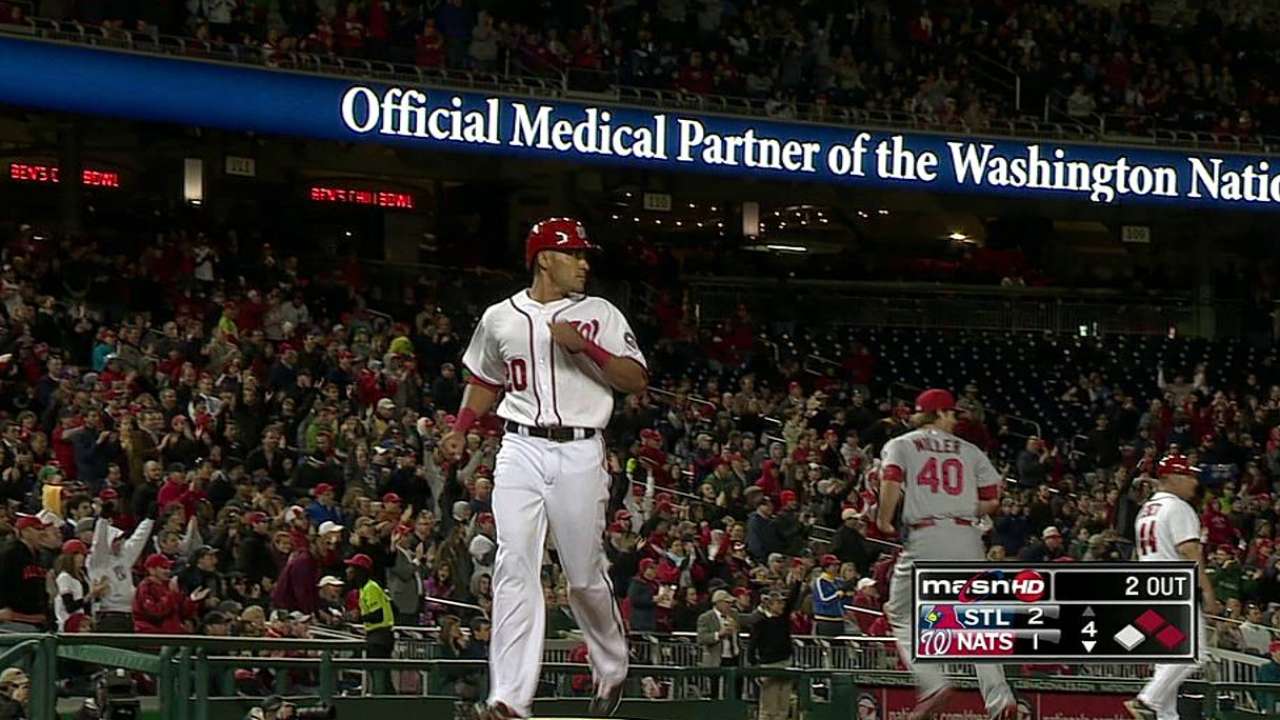 WASHINGTON -- Top prospect Anthony Rendon made his home debut for the Nationals on Monday night, and in his second at-bat against the Cardinals, he tied the game at 2 with an RBI double, the first hit and RBI of his big league career.
The 22-year-old rookie said he'll always remember that first hit. He already had the baseball, which was sitting on a shelf in his locker.
"It's the one thing you're going to treasure the rest of your life," Rendon said of that first hit. "You don't get another one."
Rendon, the club's No. 1 prospect, made his Major League debut in Sunday's 2-0 loss against the Mets In New York. The third baseman went 0-for-4 with two strikeouts in place of injured third baseman Ryan Zimmerman (left hamstring strain).
Rendon said he's trying to stay relaxed, as it's just baseball at a different level with more people watching the game. Rendon said the fact that he'll play on a regular basis also is going to help.
"It's a good feeling … knowing that you're going to be in the lineup," Rendon said before Monday's batting practice. "Being in there every day kind of helps. The bases are still 90 feet, the fences are relatively the same size. It's still the same game. You try not to take it out of context too much. It's the same game. You've just got to slow it down."
Rendon's family made it to Washington for his second Major League game after travel problems kept them away from New York on Sunday.
Nationals manager Davey Johnson is looking forward to seeing what Rendon can do in this brief test, but the skipper also made it very clear that the rookie won't be battling Zimmerman for his job.
"I don't care if he hits .900, he's not going to beat out Ryan Zimmerman -- he's our third baseman," Johnson said. "What [Rendon] needs more than anything is just playing time. He hasn't really had a full season, professionally. He just needs to get some games under his belt."
Jeff Seidel and Andrew Simon are contributors to MLB.com. This story was not subject to the approval of Major League Baseball or its clubs.