Davey: More lineup adjustments coming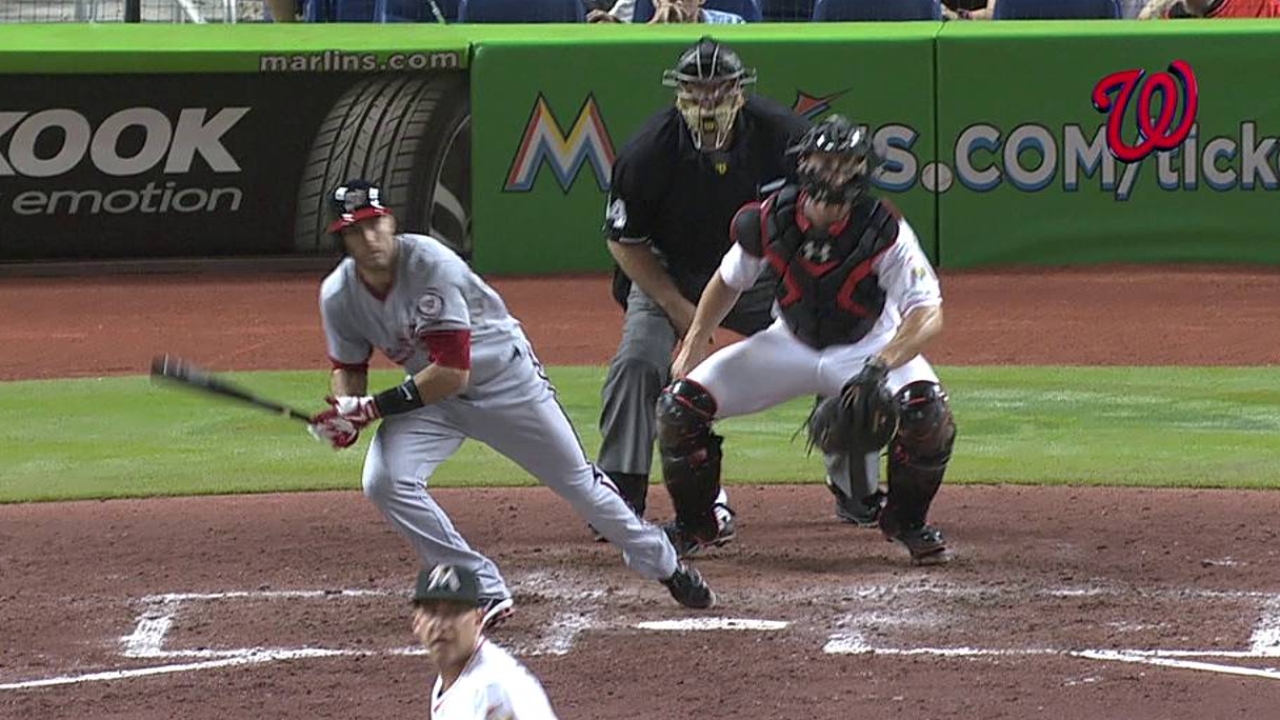 WASHINGTON -- After going with the same lineup for much of the season, Nationals manager Davey Johnson made a few changes for Wednesday's game against the Cardinals.
Johnson benched first baseman Adam LaRoche in favor of Tyler Moore, a move that the Nationals' skipper hopes will help jump-start his slumping first baseman. Johnson also gave catcher Kurt Suzuki a day off because the team was playing a day game after a night game. Jhonatan Solano got the start behind the plate.
"You got to get something out of 25 guys, not just a few guys," Johnson said. "I will go to other guys more, just to show the guys on the field it's [not] all on them. It's a long haul, and you've got to have patience. Sometimes that's the hardest thing for a manager to have, patience."
Following his team's 4-2 loss, Johnson announced that infielder Steve Lombardozzi will start at third base against the Reds on Thursday.
The Nationals are looking for someone who can spark the offense at the top of the lineup. Lombardozzi will most likely hit second, which means Anthony Rendon will sit on the bench and Jayson Werth will move down in the order and hit fifth. During the three-game series against the Cardinals, the Nationals scored three runs on 17 hits. Washington is now on a six-game losing streak at home.
"I'm going to have to juggle it up and do a few things [Thursday]. Change the mindset," Johnson said. "I'm going to get Lombo in the lineup, get him hitting in the top of the order. Move Werth around. He said some things to me after the ballgame. So just shake some things up a little bit. Little different roles."
Lombardozzi has been productive coming off the bench this season, going 10-for-29 (.345) with three RBIs. When second baseman Danny Espinosa was out of the lineup because of a hand injury last week, Lombardozzi went 7-for-21 (.333) with three RBIs.
"Lombo is a great player. He has a little bit of stability. He is not a guy that goes out of his comfort zone," shortstop Ian Desmond said. "He is a very disciplined player. His routine as far as at-bat to at-bat and defensively, he is that sound [player] that we need."
Werth will probably hit fifth in the lineup and he agreed with Johnson about putting Lombardozzi near the top of the order.
"He could help jump-start the offense. That's fine," Werth said. "I don't care where I hit. We need to do something to switch it up and get the offense going. We are not manufacturing runs, not getting timely hits. Like I said, things are not going our way. Hopefully, that will help."
Rendon has struggled since he was promoted to the big leagues on Sunday. After four games, he is 2-for-15 with an RBI. Rendon replaced Ryan Zimmerman, who is on the disabled list because of a hamstring injury.
"Zimmerman is a big part of our lineup. He is right there in the middle. He could hit three or four either way," Werth said. "That is a guy you are going to miss, no matter what. Even without him, our lineup is pretty tough without him. We have to get by without him for now. It doesn't seem like he's too bad, so he'll be back soon. In the meantime, guys are going to have to step up."
Bill Ladson is a reporter for MLB.com. Tom Schad is an associate reporter for MLB.com. This story was not subject to the approval of Major League Baseball or its clubs.