Span saves day with two tremendous catches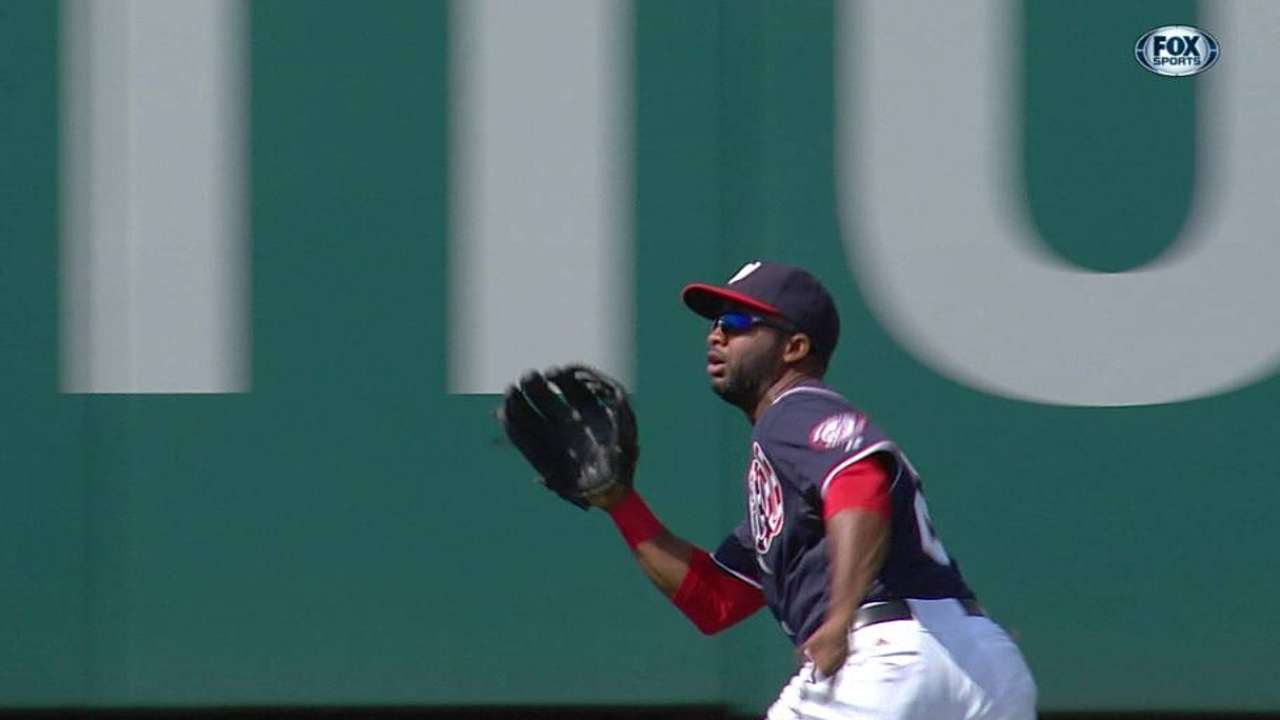 WASHINGTON -- Nationals center fielder Denard Span made two great plays that prevented the Reds from scoring in a 6-3 victory on Saturday afternoon at Nationals Park.
With right-hander Tyler Clippard on the mound in the seventh inning, pinch-hitter Todd Frazier singled to left field, scoring Jay Bruce to make it a three-run game. Clippard then walked Shin-Soo Choo to load the bases. But Clippard was able to get Zack Cozart to line out to Span -- who made a great running catch -- to end the threat. It was Span's second web gem of the day.
An inning earlier, with right-hander Dan Haren on the mound and a runner on first, Joey Votto hit a ball to deep left-center field. Span climbed the wall and made a spectacular catch for the second out of the inning, preventing a run from scoring.
"With Votto, I was already playing deep. You respect his power. I'm not sure if the ball would have went over, but I was prepared to bring it back if it went out," Span said. "The Cozart ball, that was my favorite out of the two today, because I was shading him over to the opposite field and he lined it to the left-center gap. It was fun for me to go out there to run and show my speed and grab the ball in the gap."
Clippard was grateful that Span was able to save him from being the goat of the game.
"Span gets really good reads on jumps. The thing about Denard is, he is fast," Clippard said. "And there are a lot of fast outfielders, but some of them don't get the best jumps. A lot of the times, the great plays or the diving plays you see guys get, it's because they are not getting good jumps, but they are fast and athletic enough to make those diving plays. And a play like that, [Span] didn't have to dive. He had such a good read, he just cruised under it."
Span believes he was able to make the two plays because of an outfield drill he did with first-base coach Tony Tarasco earlier this week. Trying to get used to the gaps in left- and right-center field at Nationals Park, Span had Tarasco hit some balls to the gaps during practice in order to get an idea where the wall was located. Span missed catching a couple of balls in the outfield earlier this week against the Cardinals.
But according to Tarasco, the drills had nothing to do with the great catches Span made Saturday.
"He has proven to be such a tremendous athlete. He is so tenacious about his defense. He is so sound. It's not flashy," Tarasco said. "… It's a combination of his positioning, the way he reads hitters, the way he reads his own pitchers. He closes ground on balls, you don't think he will get to. His jumps are outstanding. Once he gets in stride, it's like he skips after the baseball."
Bill Ladson is a reporter for MLB.com and writes an MLBlog, All Nats All the time. He also could be found on Twitter @WashingNats. This story was not subject to the approval of Major League Baseball or its clubs.