Nats not worried about slow start on defense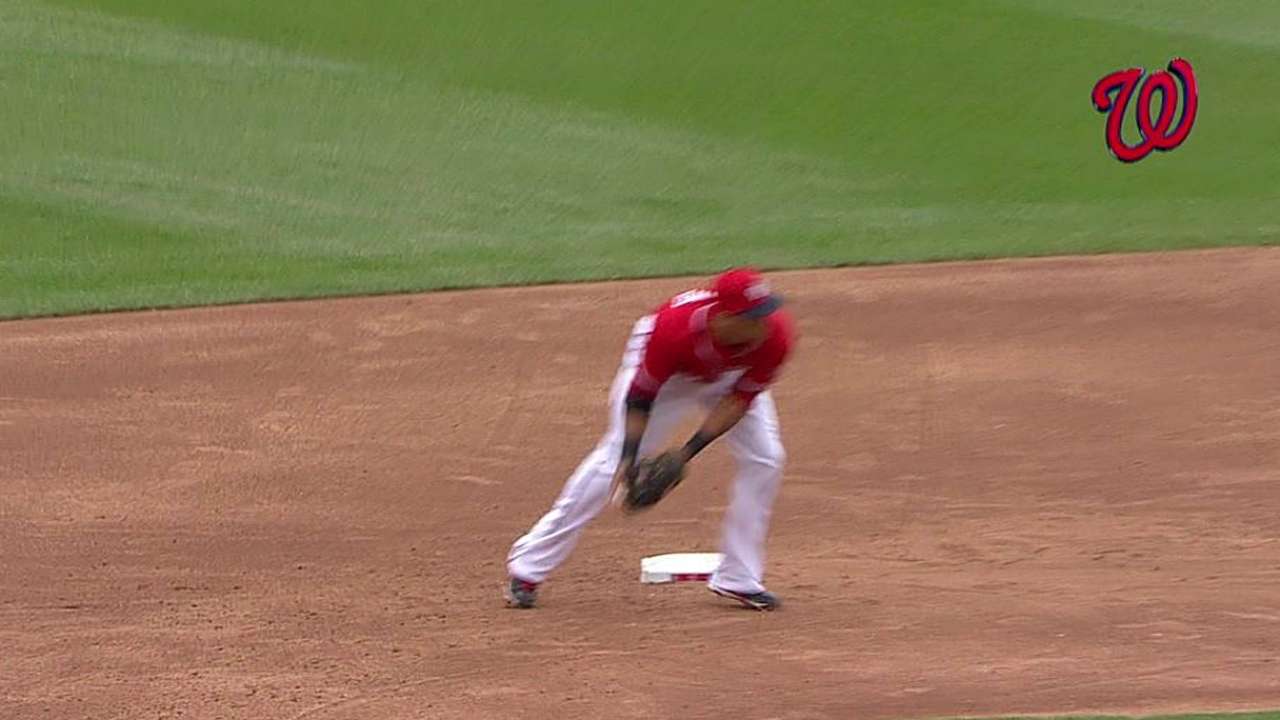 ATLANTA -- The Nationals pride themselves on their pitching and their defense.
That's why their current defensive standing is so puzzling.
Heading into the four-game series with the Atlanta Braves, the Nationals ranked 30th in the Majors in the number of errors made (23) and fielding percentage (.976). That's a drastic departure from 2012, when they committed only 94 errors all season, eighth in baseball, and fielded .985, tied for sixth.
First baseman Adam LaRoche believes that their troubles are just a blip on the radar.
"I'm thinking it was just a fluke stretch, where there were a couple of bad hops, a couple of bad throws, whatever it is. You look up and we're leading the league in errors," said LaRoche, a career .995 fielder, who is right at that mark thus far in 2013, having committed but one error entering the series opener. "It's obviously not where you want to be, but no need to worry. I don't think anybody's worried about the error situation, because I think everybody looks at it the same way I'm talking about, it's just being kind of a fluke and some bad timing.
"I can almost guarantee you that we're not going to finish anywhere near the bottom, as far as errors go, at the end of the year," he added. "For whatever reason, the first month, we had a ton of them. It seemed like every time we kicked a ball, they would come back and score a couple of runs and make the most of it. So that got magnified a little bit. I'm not worried about it. Guys are too good. We've got proven guys that have done this for a few years that are great defenders and are just having some bad breaks."
Shortstop Ian Desmond agrees.
"We're not playing our best baseball, but we've still got our foot in the door," said Desmond, a career .958 fielder, who stood at an uncharacteristically low .939 in April entering play Monday, with an even more uncharacteristic NL-high seven miscues. "We haven't dug ourselves into a hole. So it's only going to get better. If we start playing our best baseball, expect more wins."
Heading into action Monday night, Washington was 7-2 when they played errorless baseball, 6-10 when they committed an error.
Jon Cooper is a contributor to MLB.com. This story was not subject to the approval of Major League Baseball or its clubs.