Chipper watches video with buddy LaRoche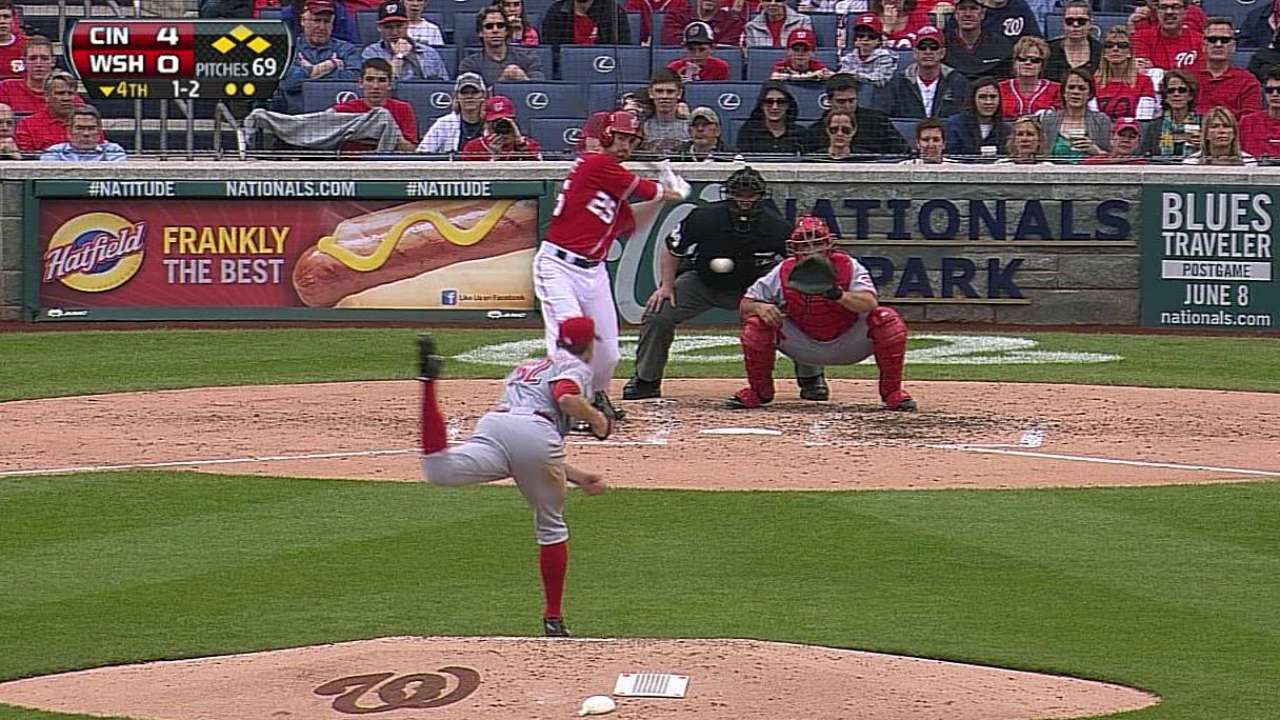 ATLANTA -- During the course of his 19-year career, former Atlanta Braves third baseman Chipper Jones hit .299 with 41 homers and 161 RBIs against the Expos/Nationals.
The thought of Jones' retirement at the end of the 2012 season probably gave the Nats a feeling of relief, just knowing they wouldn't have to see him ever again when they go to Turner Field.
After Monday afternoon, the Nats and their faithful may need to reconsider.
Jones, a close friend of first baseman Adam LaRoche, stopped by the clubhouse to see his buddy and to chat.
LaRoche, in the midst of an 0-for-26 slump which had dropped his average to .135 entering play Monday, and Jones -- always one to share his knowledge, something they frequently did when the two were teammates from 2004 through 2006 and again in 2009 -- went to go watch video.
Nationals manager Davey Johnson was not concerned about LaRoche's slump and was all for the session with Jones.
"He's a veteran player, he's been through it. He's a quality hitter and I'm not worried that much about it," said Johnson about LaRoche's slump. "I saw Chipper earlier, and he was going to talk with his good buddy. I said, 'Yeah. Get him feeling good, and I have a couple more guys you can talk to, too.'
"Just talking to a great hitter, after you leave the conversation, you feel like you're better," Johnson added making reference to similar chats he had with Al Kaline and Ted Williams. "Every conversation I ever had with Ted Williams, when he was managing the Senators, I'd go out and get two or three hits. I think it's great. I think more today, more players do talk because of the phones and the texts. I think it's good."
He probably thought it was even better after LaRoche snapped out of his slump in the second inning, lining a 1-2 pitch from Atlanta starter Julio Teheran into center field, starting the Nats' two-run rally to take the lead.
Jon Cooper is a contributor to MLB.com. This story was not subject to the approval of Major League Baseball or its clubs.