Nats look to Lombardozzi for a spark on offense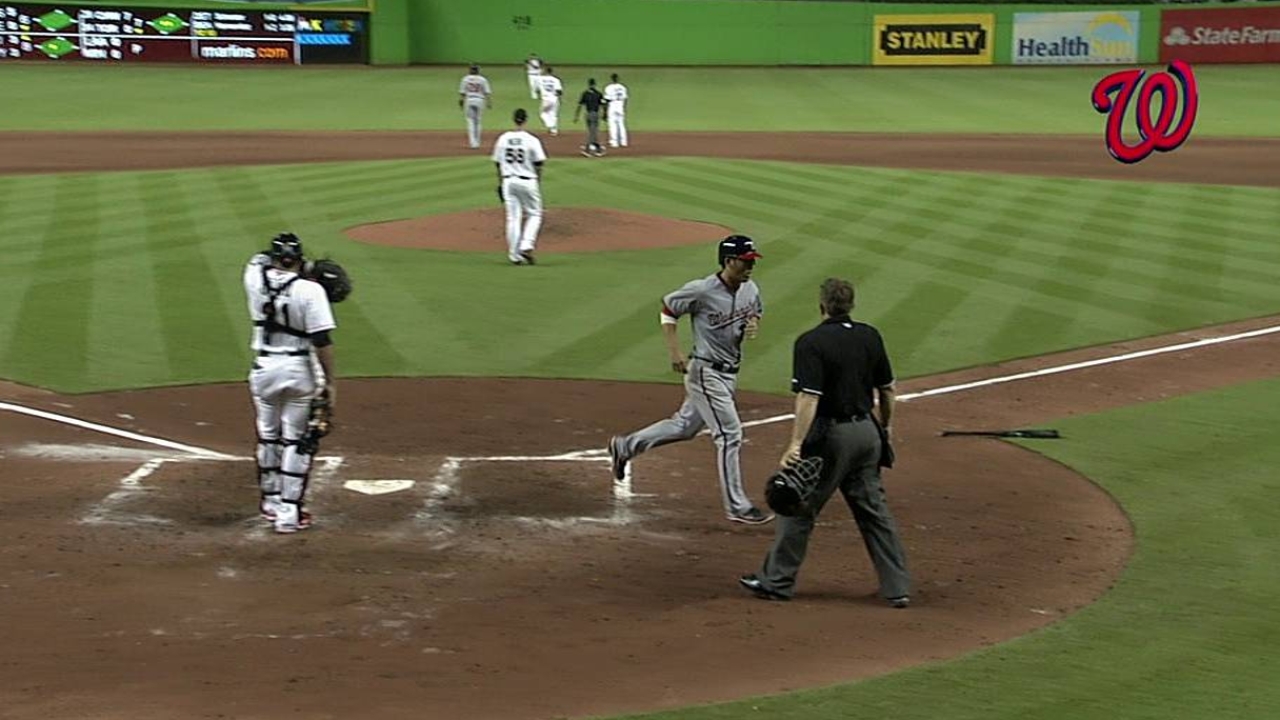 ATLANTA -- His team mired in an offensive slump and still unable to call upon two of his biggest stars, Ryan Zimmerman and Jayson Werth, manager Davey Johnson decided to try something a little different to get the offense going on Wednesday.
That something was left-handed-hitting second baseman Steve Lombardozzi, who batted second against Atlanta lefty Paul Maholm.
"I'm kind of searching for guys that will battle to get on early in front of [Bryce Harper] and the rest of the guys," said Johnson. "Lombo has had pretty good success against Maholm getting on base. So we're in a little rut right now. Let's change it up.
"Lombo is a blue-collar worker. He's going to go out there and grind every minute of the day. He'll grind to get on base and do the little things that help you win ballgames. I need him more to kind of help ignite this offense. Get it going."
Lombardozzi, who is hitting .244, is a career .667 hitter against Maholm, albeit in a very limited sampling -- he's 2-for-3. The Nationals were shut out over 7 2/3 innings by Maholm on April 14 at Nationals Park, managing only four hits, one of them by Lombardozzi.
Johnson is looking to jump-start an offense that scored three runs over the first two games of the series, five during the current three-game losing streak and 12 over the last five games, though six of those came in one game. With the Nationals at 13-14, second in the National League East and 4 1/2 games behind the Braves, Johnson hopes a new month and a new look can recapture the form of last season's team.
"We didn't play any aspect of the game like we're capable of playing," said Johnson. "Our pitching hasn't been as consistent as it should be, offense hasn't been as consistent. So maybe it's a wakeup call. That's the way I look at it."
He also hopes that a night off for regular second baseman Danny Espinosa will help him get out of a 2-for-12 slump that has lowered his average to .173. Espinosa went 1-for-8 in the first two games of the series and is hitless in his last six trips to the plate.
"Sometimes he gets into looking for something and trying to do too much with it, instead of looking for something he can hit hard," said Johnson. "He's trying to make something happen. That doesn't always work in your favor. I think sometimes just a change is good. It's not like it's the end of the world. He'll be fine."
Johnson also started rookie Anthony Rendon at third base over the veteran Chad Tracy, who started the series' first two games, going 2-for-7, but was 0-for-3 on Tuesday night.
Lombardozzi batted second, Rendon seventh.
Jon Cooper is a contributor to MLB.com. This story was not subject to the approval of Major League Baseball or its clubs.