Shelved Werth better but still not ready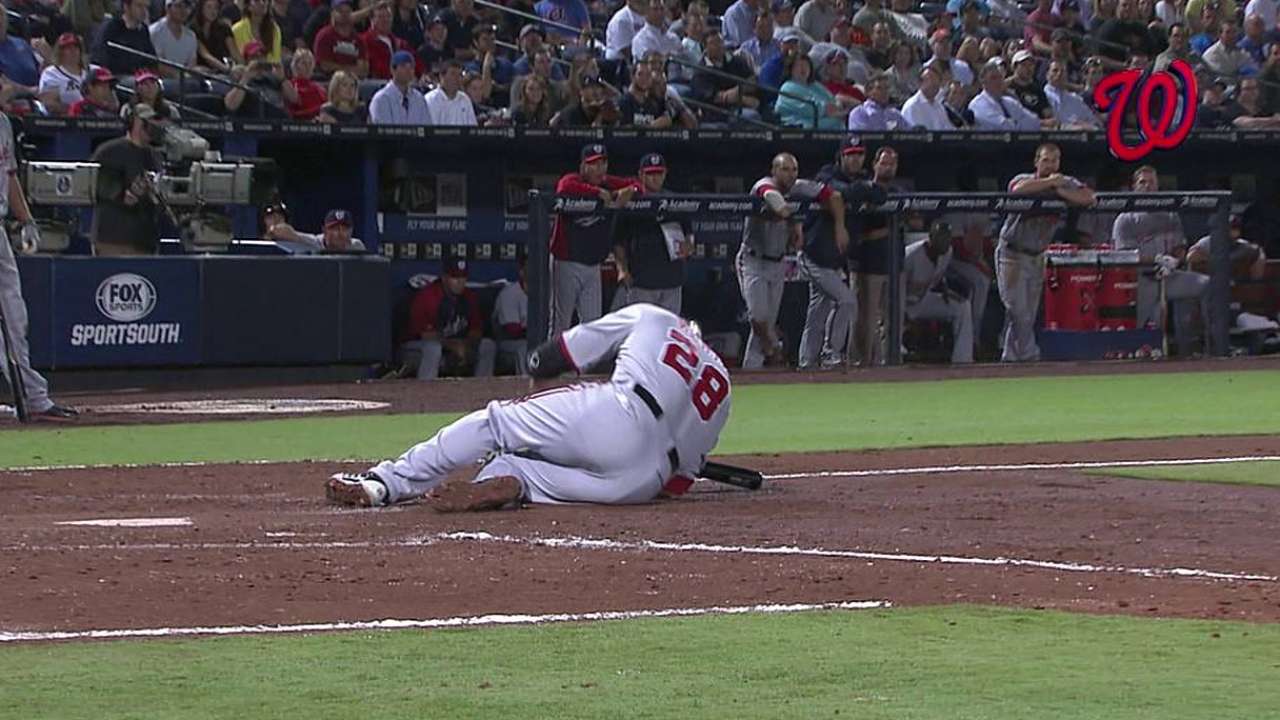 ATLANTA -- Tuesday's rest did outfielder Jayson Werth some good, but not enough to get him a spot in Wednesday's lineup.
Werth is battling cramping in his right hamstring as well as a sore left ankle after fouling a ball off the ankle in the eighth inning of Monday's game.
"You don't get the sense that [the ankle] is broken or that there's anything structurally wrong with it," Werth said.
Werth said that it is easily the worst experience with a foul ball he's ever had but that the impact of the ball could have been a lot more damaging.
"[The] doc yesterday said there's a series of nerves that run right through there," he said. "A quarter inch either way, it would have been even worse, because there's a tendon or a big vein that runs right there. Had it got one of those, it would have been worse."
Werth wasn't sure whether he could pinch-hit on Wednesday but knows he'll need a shin guard the next time he steps to the plate.
"Oh, I would have to wear a guard now," he said. "If I hit it again, I'd be in trouble. But I've worn shin guards before, so it's not a big deal."
Manager Davey Johnson is more concerned about Werth further aggravating the hamstring than the ankle, especially with the imminent return of third baseman Ryan Zimmerman.
"A bad bruise on the ankle is something that probably won't get much worse. It's probably hard to run, probably hard to land on," said Johnson. "But a tight hamstring, you can pull it and you could be out for a couple of weeks. That's something I don't want to take a chance on. I don't want him to go down right when Ryan comes back. So I'm kind of being cautious on that."
The Nationals on Wednesday started Bryce Harper in right field and Tyler Moore in left, the same corner outfield alignment they employed on Tuesday.
Jon Cooper is a contributor to MLB.com. This story was not subject to the approval of Major League Baseball or its clubs.