Tight hamstring curtails Werth's return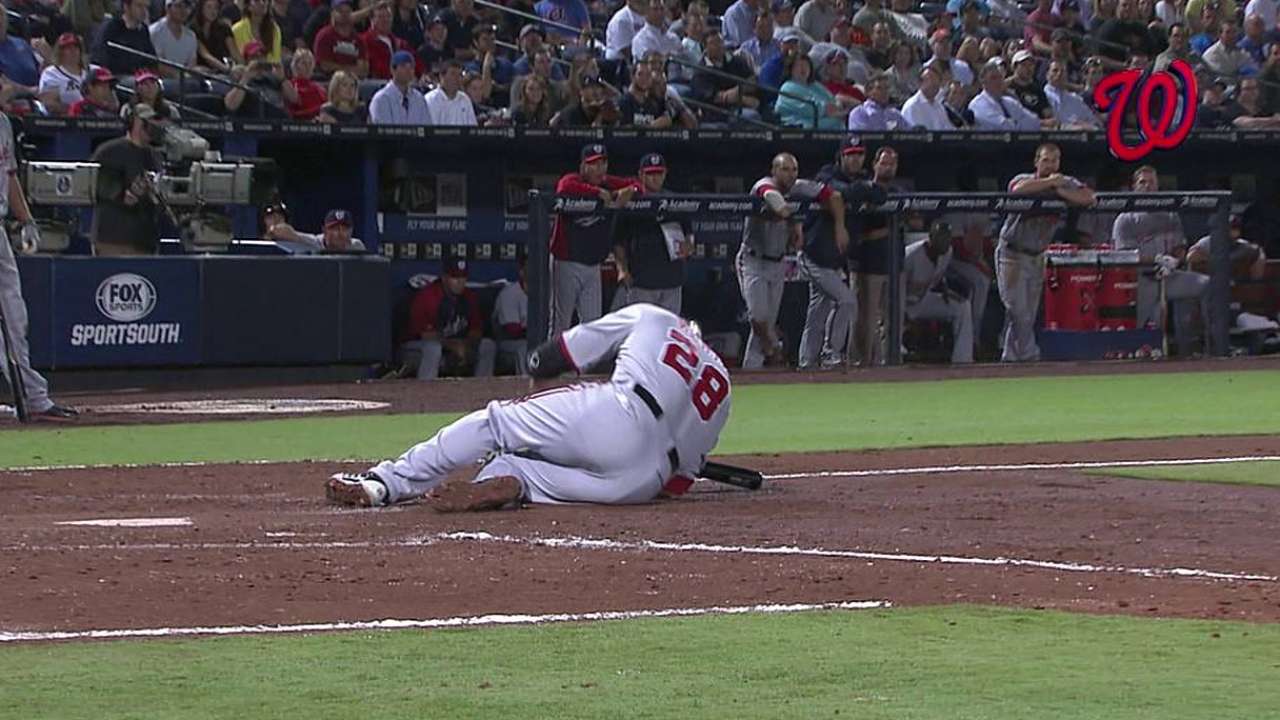 ATLANTA -- For Jayson Werth, honesty was more important than trying to play through injury.
Werth proved to be a man of his word in the fourth inning of Thursday night's game at Turner Field. Unfortunately, it cost him the rest of the game and likely the next couple of days. Fortunately, it won't cost him any more than that.
"The deal was, I told Davey [Johnson] if something came up, I'd be honest," Werth said. "So [Atlanta first baseman Freddie] Freeman hit that ball down the line. I cut it off, and in the middle of doing that, I reached for the ball; it kind of bounced away from me. I kind of overreached for it, and the hamstring tightened up a little bit again. When that happened I was like, 'I told you I'd be honest. It tightened up.' He said, 'OK,' and he got me out of there. The doc looked at it. It's nothing severe. So it's mild. Very, very mild. It's just tight."
Johnson pinch-hit for Werth -- who had gone 0-for-2 with a strikeout -- in the top of the fifth, then inserted Roger Bernadina into the game, ending the Nationals' chance to get a look at their full complement of outfielders. That was the plan heading into the game, as Werth started in right field and batted fourth.
"He's a smart enough player to know," said Johnson. "It was very close to pulling, and it just got real tight on him. I shouldn't have played him anyway."
Werth had missed the previous two games of the series while dealing with the 1-2 punch of a tight right hamstring and a sore left ankle, the latter coming after he fouled off a 2-1 pitch from Atlanta's Eric O'Flaherty on Monday night.
But after pregame testing on Thursday, he felt good to go.
"I've had muscle strains, stuff like that. This just feels like tightness, and I was fine up until then," said Werth, who admitted that he's in uncharted territory as far as hamstring injuries go. "Hopefully, it's nothing. I felt like I could go. I felt fast when I tested it before the game, so I don't feel like I was doing anything I shouldn't have been doing by playing. It's just one of those things. It just happened."
With third baseman Ryan Zimmerman expected to rejoin the club in Pittsburgh on Friday, the Nats had hoped to start looking like the team Johnson envisioned for 2013.
That will have to wait a little.
"I hope he's all right, but he's probably going to need a few days off," said Johnson.
Jon Cooper is a contributor to MLB.com. This story was not subject to the approval of Major League Baseball or its clubs.