Rendon leaves Majors smarter, eager to return
Nationals prospect sent back to Double-A after 2-for-4 night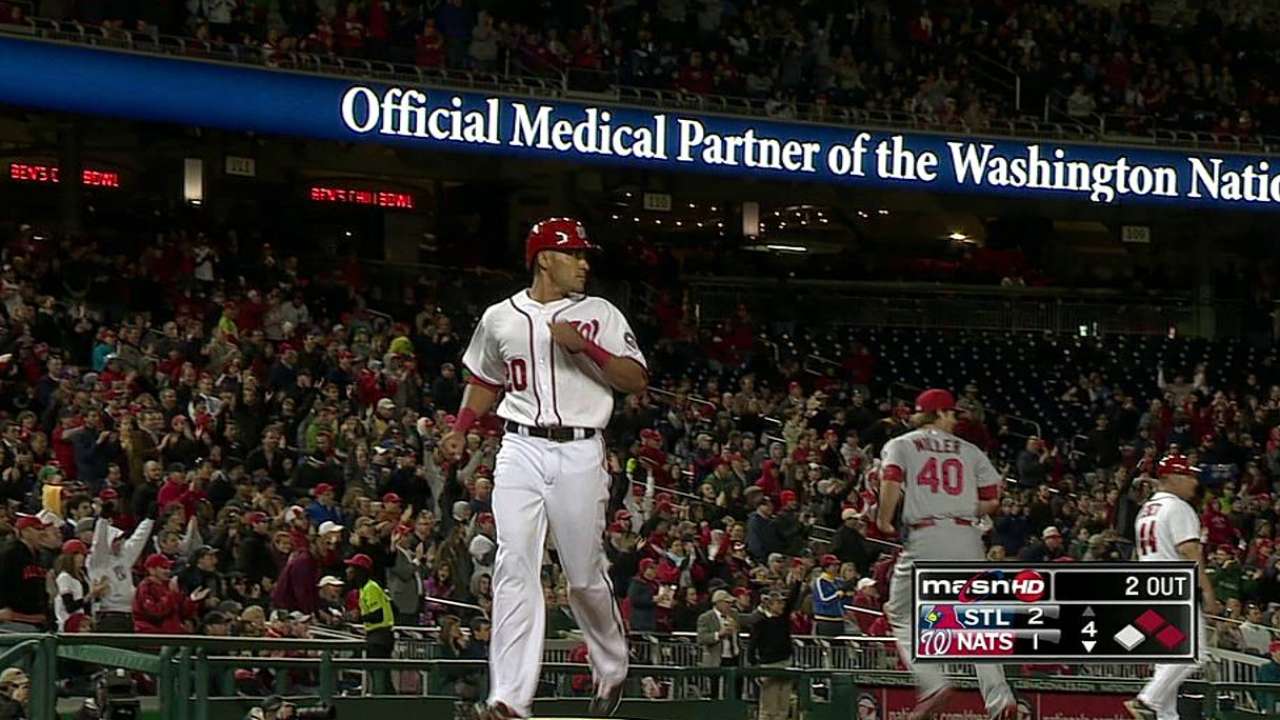 ATLANTA -- Washington will feel really good about activating third baseman Ryan Zimmerman on Friday in Pittsburgh.
They're feeling even better about the future at third base, having seen it while Zimmerman was out in rookie third baseman Anthony Rendon.
Rendon will be going back to Double-A Harrisburg, where the 22-year-old began the season prior to his April 21 callup after Zimmerman went on the disabled list, but he showed he has a long-term future in the Majors.
"He really did a great job," said manager Davey Johnson. "He fielded outstanding and got some good base hits. It's nice to think he got his average up to .240. I'm sure he can live with that."
Rendon will be flying to D.C. tomorrow then drive to Harrisburg to join the Senators, who host a weekend series with Binghamton.
While he sleeps in Atlanta, he'll have pleasant dreams of his stay with the Nationals, especially his final game, his first career multi-hit game, going 2-for-4.
"Not too bad. It's good to go on a high note," he said, with a laugh.
"It was awesome," he added. "It's the highest level you can play. I don't think it can get much better than this."
He, of course, expects to, especially now that he's seen how the game is played at the big league level. He expects to not only be better but smarter.
"The game is just played a lot smarter up here," said the Richmond, Texas, native, the Nats' first pick (sixth overall) in the 2011 First-Year Player Draft. "Everyone is pretty much on the same level talent-wise but the way the game is played, they'll pitch this pitch instead of that pitch or they'll take something off or they'll play this position over on this hitter. They just play a lot smarter up here.
"It's going to make a great difference if I do happen to come back," he added. "The comfort level is going to be a lot higher now. Obviously, the more things that you do, the more ABs you get, the more times you play, you get more comfortable at it. It helped a lot."
Johnson prefers to say "when" Rendon comes back up, not "if."
"I think he's handled himself well," said Johnson. "It's not easy coming up here. They locate better here but I think he's made adjustments in the short time that he's been here and done well.
"The last couple of springs he's had good Spring Trainings," Johnson added. "He's done very well in the field and he's had some awfully good at-bats. It's not going to be long before he's back here. He's a good player."
Rendon, who made his eighth start Thursday night and batted .240 (6-for-25), with a double, an RBI and two runs scored, admitted that his first taste of the Majors was pretty good and that he'll be working even harder on every facet of his game, even hungrier to make it back.
"Oh yeah. That's what anybody's goal is, to play at the highest level and play to your potential," he said. "That's what I try to do every time I come out here and play."
Jon Cooper is a contributor to MLB.com. This story was not subject to the approval of Major League Baseball or its clubs.