Haren empathizes with struggles of former team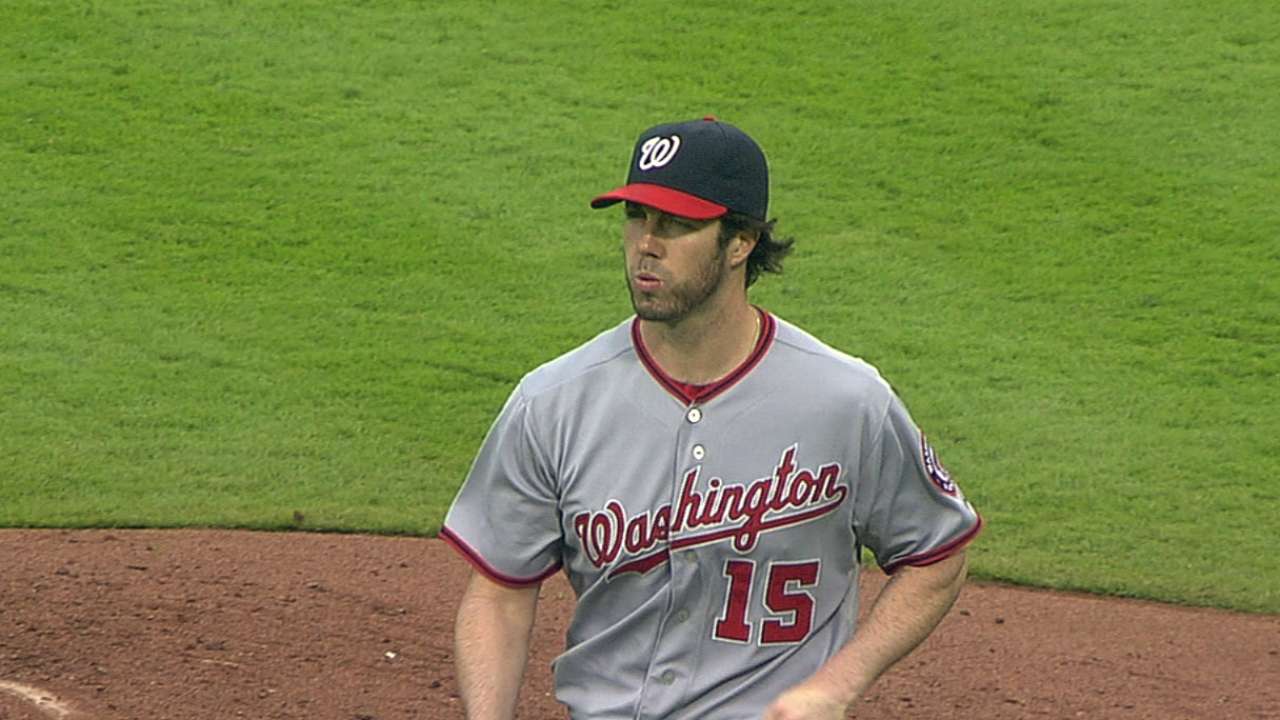 WASHINGTON -- Nationals right-hander Dan Haren said he is surprised the Angels are off to a slow start. Entering Friday's action, they were 12-22 and in fourth place in the American League West. He would be shocked if they aren't able to turn things around.
Last year, Haren was on an Angels team that also got off to a slow start, going 15-19 after 34 games.
"You would never think it would happen two years in a row to them," said Haren about the slow start. "Actually, I thought about it a lot because I have a lot of friends over there. If they would have kept the team together and rolled it over into this year, I guarantee that team would have played really good baseball. We got off to a little bit of a slow start [last year], but we really started jelling as a team throughout the year. We came a couple of games short.
"It's hard when you get into a lot of turnover. The rotation, three-fifths of it was gone. It's hard to build chemistry. It's taken [the Nationals] some time here, too. You could see it here. But luckily, we pulled it together after treading water for a while."
Haren also said the Angels miss outfielder Torii Hunter, who is now with the Tigers. Haren called Hunter a tremendous leader in the clubhouse.
"With all the teams I've been with, I don't think I've [played with] a guy that led a clubhouse like he had," Haren said. "His desire to win, the guy is out there every day. It was really impressive to see his leadership qualities. I guarantee that is probably one of the biggest things they miss -- it's him in that clubhouse."
Haren is not one of those people who thinks Mike Scioscia should be dismissed as manager of the Angels.
"It's about the players' performance," Haren said. "It's not Scioscia's fault that there are a ton of injuries. It's not Scioscia's fault the lineup hasn't lived up to its capabilities. But someone has to take the fall, and if it's Scioscia, that's unfortunate. He's really an intelligent guy. If it did happen, he would be without a job for two minutes. Teams would be lucky to have him."
Bill Ladson is a reporter for MLB.com and writes an MLBlog, All Nats All the time. He also could be found on Twitter @WashingNats. This story was not subject to the approval of Major League Baseball or its clubs.