Nationals bench striving to find 2012 form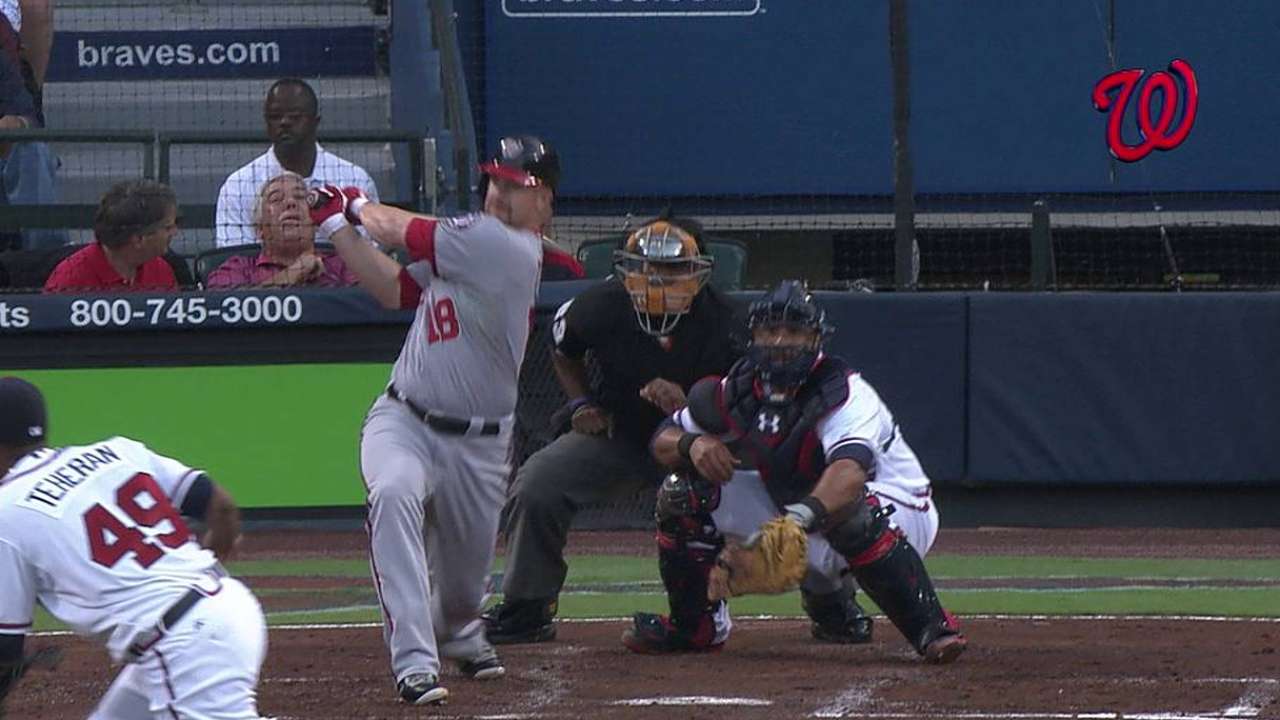 WASHINGTON -- One of the many reasons the Nationals soared to 98 wins and a division title last season was the play of the bench. The team's pinch-hitters ranked first in the Majors with a .288 average, second with a .367 on-base percentage and second with a .786 OPS while also contributing when called upon to fill in as starters.
The results have not been the same this year.
The sample size is small, but Nationals pinch-hitters entered Sunday just 7-for-47. Combined, they ranked 13th in the National League with a .149 average, 15th with a .200 on-base percentage and 14th with a .413 OPS.
"I have no idea why. Same preparation, same everything, same guys," veteran infielder Chad Tracy said. "You can't guide the ball when you hit it. You can hit balls hard, but if they don't fall or find holes, it shows in the numbers. It looks worse than it probably is."
Tracy is 1-for-12 as a pinch-hitter, although he has seen a few well-struck balls turn into outs.
Tracy isn't alone. While Steve Lombardozzi is 5-for-14 with a double and a triple as a pinch-hitter, everyone else -- mainly Roger Bernadina, Tyler Moore and Tracy -- is a combined 2-for-33 with no extra-base hits.
Overall, those four players are batting .169 with one home run in 177 at-bats. But lately, there have been some more chances for playing time, with Jayson Werth now on the disabled list and Bryce Harper also missing a couple of games.
"This whole game's about playing it every day," Tracy said. "The more you play, the better you get, the more your eyes get trained seeing pitches, the little things that start adding up.
"It's a timing game, where once you get in a rhythm and flow, things start to fall in place. Without that, you're drawing from past experience and trying to get as comfortable as you can from those experiences."
Tracy is the veteran of the bunch and has a leadership role among the reserves. He will dispense advice about pitchers and how to approach at-bats, but he said he doesn't need to "hold their hand."
"Now these guys are thinking like managers," Tracy said. "There's not a whole lot they need to be told."
Andrew Simon is a reporter for MLB.com. Follow him on Twitter @HitTheCutoff. This story was not subject to the approval of Major League Baseball or its clubs.