Zimmerman shows support with pink bat, cleats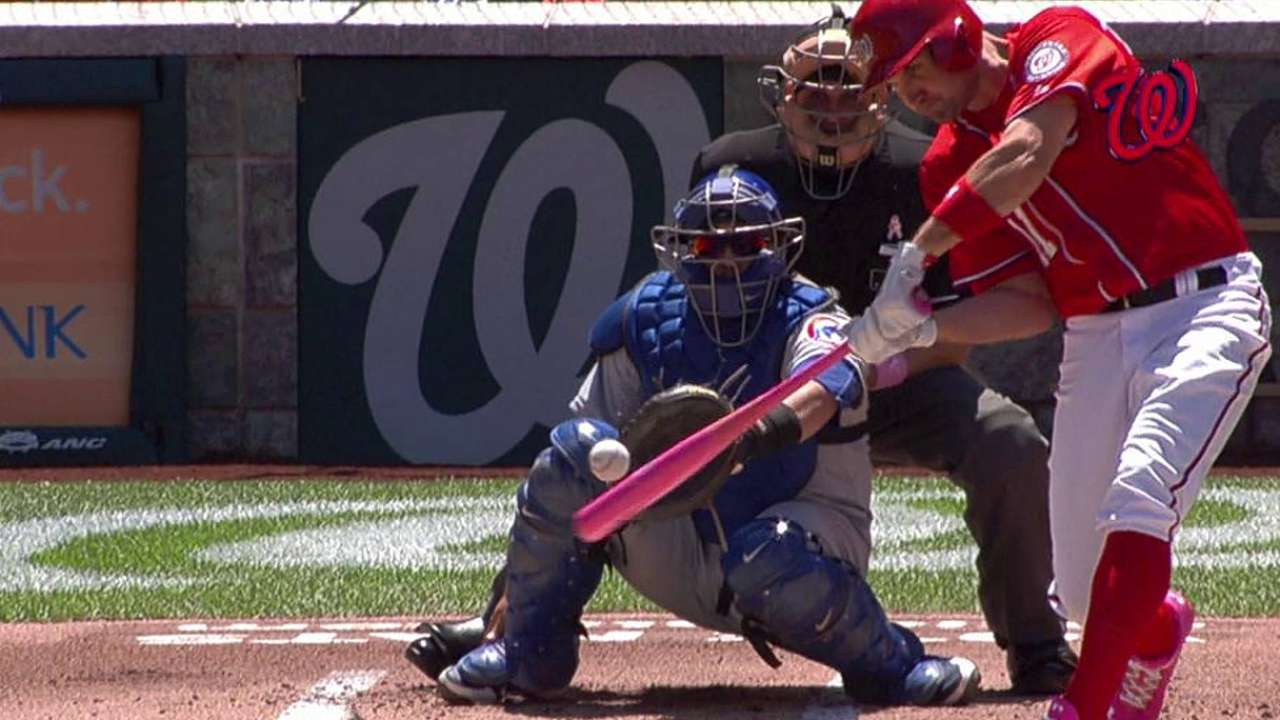 WASHINGTON -- Pink bats, shoes, wrist bands and other apparel were commonplace around Major League Baseball on Sunday, and it was no different at Nationals Park. Several Washington players sported various items as part of MLB's celebration of Mother's Day and promotion of breast cancer awareness.
Third baseman Ryan Zimmerman used a pink bat -- as he has done each year since MLB started the tradition in 2006 -- and also wore pink cleats.
Those game-used Louisville Sluggers are auctioned off exclusively on MLB.com to raise money for MLB Charities in support of the fight against breast cancer. Zimmerman also is happy that the effort is tied in with Mother's Day.
"I think moms get overlooked a lot in sports, so it's nice to be able to do that," Zimmerman said.
His mother, Cheryl Zimmerman, has been battling multiple sclerosis since 1995, and he runs the ziMS Foundation to help find a cure for the disease. Despite her condition, Cheryl has continued to play a major role in her son's life, as so many mothers do.
"They teach you a lot of life lessons along the way and make sure you grow up and do things the right way," Zimmerman said. "Still to this day, I'll have some voice mails or text messages if I say some bad words on camera or something like that. Your mom, whether you're 2 or 32, is always going to look out for you and make sure you do things the right way."
Center fielder Denard Span also sported a pink bat and batting gloves on Sunday and was happy to be able to show his appreciation for his mom, Wanda Wilson.
"Mother's Day in Major League Baseball, I think, is done the right way," Span said. "It's fun to sport the pink -- the pink shoes, the pink bats, the batting gloves. I'm pretty sure every man in this locker room, in this game, a mother played a big part in them being here."
Andrew Simon is a reporter for MLB.com. Follow him on Twitter @HitTheCutoff. This story was not subject to the approval of Major League Baseball or its clubs.