Prospect Goodwin learns to control aggressiveness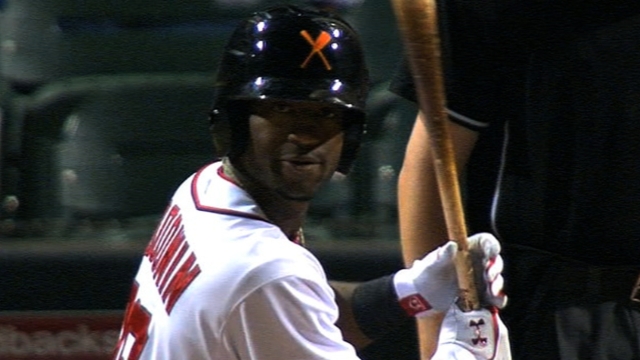 HARRISBURG, Penn. -- Brian Goodwin focuses his game around aggressiveness. The Nationals' No. 2 prospect, playing at Double-A Harrisburg, wants to go all out and take opponents out of their comfort zone with his speed.
Harnessing that aggressiveness may be the key to the 22-year-old center field unlocking his considerable collection of tools.
"Sometimes you have to let stuff come to you. You can't go get it all the time," Goodwin said. "I've had ... a stage where I had to figure that out. I can't always be as aggressive as I want to be."
The Nationals took Goodwin with the 34th overall pick in the 2011 First-Year Player Draft out of a Florida junior college. He began last year at the low Class A level and tore through the competition in 58 games with Hagerstown before skipping a level to spend his final 42 contests at Harrisburg.
Now back with the Senators for a second year, Goodwin still is making adjustments to the competition. That aggressiveness had contributed to 47 strikeouts in 38 games, as well as a 50 percent success rate in stolen-base attempts (7-for-14). No longer is pure speed enough.
"I haven't been really held on, focused on as a baserunner by pitchers until I got probably to this level," Goodwin said. "So the games, the repetitions, the more I do, if I continue to do it over and over, you get a little comfortable, and that's what it takes. It's definitely been a learning a process. It's something I continue to work on."
Goodwin smacked his third home run of the season on Tuesday and is hitting .258 with a .773 OPS . His 6-for-44 performance against left-handed pitchers has held down his overall numbers.
At the same time, manager Matt LeCroy sees a player with "off the charts" athleticism, who is beginning to make the necessary adjustments. The coaching staff is working with Goodwin on his two-strike approach, having him watch Nationals center fielder Denard Span to see what it takes to be an effective leadoff man.
"It's just a matter of time. He can throw, he runs really well, he can hit, he's got power, he can drive the ball in the gaps," LeCroy said. "He's got all these great skills, he's just got to put it all together in the field. You see glimpses of it a lot during games. Every day he goes out and plays he's going to learn and get better."
If Goodwin's progression continues, one day soon he might be able to bring his hard-charging style to Washington.
"It's good for the team, gets everyone pumped up, gets the fans pumped," Goodwin said. "They pay to see that. They want to see people being aggressive. I think that's something that comes along with how I play the game."
Bill Ladson is a reporter for MLB.com and writes an MLBlog, All Nats All the time. He also can be found on Twitter @WashingNats. Andrew Simon is a reporter for MLB.com. Follow him on Twitter @HitTheCutoff. This story was not subject to the approval of Major League Baseball or its clubs.