Detwiler to miss next start due to back injury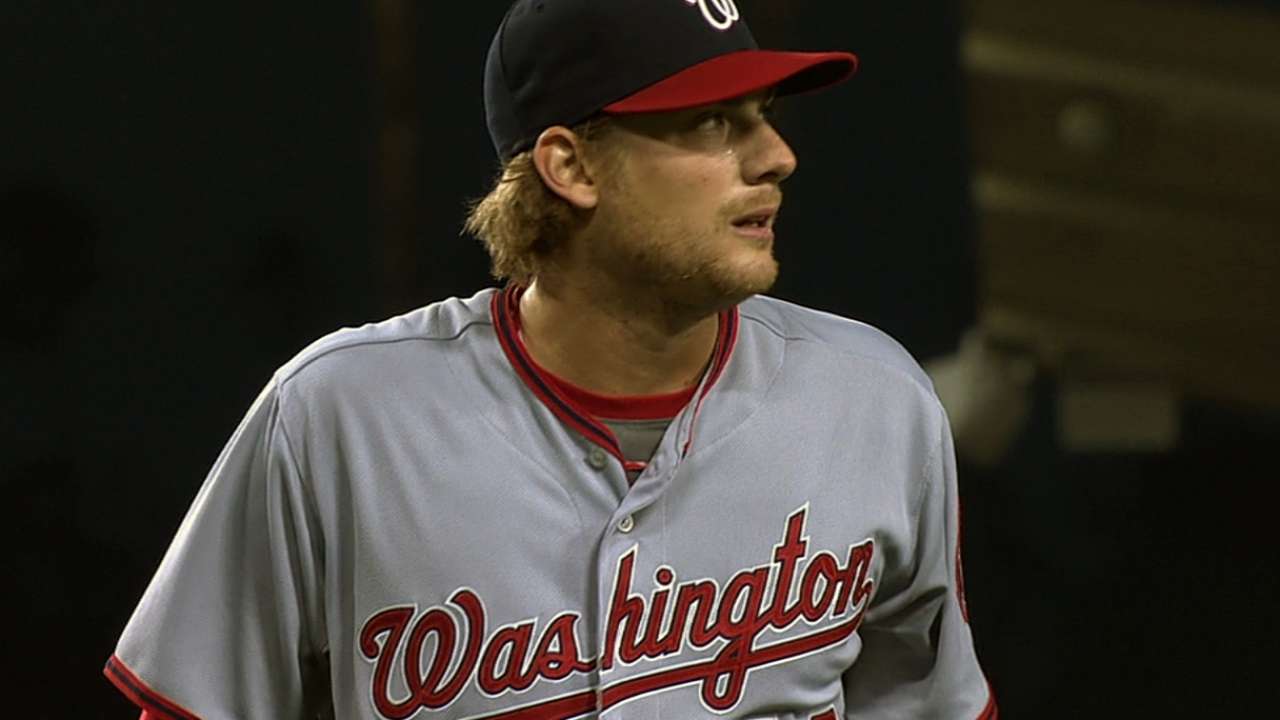 SAN DIEGO -- Nationals left-hander Ross Detwiler will not make his next start Monday against the Giants due to a lower back injury, according to manager Davey Johnson.
"It sucks, but I totally understand it," Detwiler said. "It's early in the season and I don't want to re-aggravate it later. It's tough -- we have to take it kind of slow. All I can do is what they ever tell me to do."
Detwiler had a second MRI on Friday and the results were still inconclusive. He is getting more tests done Saturday. Johnson said Detwiler could have an oblique strain. The doctors are also going to check to see if there are any problems in Detwiler's vertebrae.
"He did say he felt a lot better," Johnson said."It doesn't hurt him when he sneezes or walks, so that is a good sign. He says he hopes he misses one start."
Detwiler sustained tightness in his lower back Wednesday against the Dodgers in the top the third inning on a sacrifice bunt that advanced Roger Bernadina to second base. Detwiler had problems running the bases. His back got worse in the bottom of the inning.
It was believed that he hurt his back while catching a wide throw from shortstop Ian Desmond in the bottom of the third, but Detwiler said he felt fine.
Detwiler had problems throwing pitches after that, and pitching coach Steve McCatty, head athletic trainer Lee Kuntz and Johnson came to his aid. Detwiler stayed in and allowed a single to A.J. Ellis and walked Andre Ethier to load the bases. He got out of the inning when Scott Van Slyke lined out to third baseman Ryan Zimmerman. The left-hander was then replaced by Craig Stammen.
"I feel all right, better than yesterday [Thursday] for sure. It's one of those things you have to take day by day," Detwiler said. "We'll see how I feel tomorrow, then next day and the next day."
With Detwiler missing his next start, Johnson must decide who will take the turn in the rotation. If Detwiler doesn't go on the disabled list, relievers Stammen or Zach Duke will make the start. Both players said they are ready to go if needed. One of them will be told by Saturday if they will make the spot start.
Stammen, who began his career as a starter, has a respectable 2.25 ERA in 11 games out of the bullpen this season. As a starter, Stammen is 8-11 with a 5.08 ERA.
"If I ever get to start again, I would be interested to see what I could do," Stammen said. "I feel I can do better. I'm older, more experienced. I feel like my stuff is better. I feel like I'm better than I was then. I'm more equipped to start."
Duke spent most of his career as a starter with the Pirates. If he gets the nod, he would have to get into a routine in order to be ready for Monday.
"You can tailor your program a little more. That's something I'm used to," Duke said. "At this point, we would probably be on a short leash. The main thing is, make sure that we are fresh on that day."
Johnson said that if Detwiler has to go on the disabled list, the Nationals will most likely call up a pitcher from Triple-A Syracuse.
Right-hander Chris Young and Ross Ohlendorf are candidates to be called up. Both players are off to slow starts as Ohlendorf is sporting a 4.96 ERA and Young has a hefty 7.96 ERA in five starts.
Bill Ladson is a reporter for MLB.com and writes an MLBlog, All Nats All the time. He also could be found on Twitter @WashingNats. This story was not subject to the approval of Major League Baseball or its clubs.