Slumping Espinosa sits for another game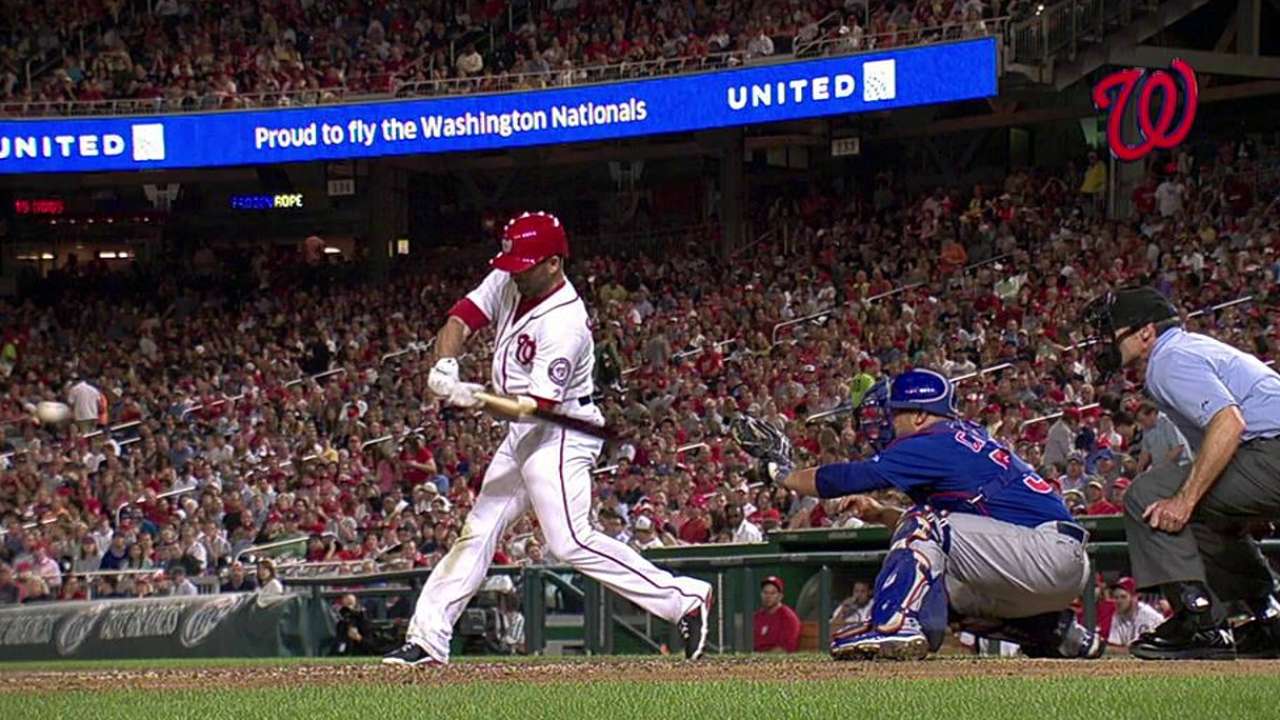 SAN FRANCISCO -- For the second straight contest, Steve Lombardozzi replaced Danny Espinosa as Washington's starting second baseman Monday night. Lombardozzi was penciled in as the second hitter in the order vs. the Giants, with Espinosa mired in a 1-for-30 slump in his past seven-plus games.
Manager Davey Johnson said he had a "good talk" with Espinosa recently, noting that the infielder is struggling a bit mentally at the plate.
"I think he's a little beat up right now," Johnson said. "I hate to just sit him out, but he's certainly not doing things he knows he's capable of doing. So it's frustrating for him and he feels like he's letting everybody down. But he's trying to do his best. Sometimes just getting away from it a little bit helps."
Espinosa entered 2013 following two seasons where he hit .242 and averaged 19 home runs, 61 RBIs and 159 games per season. But his current skid has lowered his average this season to .163 with three homers and 12 RBIs, while he has just three walks against 38 strikeouts.
Johnson admitted he's "surprised" that Espinosa isn't improving on his past two seasons but is confident that the 26-year-old will turn it around.
"How you handle adversity is a large part of your success," Johnson said. "We'll get through this. Coming in this year I felt like Danny was a key guy, and if he started doing the things that he's capable of doing, it could make the year a whole lot of fun. I still feel that way."
Johnson was noncommittal when discussing if Espinosa would be back in the lineup Tuesday. Entering play Monday, Lombardozzi had started each of the past eight contests (six in left field, two at second base). He's batting just .212 (7-for-33) in that span, but three of those hits came in Sunday's 13-4 loss to the Padres.
Another notable lineup change was catcher Jhonatan Solano making his first start since Wilson Ramos went on the 15-day disabled list with a hamstring strain Wednesday. Solano figures to have a tough time keeping his job when Ramos returns, as veteran Kurt Suzuki is also entrenched as one of the team's fixtures behind the plate.
"I'm very happy to be here again," Solano said of his recent promotion from Triple-A. "I'm grateful and I hope that I prove myself this opportunity and help out any way I can."
Alex Espinoza is a contributor to MLB.com. This story was not subject to the approval of Major League Baseball or its clubs.