Nationals bring up pitchers Abad, Maya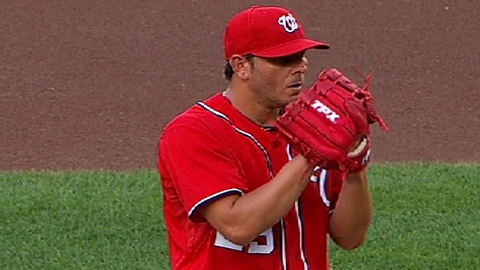 SAN FRANCISCO -- Before Ryan Mattheus boarded a flight back to the nation's capital Tuesday, he ran into Nationals manager Davey Johnson at the team hotel.
"I had a few choice words for him," Johnson said.
The exchange came a day after the right-handed reliever revealed he had suffered a broken hand, just hours before the Monday night contest against the Giants. Mattheus broke his right hand Sunday afternoon in a fit of rage, as he punched his locker after giving up five runs in a 13-4 loss, but waited a day to tell his manager.
On Tuesday, the Nationals officially put Mattheus on the 15-day disabled list and sent outfielder Eury Perez down to Triple-A Syracuse, while lefty reliever Fernando Abad and righty Yunesky Maya were promoted. Mattheus will also see a Baltimore hand specialist to see if any pins will need to be inserted, and Johnson guessed it would take at least six to eight weeks for him to recover.
Abad was eating at a restaurant in Toledo, Ohio, on Monday night when he received a call from Syracuse manager Tony Beasley. Beasley had tried locating Maya, but he didn't answer his phone. So the skipper told Abad to relay the news that both of them were headed to the big leagues.
"So I called him and said, 'Maya, where are you? What are you doing? Why aren't you answering your phone?'" Abad said. "'They're trying to call you. We're going to The Show.' He said, 'No, no, you're lying.' I said, 'Yeah, it's true.'"
The short-staffed Nationals were forced to lean heavily on their bullpen Monday night, as Zach Duke made the spot start for Ross Detwiler, and Craig Stammen and Henry Rodriguez were forced to throw extended relief efforts. Johnson said Abad, who has a 1.06 ERA and a 12/2 strikeout/walk ratio in 17 appearances (17 innings pitched) this season, could make an immediate impact in the bullpen.
"Abad's in a position where he'll get opportunities to pitch," Johnson said.
Abad, 27, said he "feels more comfortable" knowing he is a reliever this year after the organization used him in a variety of roles in previous seasons. The 31-year-old Maya figures to be a long relief man for Washington after posting a 5.07 ERA in eight Triple-A starts and could be in the mix if Detwiler is unable to make his next start.
"I am very happy," Maya said. "Thanks to God and the team for giving me this opportunity to be here. I pray to God that everything will go well and that I'll be able to help out the team."
Alex Espinoza is a contributor to MLB.com. This story was not subject to the approval of Major League Baseball or its clubs.