Davey downplays any tension between Harper, Soriano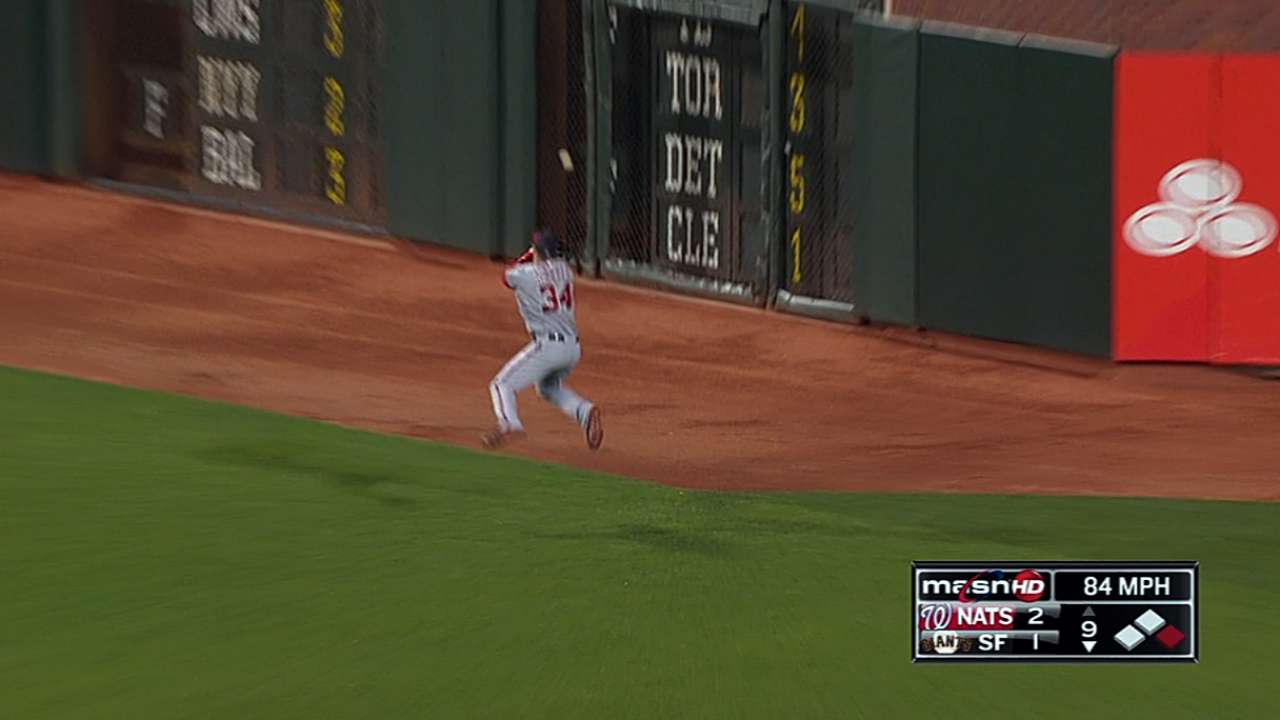 SAN FRANCISCO -- Bryce Harper was quick to take the blame for Tuesday night's 4-2 loss, in which he misplayed a deep, ninth-inning fly ball that drove in the game-tying run for the Giants. Reliever Rafael Soriano apparently felt that Harper should receive the blame, as well.
Soriano, who gave up the game-tying triple to Gregor Blanco and fell short of his 13th save of the year, told USA Today following the game that Harper could have been in better position to make the play.
"With two outs and the tying run at first, you have to play the outfield, so the ball doesn't go over your head,'' Soriano told USA Today. "It may not have been a catch-able ball, but if we're positioned the right way, there might have been a different outcome. With two outs, I could tell my 4-year-old son, 'You know where you need to play,' and he would have positioned himself better. It's not an excuse, and I'm not speaking badly about anybody, but I think that's how you play the game."
By Wednesday morning, manager Davey Johnson had read the comments.
"He [Harper] might have been out of position a couple of feet or so, but that's just part of it," Johnson said. "I don't know what the big deal is about it. He was voicing frustrations a lot of us feel. Did he go a little too far? Maybe."
Before Wednesday's matinee, Soriano spoke to Harper to clear the air. The skipper also approached Soriano and told him the team needs veteran leadership, especially with Wilson Ramos and Jayson Werth away from the team while dealing with injuries.
"Let's not panic here and overreact to the situation," Johnson said. "Pitch wasn't as good as it should have been, and maybe [Harper] wasn't as deep as he should have been. That's baseball. We could second guess everything that goes on in this game. I know a little bit more about it than most and I'm not concerned with it."
It had been eight days since Harper crashed full-speed into the right-field wall in Los Angeles, trying to track down a fly ball and resulting in a hard collision that caused the young slugger to miss time. Harper acknowledged he was "absolutely" thinking about the play in Los Angeles as he tried to track down Blanco's blast, something Johnson didn't take issue with.
"I don't blame him for that," Johnson said. "He's only human. You know what would make him superhuman? I would be afraid, too, if I had 15 stitches on my chin, bruises on my shoulder and my knee all puffed up."
Alex Espinoza is a contributor to MLB.com. This story was not subject to the approval of Major League Baseball or its clubs.