Nats plan to get Moore consistent at-bats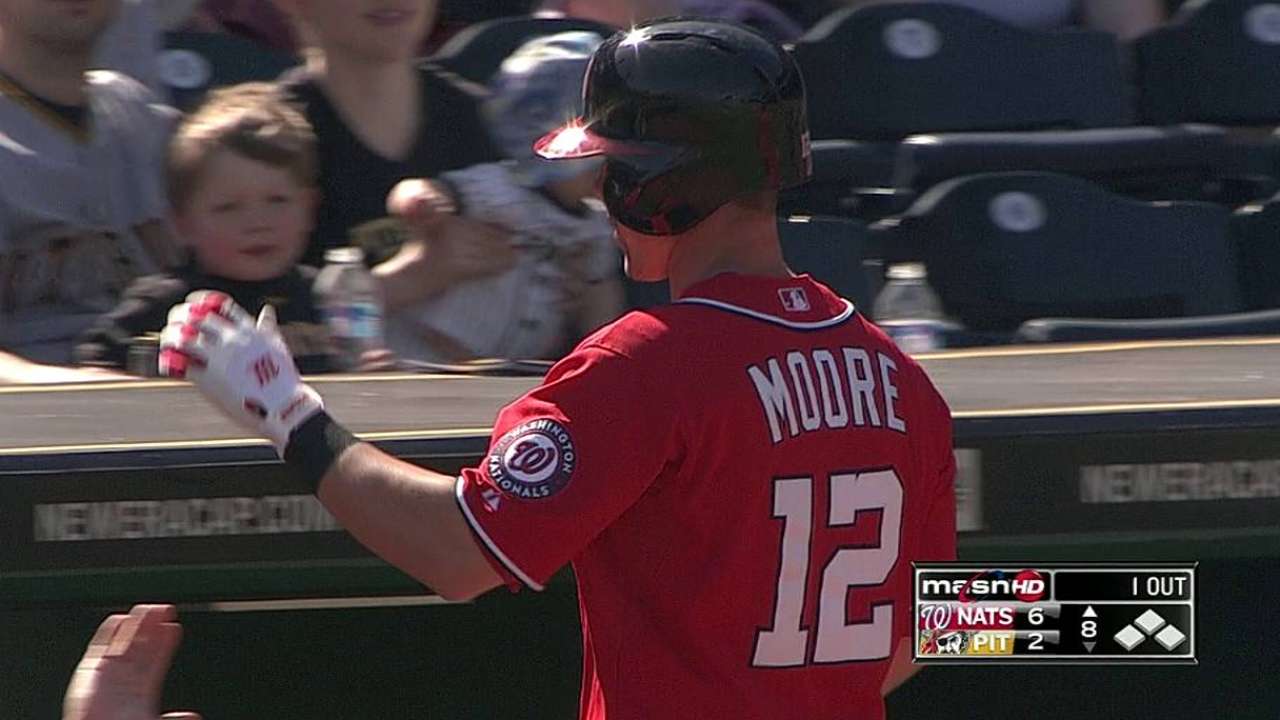 WASHINGTON -- After the Nationals' 5-2 win over the Phillies on Friday night, Nationals manager Davey Johnson said he wants to give Tyler Moore consistent at-bats to help him snap out of his recent funk.
"I'm going to stay with Tyler Moore," Johnson said Friday. "He hasn't been swinging the bat at all like he's capable of swinging. Hopefully he'll get right."
Moore is batting .139 (10-for-72) this season after going 1-for-3 with a single and a walk on Saturday night. After getting only sparse at-bats in April, Moore has played more regularly since Jayson Werth went on the disabled list with a strained right hamstring. Last season, Moore batted .263 with 10 home runs and 29 RBIs.
"I know I'm not swinging the bat good and haven't done it all year, but just those small sparks kind of get your confidence up and kind of get you going," Moore said Friday. "I know I'm not a .120 hitter. It eventually is going to turn around.
"That's awesome to get some at-bats. You come in the clubhouse and it's a different mentality when you know you're going to play. It kind of gets you settled in a little bit more and kind of takes the pressure off."
Johnson explained that he doesn't like having young players sit on the bench. After playing every day in the Minor Leagues, they have to adopt a different mentality off the bench. Johnson hopes that a few more at-bats will help young players like Moore and Steve Lombardozzi, who had three hits Friday night, regain their confidence.
"I told Tyler, I was growing this for him, to change his luck," Johnson said, referring to the wisps of gray hair on his chin. "But partially, I am. I put him in the same class with Lombo. … He could be an everyday player on another ballclub."
Tom Schad is an associate reporter for MLB.com. This story was not subject to the approval of Major League Baseball or its clubs.