Kobernus: Joining Nats is 'dream come true'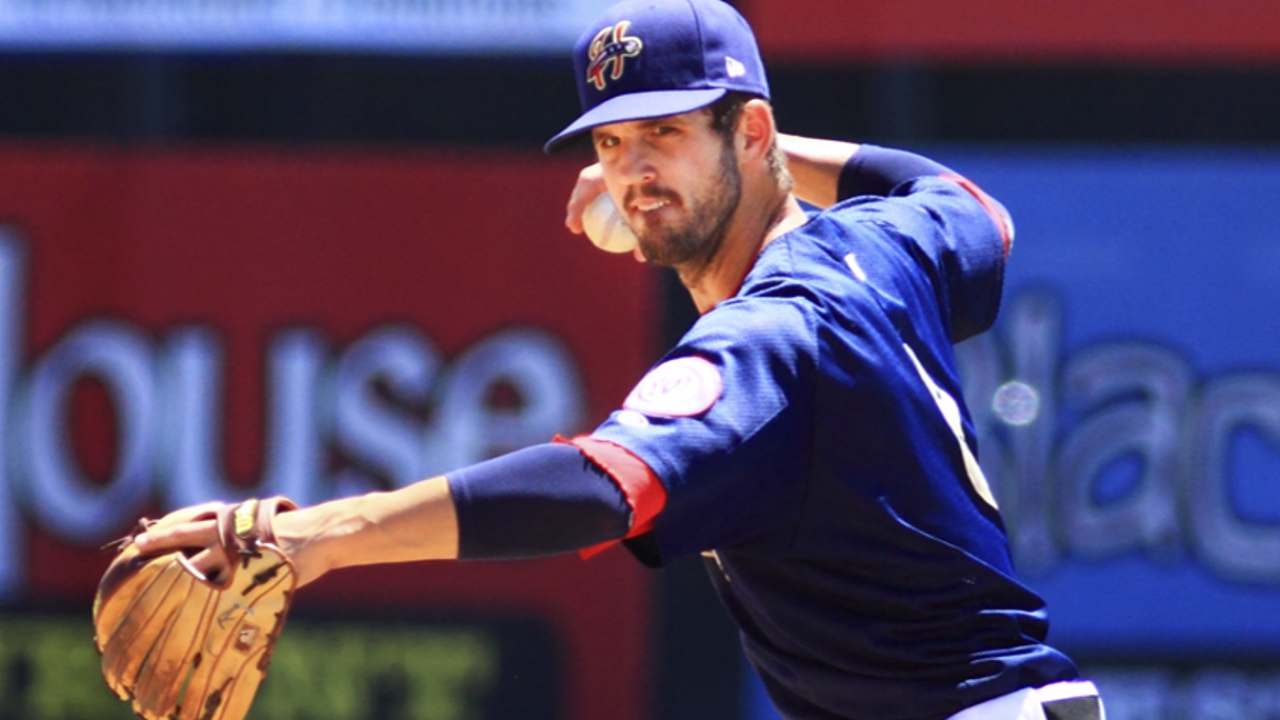 WASHINGTON -- Nationals utility man Jeff Kobernus was preparing for batting practice in Columbus, Ohio, when Triple-A Syracuse manager Tony Beasley pulled him aside and let him know that he would be playing in the big leagues for the first time.
The first call Kobernus made was to his father, also Jeff, who pitched in the Minor Leagues from 1981 to 1985 but never made it past Double-A. The 24-year-old heard his father crying on the other end of the line.
"I called my dad first and then my mom," Kobernus said before Saturday's game. "My dad, he was crying, which was kind of one of those things where he's helped me a lot through my career and it was a dream come true to be able to call him and tell him to come out."
Kobernus made his Major League debut at Nationals Park on Saturday night against the Phillies, pinch-running for Tyler Moore in the eighth inning. Kobernus stayed in the game in the ninth, replacing Moore in left field and ranging into foul territory to catch a Ben Revere fly ball in the first at-bat of the inning.
"It's exciting. It's definitely nice to get in there and kind of get your feet wet," Kobernus said after the Nationals' 5-3 loss. "It's a little different playing in front of that many people, but it was exciting to be a part of. Unfortunately we didn't come out with the win, but it was exciting."
Before the game, Kobernus said his parents caught a flight from California at 6 a.m. PT Saturday morning in order to arrive in Washington before first pitch. He looked for them during the game and finally spotted them sitting just behind home plate. Kobernus said his father and mother, Margie, will stay in town for the Nationals' homestand, which ends Tuesday.
When one reporter joked that Kobernus should ask manager Davey Johnson for extra playing time while his parents are in town, the 24-year-old utility man only laughed. But Johnson, in his pregame news conference, said that Kobernus could start as soon as Sunday.
"He's much needed right now, with [Danny] Espinosa out, because [Kobernus] can play second base and he can also play the outfield," Johnson said. "With a right-handed bat, last night I didn't even have a right-handed bat on the bench, except my catcher, but I'm not going to use my catcher. [Kobernus] has had a real good year down there [at Syracuse], he's been swinging the heck out of the bat."
Kobernus, the Nationals' No. 16 prospect, mostly played in the outfield in 43 games with Syracuse. He was batting .333 (58-for-174) with eight doubles, 20 RBIs and 13 walks before being called up. He also ranked among the International League's leaders in stolen bases (second with 21) and hits (third with 58).
The Tigers selected Kobernus in the Rule 5 Draft in December, but he was sent back to the Nationals in March. Johnson said he likes the flexibility that Kobernus brings with experience at second base and in the outfield. The Nationals' manager also likes his newest player's approach at the plate.
"We were always high on him as an infielder as one of our top prospects," Johnson said. "And then when he got some at-bats this spring, I again liked where he was at. He was a tough out."
Kobernus is likely just a short-term solution while Espinosa recovers from a fractured right wrist and Jayson Werth rehabs a strained hamstring. But as he sat in front of his first Major League locker and pulled out a fresh No. 26 jersey, Kobernus said he hopes to make the most of his opportunity.
"I mean, it's like a dream come true," Kobernus said. "It didn't really seem true until I walked in the clubhouse today. But it was definitely exciting."
Tom Schad is an associate reporter for MLB.com. This story was not subject to the approval of Major League Baseball or its clubs.