Sore left knee keeps Harper from lineup vs. O's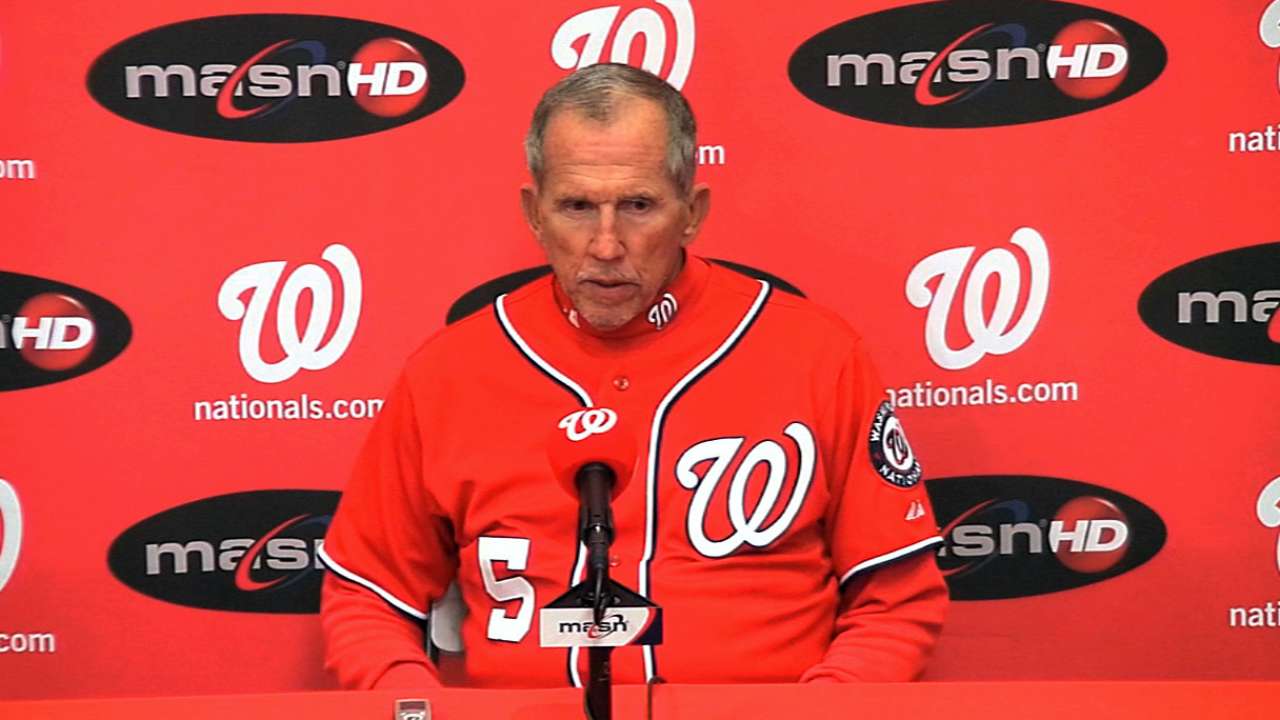 WASHINGTON -- Nationals outfielder Bryce Harper was held out of the starting lineup Monday against the Orioles as he deals with a sore left knee.
Harper injured the knee on May 13, when he collided with the right-field wall at Dodger Stadium, and aggravated it Sunday after a pair of head-first slides. Johnson said Monday that Harper has bursitis in the knee and likely will miss two games. The 20-year-old slugger was replaced in Monday's starting lineup by Roger Bernadina.
"I think it's just uncomfortable -- it's like an inflammation," Johnson said of Harper's knee. "We just need to let it calm down. It was a little more swollen today. I asked him yesterday if he had a lot of fluid there. He didn't have a lot of fluid yesterday, but he looks like he's got more today."
Nationals team doctor Wiemi Douoguih said that Harper had an MRI in which doctors saw some soft tissue swelling but nothing structurally wrong with the knee. Douoguih said the joint in Harper's knee was not affected, but there is still a risk of re-injury, according to head athletic trainer Lee Kuntz.
"If you bump it, it flares up again," Kuntz said. "You'll see a lot of people do the same thing on their elbow. They bump their elbow, it blows up. So the idea is to get it settled down so we can put it to bed and go from there."
Harper could be slotted into the lineup as the designated hitter when the Nationals' series with the Orioles moves to Baltimore on Wednesday and Thursday, Johnson said.
"DHing would probably be good," Johnson said. "He wouldn't run into walls."
Harper leads the Nationals in batting average (.287) and home runs (12). He banged his knee on the ground while sliding into second and third base in the first inning of Sunday's 6-1 win over the Phillies. Bernadina replaced Harper as a pinch-runner in the seventh inning after Harper drew a walk.
"I wanted to try and stay in there until we got a lead or something like that," Harper said after the game. "We got a five-run lead and I wanted that fourth AB. I swing it pretty well against [Phillies starter Cole] Hamels every time I face him, so I really wanted to stay in there against him. Got that five-run lead and got out of there."
Johnson said Monday that he doesn't think the bursitis could lead to any more serious injuries. Harper will take anti-inflammatory medicine to reduce the swelling. He explained after Sunday's game that it only bothers him when he's running the bases.
"I think sometimes when I get a push off my back side [while batting], it hurts a little bit, but it's more the running part and having that fear of sliding and banging it up," Harper said. "But I don't really play with fear. … I mean, I could rest it for four days, feel better and then go out there and slide and bang it up again, and then back to square one."
Bill Ladson is a reporter for MLB.com and writes an MLBlog, All Nats All the time. He also could be found on Twitter @WashinNats. Tom Schad is an associate reporter for MLB.com. This story was not subject to the approval of Major League Baseball or its clubs.