Nats honor veterans on Memorial Day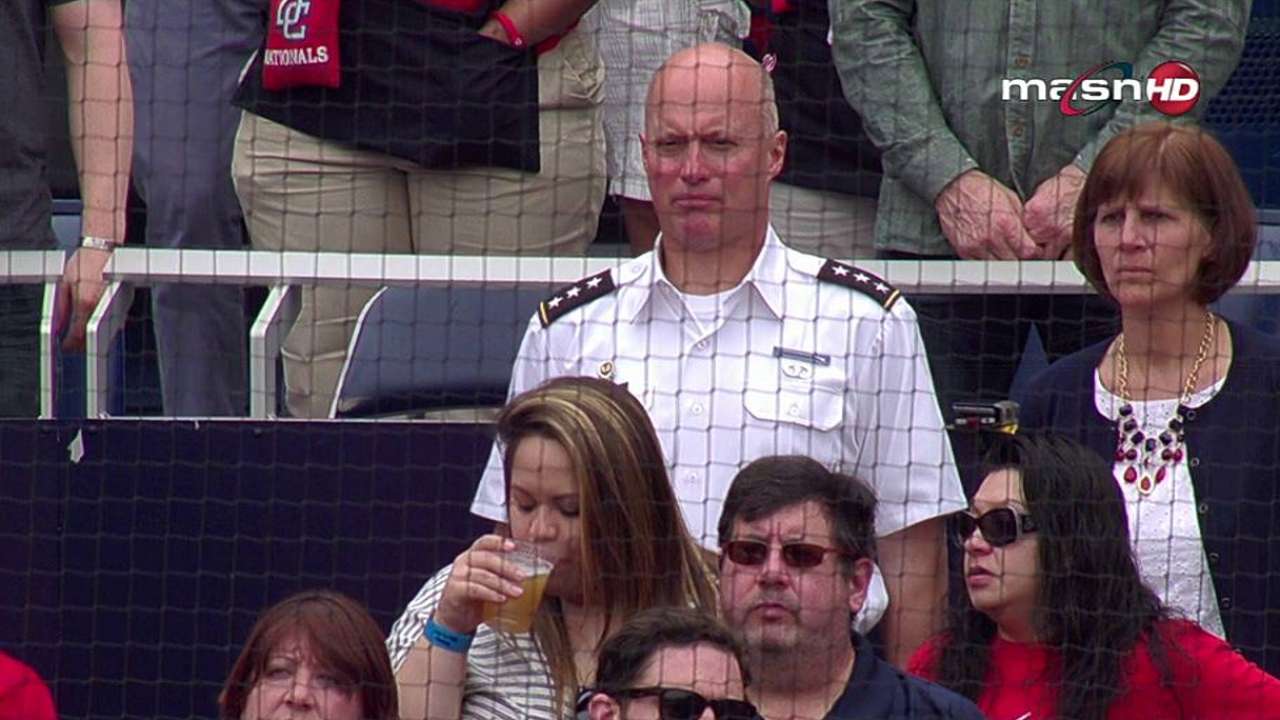 WASHINGTON -- Nationals second baseman Danny Espinosa walked into the clubhouse Monday morning, saw the special Memorial Day jersey hanging at his locker, and flagged down a team employee.
"Hey, I want to order one of these," he said. "This is cool."
The Nationals joined the rest of Major League Baseball in honoring fallen members of the military on Monday by wearing jerseys with hints of camouflage officially licensed by the U.S. Marine Corps. Their hats were also camouflaged.
"I think we should wear them once a homestand," shortstop Ian Desmond said of the uniforms. "I think they're the best unis we got. We have military members here all the time, I think it'd be great to show them our support, like the Padres do, not just on Memorial Day."
Beyond uniforms, the Nationals recognized Memorial Day by distributing American flags to the first 20,000 fans to arrive at Nationals Park. The ceremonial first pitch was thrown by Lieutenant General Michael Ferriter, an intelligence officer with more than 33 years of military experience.
The Nationals also partnered with the Tragedy Assistance Program for Survivors (TAPS), a non-profit that supports family and friends of those who have lost a member of the armed forces. More than 500 tickets were donated to members of the organization and their loved ones.
Nationals outfielder Bryce Harper said Memorial Day is particularly meaningful in a place like Washington, where veterans play such an integral role in the community, and Arlington National Cemetery is just a short drive away. Desmond agreed.
"It's a special time here," Desmond said. "You're driving around and bridges have flags on them, people have flags. I saw the Rolling Thunder yesterday, I thought that was really cool; that was the first time I'd seen that. I think it's pretty cool stuff.
"Obviously this isn't a day for barbecues and baseball games. This is obviously a day for remembering. That kind of gets lost in the shuffle from some people's eyes. There's a lot of people who have sacrificed their lives for us, and we really appreciate that."
Bill Ladson is a reporter for MLB.com and writes an MLBlog, All Nats All the time. He also could be found on Twitter @WashinNats. Tom Schad is an associate reporter for MLB.com. This story was not subject to the approval of Major League Baseball or its clubs.