Bullpen stepping up, shutting down opponents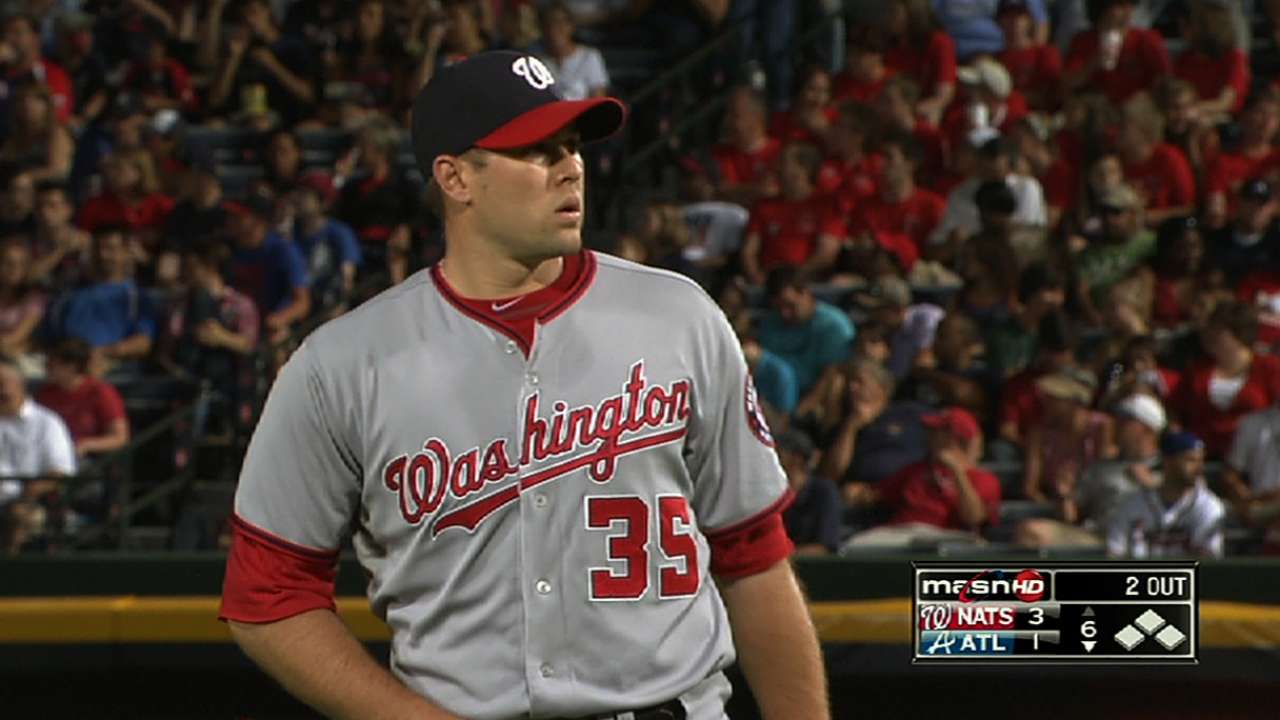 ATLANTA -- Although the Nationals have struggled of late, losing three of four and eight of 12 heading into Friday night's weekend series opener in Atlanta, little of the blame can be pinned on the bullpen. In fact, the bullpen earned the lion's share of the credit for Friday night's series-opening 3-2 win over the Braves at Turner Field.
Prior to the game, manager Davey Johnson sang the praises of the unit, especially the work of Drew Storen and Fernando Abad.
"The pitching staff has had a few ups and downs, but I like where we're at, basically, there," said Johnson. "Storen is throwing the ball better. Abad's been a big help, Henry [Rodriguez is] doing his thing. If we could get [closer Rafael] Soriano some more work, I'll be happy."
Thanks to the 'pen, Johnson was a very happy man on Friday night.
Despite having to fill seven innings when starter Stephen Strasburg exited with a strained right oblique after only two innings of work, the bullpen kept Atlanta at bay and allowed Washington to come away with the win.
Craig Stammen, a former starter, led the way, throwing four perfect innings -- the longest relief appearance of his career -- with three strikeouts. Tyler Clippard, Storen and Rafael Soriano also put up zeros. Together the quartet allowed only one run (by Clippard in the seventh) on two hits (also by Clippard), with one walk (Storen) and eight strikeouts. Clippard struggled some with his control but still struck out the side, pitching out of a bases-loaded, one-out jam of his own making.
Storen's scoreless frame continued his trend, as he's not allowed a run in five of his last six outings, covering 5 1/3 innings. Abad, who was called up from Triple-A Syracuse on May 21, has allowed one hit in his four appearances (2 1/3 innings). He'll be the freshest arm available for Saturday's game.
"Storen early on was just trying to over-throw and was leaving everything up, and his movement was kind of on the same plane," said Johnson. "But a hard thrower can throw that ball down, and he can go up top, but he just can't stay there. He's had better location.
"I like that [Abad] has come in so far and thrown strikes and gone after hitters."
Jon Cooper is a contributor to MLB.com. This story was not subject to the approval of Major League Baseball or its clubs.