Ohlendorf sticking around in bullpen role
Ohlendorf sticking around in bullpen role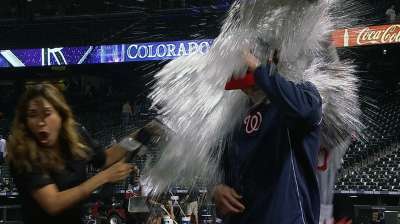 DENVER -- Ross Ohlendorf got a pleasant surprise Thursday morning when Nationals manager Davey Johnson told him he would be sticking around a little while longer.
Ohlendorf, who went six innings and gave up only one run Wednesday night in a spot start, will move to the bullpen as a long reliever. Many expected Ohlendorf to head back to Triple-A Syracuse after the fill-in start, but Ohlendorf will stay with the Nationals at least through Sunday as the backup starter for Stephen Strasburg in case a last minute setback keeps him off the mound.
"[Ross] is more of a veteran pitcher," Johnson said. "You like veterans in that role more than a young arm. It also frees me up to line up [Craig] Stammen and use him not just in the long-relief role, which has been valuable, but also in the latter parts of the game."
The right-handed Ohlendorf bolsters a bullpen that Johnson said he is much more confident in than the one he had to start the season. Since late May, Washington has added two left-handed relievers to the bullpen in Ian Krol and Fernando Abad.
"It gives us the balance I like in the bullpen," Johnson said. "… You got to control matchups late in the ballgame, that's when you manage. So, I should be smarter from here on in."
While Ohlendorf was primarily a starter with Syracuse, he made several relief appearances with the Padres last year.
Ian McCue is an associate reporter for MLB.com. This story was not subject to the approval of Major League Baseball or its clubs.