Span's swing shows signs of progress in win
Span's swing shows signs of progress in win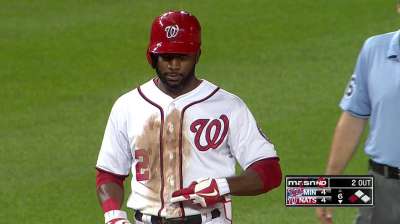 WASHINGTON -- In the Nationals' 5-1 win over the Rockies on Thursday, Denard Span put together the type of game Washington was looking for when it acquired him from the Twins this winter to take over the leadoff spot. After a strikeout in his first at-bat, Span reached safely in each of his next three trips -- with a single, double and walk -- and also stole a base.
But that type of performance has been in short supply, at least since the first two weeks of the season. While Span has provided the stellar center-field defense the Nationals craved, his offense has lagged behind. The left-handed batter hit .313 with a .421 on-base percentage over his first 13 games with Washington, and .243 with a .285 OBP in 54 games since. His on-base percentage for the season dropped as low as .306 before Thursday's surge.
While Span has missed a few games with a sore foot, Nationals manager Davey Johnson has continued to bat him leadoff on a daily basis when he's been available. Johnson has considered moving Span down in the order, but the Nationals rank 29th in the Majors in on-base percentage, with many players struggling to reach base.
"I think about all kinds of options," Johnson said. "But not many are getting on as much as he is, even when he's in a slump."
Span's sore right foot is part of the problem. For one thing, he said Friday he continues to deal with some soreness and inflammation that requires icing it daily.
The bigger issue is the cause of the injury -- three different fouls balls he has hit off the same spot. For Span, that's an indication that his swing is not right. He can see on video that his hands are getting around the ball instead of staying inside it, and he can feel on particular swings that something is off.
"If I swing at a certain pitch and foul it off a certain way, or if I miss and pop it up a certain way, I can definitely tell what I'm doing," Span said. "And that's the tricky thing about it. Even though I can feel what I'm doing, it's not that easy to fix. … The muscle memory, the amount of times I've practiced that bad habit, it's kind of been ingrained."
The issue might not be only with how Span swings, but also when. According to PITCH f/x data, Span is seeing a career-low percentage of pitches within the strike zone this season, while offering at a career-high percentage of pitches outside the zone.
"Part of that is my swing not feeling great," he said. "The ball is sped up, everything else is sped up, and at times I swing at balls that aren't in the zone, and I think that is a direct link. I'm not 100 percent sure, but I think that is somewhat of a link. Usually when a hitter is on time and under control, they swing at better pitches and lay off tough pitches."
Even though this is Span's first season in Washington after five with Minnesota, he has continued a career-long trend of struggling on the road. The 29-year-old hits 60 points higher at home overall and a whopping 128 points this season (.325 at Nationals Park, .197 away).
Fortunately for Span, the Nationals just began a stretch in which they play 33 of 48 games at home. On Thursday, he reached safely in three plate appearances for only the eighth time and made some of his most solid contact all year. In the fifth inning, he squared up a high fastball from Roy Oswalt and drove it off the wall in right-center field, coming within a few feet of his first home run.
"It definitely was one of the best balls I've hit in a while, so it felt good," Span said.
Span, who brought a solid .357 OBP into this season, is confident he will find a way to produce. In the meantime, he appreciates Johnson sticking with him, something that doesn't sound likely to change anytime soon.
"I'm not worried about him," Johnson said. "He's a gamer. He hasn't been pleased with how he's been hitting, but he still manages to get on base and he covers the outfield like nobody else."
Tom Schad is an associate reporter for MLB.com Follow him on Twitter @Tom_Schad. Andrew Simon is a reporter for MLB.com. Follow him on Twitter @HitTheCutoff. This story was not subject to the approval of Major League Baseball or its clubs.