Stammen's role has changed, but not his mentality
Stammen's role has changed, but not his mentality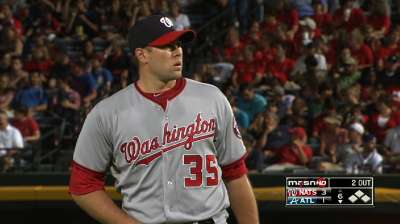 WASHINGTON -- When Ross Ohlendorf stayed on Washington's staff as a long reliever, Craig Stammen knew that his role was about to change. Instead of entering the game in the fourth or fifth inning, he will likely pitch more in the seventh and eighth.
But that doesn't mean that Stammen's mentality on the mound has changed.
"Whether I come in in the second inning or the seventh inning, the goal is always the same: throw your pitch exactly where you want to throw it, and hope the results end up in your favor," Stammen said. "The only adjustment is that I don't have to be as stressed out for the first five innings, I get to relax a little bit because I'll probably be used a little later."
Stammen was a closer at the University of Dayton, but he began as a starter in the Nationals' organization. He had a 5.08 ERA in 38 starts before moving to the bullpen, where he has a 2.82 ERA.
"I saved one game last year. I pitched in almost every inning imaginable," Stammen said, "so any situation they put me in, I'll be ready to go."
Tom Schad is an associate reporter for MLB.com. Follow him on Twitter @Tom_Schad. This story was not subject to the approval of Major League Baseball or its clubs.