Haren headed to disabled list with sore shoulder
Haren headed to disabled list with sore shoulder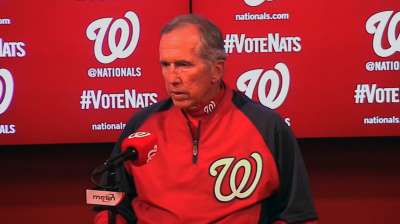 WASHINGTON -- One day after his worst outing in a Nationals uniform, right-hander Dan Haren was headed to the disabled list with a sore right shoulder.
Manager Davey Johnson didn't specify the injury and only said that Haren "had trouble getting loose" before his past two starts. Haren explained that his shoulder had been feeling stiff, making it more difficult for him to bounce back in between starts.
"Nothing really major at all, nothing I haven't pitched through in the past," Haren said. "I'm not really concerned about it, but they wanted me to take some time to get 100 percent. [I] definitely don't want to use this as an excuse for the first three months of the season. That was more due to lack of execution rather than an injury, that's for sure."
While Johnson wasn't ready to announce who would start in Haren's place on Friday against the Mets, and the team had yet to announce Haren going to the DL, a source with knowledge of the situation said the team would probably call up right-hander Taylor Jordan.
Jordan, the Nationals' No. 17 prospect, is 6-0 with a 0.73 ERA in seven starts at Double-A Harrisburg. Before that, he went 2-1 with a 1.24 ERA in six starts at Class A Potomac. Jordan's fastball tops out at 96 mph. He also has a power sinker and plus breaking ball.
Haren, a three-time All-Star, was yanked after just 3 1/3 innings in the Nationals' 7-1 loss to Colorado on Saturday. He allowed six runs on seven hits, throwing two wild pitches and hitting one batter. He left the game with a 6.15 ERA, the highest in the Majors among qualified starters.
"The last two times, he had trouble getting loose," Johnson said, "and that could be a sign of a tired arm or whatever. We're not going to take any chances, we're just going to let him get healthy and finish up the way he did last year."
Pitching coach Steve McCatty said Sunday that Haren's recent struggles are at least somewhat mechanical. He has noticed a difference in the right-hander's arm slot and release. Instead of bringing his release straight down, Haren is finishing his pitches sideways, leaving the ball up in the strike zone and flattening his pitches.
Haren has a history of back and hip problems, but he said that neither has been an issue this season. However, those past ailments could have caused him to put more strain on his shoulder, according to McCatty.
"When you have a problem somewhere else, sometimes it transfers to another part of your body," he explained. "If you're hurting somewhere else or something's throwing you off, sometimes it can have an effect on your elbow, shoulder. So we've just got to make sure he feels good."
Haren will get an MRI on his shoulder in the next day or two. He said he would have prefered to stay in the rotation and try to overcome his recent struggles, but he understands why the decision to put him on the disabled list was made.
"Maybe there's a little bit of something going on in there that just a little bit of rest will get better," Haren said. "As for getting 100 percent healthy and working [on] my stuff, once I get back to feeling 100 percent, however long it takes -- a week, 10 days -- we'll go from there."
Tom Schad is an associate reporter for MLB.com. Follow him on Twitter @Tom_Schad. This story was not subject to the approval of Major League Baseball or its clubs.