Desmond, Werth swap spots in Nats' lineup
Desmond, Werth swap spots in Nats' lineup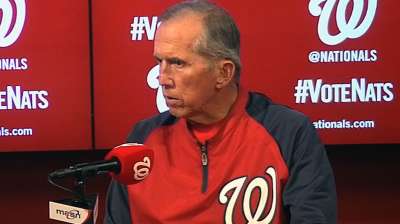 WASHINGTON -- After the Nationals scored a total of one run in their previous two games, manager Davey Johnson switched up his lineup for Thursday's series finale against the Brewers. Ian Desmond and Jayson Werth swapped spots in the order, with Desmond moving up to second and Werth down to sixth.
The move worked perfectly, as Desmond and Werth were big contributors to the 8-5 win. Desmond went 3-for-4 with a walk, two runs and two steals, and Werth was 3-for-3 with a walk, RBI single, two runs and a steal.
Was there some grand piece of logic or inspiration that led Johnson to such a decision? Well, not quite.
"I don't know," Johnson said when asked why he did it, "because I'm supposed to do something."
After Wednesday's 4-1 defeat, Johnson was at a loss to explain how his club scored 23 runs combined on Sunday and Monday, only to fall right back into offensive ineptitude. He didn't have much more of an explanation during Thursday's pregame press conference but showed his sense of humor about the situation, cracking several one-liners.
On what he told Desmond Wednesday night when he called the shortstop to inform him of the "epiphany" he had about the lineup switch: "I said, 'Don't change nothing, just keep hacking. Keep the fan on.'"
On not explaining the switch to Werth: "He'll figure it out -- that I'm an idiot."
On his continuing search for the right lineup: "I thought about just throwing a bunch of names in a hat and picking them out, but I'm not at that point yet."
Desmond made his fifth start this season in the No. 2 hole, with the others coming from May 3-8. Werth had filled the spot since Bryce Harper came off the disabled list on Monday, bumping rookie Anthony Rendon down to seventh.
Johnson didn't directly answer a question about the possibility of moving Rendon and his .357 on-base percentage back to the second spot, instead he mostly struggled to wrap his mind around the Nationals' persistent inability to string together solid offensive performances.
The Nats are tied for second in the Majors with nine shutouts against them. They are second in games scoring one run or fewer (23) and two runs or fewer (37) to the Marlins.
"I don't know. I don't have the answers," Johnson said. "I still love this ballclub. I still like the talent. I like the makeup. My Ouija board, I'm having a problem with it. It seems like when we hit, we all hit, and when we don't, we don't hit. But everything is cyclical and we've been in that cycle for a long time. I think it's time to come out of it and be more normal."
Asked about the impact of lineup construction, something advanced statistical analysis has shown to be relatively unimportant, Johnson referenced the work of Earnshaw Cook, a pioneer in the field of sabermetrics. He mentioned Cook's influential book Percentage Baseball and the importance of looking at players' on-base percentage and OPS.
"I think you divide players into two different categories: table-setters and run-producers, and constructing a lineup so it's hard to match up your bullpen to it, not making it easy," Johnson said. "Statistics tell you a lot, and then your baseball instincts, about where they should hit."
Tom Schad is an associate reporter for MLB.com. Follow him on Twitter @Tom_Schad. Andrew Simon is a reporter for MLB.com. Follow him on Twitter @HitTheCutoff. This story was not subject to the approval of Major League Baseball or its clubs.